Flavorful Jalapeno Cheddar Bites, made with diced jalapenos, cheddar cheese, and cream cheese, then rolled in seasoned panko breadcrumbs and baked.
Jalapeno Cheddar Bites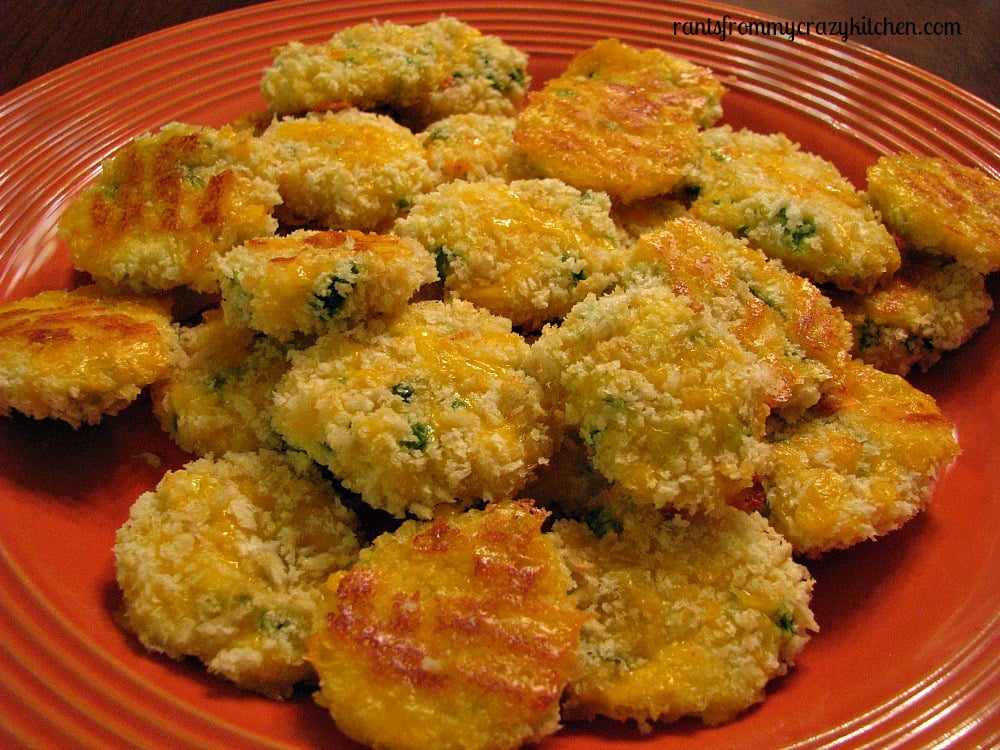 Welcome to Day #6 of Appetizer Week, a multi-blogger event co-hosted by Kim of Cravings of a Lunatic and Kristen from Frugal Antics of a Harried Homemaker.  Whether you are a Broncos fan or a Seahawks fan , we wanted to make sure you had plenty of ideas for your game day spread.  Each day we will be dishing up a different set of appetizers. We hope you enjoy this fabulous group of recipes.  Tune in each day starting with Monday, January 20 and ending on Saturday, January 25.  Today is our final day of #AppetizerWeek.  We hope you have enjoyed it as much as we have!  Should we make it an annual event?   I think so!
If you've been here before you probably already know I love jalapenos and cheese.  I mean LOVE them!  I'm also having fun making things bite size (wait until you see what I post on Monday!).  For the most part bite size foods are easier to put together, cook quicker, and I don't know how but are just tastier!  I've made jalapeno poppers before but my husband and I disagree on which filling for them is better.  I like cream cheese, he likes cheddar cheese.  With these Jalapeno Cheddar Bites I used both!  Mixed together with diced jalapenos and coated with crunchy panko breadcrumbs, these little bites are sure to be a hit at your next party!  I know because I ate a whole dinner plateful. At once.  Not that I recommend that 🙂
Please check out the fabulous recipes the other bloggers made, and read on after the Jalapeno Cheddar Bites recipe for today's amazing giveaway! I'm sure you will love it, I do!
Bernadette
Yields 45
Jalapeno Cheddar Bites
Crispy bite size jalapeno cheddar bites will be a hit at your next party!
15 minPrep Time
15 minCook Time
30 minTotal Time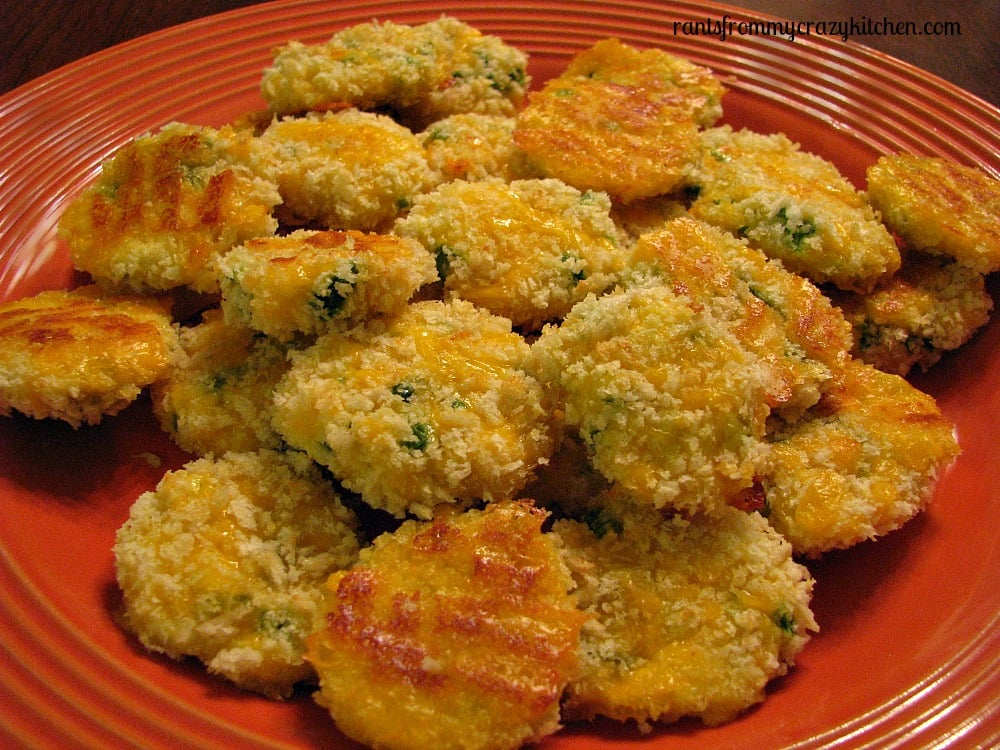 Ingredients
8 ounces cream cheese, softened
2 cups sharp cheddar cheese, shredded and lightly crumbled with your hands
1/2 cup finely diced seeded jalapenos
1 large egg
1 1/2 cups panko breadcrumbs
1/4 teaspoon each salt, garlic powder and onion powder
Instructions
Preheat oven to 350 degrees F. Line a large baking sheet ( or two smaller ones) with parchment paper.
Slice jalapenos in half length-wise and remove seeds (wear gloves if you have even the tiniest cut on your hand or are sensitive). Chop the jalapeno's fine.
In a large bowl combine softened cream cheese, cheddar cheese, sliced jalapenos and egg, mix well.
In a separate shallow bowl combine panko breadcrumbs, salt, garlic powder, and onion powder, mixing well.
Roll mixture into 1 inch balls, then roll each ball in the breadcrumbs. Place on lined baking sheets, one inch apart.
Bake in the preheated oven for 8 minutes, carefully turn (TIP: let them cool for a minute or two before you turn them!) and bake for 3-7 minutes more, or until both sides are lightly browned. WATCH CAREFULLY!
Remove from the oven and cool for a minute or two before serving.
7.6.4
54
https://rantsfrommycrazykitchen.com/2014/01/25/jalapeno-cheddar-bites/
Visit all the other Appetizer Week participants for more dishes for the Big Game:
Today's giveaway is absolutely amazing. It is a huge cookbook giveaway, one winner takes ALL. We would like to thank Healthy Slow Cooking, Scarletta Bakes, Quarry Spoon and Fair Winds Press. We appreciate all our sponsors and folks who helped put together this fabulous giveaway. This giveaway is open to U.S. residents only. Sorry to all our Canuck and International friends.
List of cookbooks up for grabs for #AppetizerWeek, one winner takes ALL:
Vegan Slow Cooking for Two or Just For You by Kathy Hester
The Great Vegan Bean Book by Kathy Hester
The Vegan Slow Cooker by Kathy Hester
The New Southwest: Classic Flavors with a Modern Twist by Meagan Micozzi
Easy as Pie Pops: Small on Size and Huge on Flavor and Fun by Andrea Smetona
Stuffed The Ultimate Comfort Food Cookbook: Taking Your Favorite Foods and Stuffing Them to Make New, Different and Delicious Meals by Dan Whalen
Baking by Hand: Make the Best Artisanal Breads and Pastries Better Without a Mixer by Andy King
Bake and Destroy: Good Food for Bad Vegans by Natalie Slater
Stealth Health Lunches Kids Love: Irresistible and Nutritious Gluten-Free Sandwiches, Wraps and Other Easy Eats by Tracy Griffith
Scoop Adventures: The Best Ice Cream of the 50 States: Make the Real Recipes from the Greatest Ice Cream Parlors in the Country by Lindsay Clendaniel
Gluten-Free 101: The Essential Beginner's Guide to Easy Gluten-Free Cooking by Carol Fenster
Vegan Food Gifts by Joni Marie Newman
Whole Grain Vegan Baking by Celine Steen
Great Gluten-Free Vegan Eats From Around the World by Allyson Kramer
The Flavorful Kitchen Cookbook by Molly Krause
500 Paleo Recipes by Dana Carpenter
Paleo Sweets and Treats by Heather Connell
Fire in my Belly by Kevin Gillespie
Latin American Street Food by Sandra Gutierrez
Eat your Vegetables by Joe Yonan
Cooking Slow by Andy Schloss
***Disclaimer: This giveaway is being provided by sponsors. #AppetizerWeek bloggers have not received product or been compensated as a part of this giveaway.***