Three ingredient Slow Cooker Honey Apple Corned Beef made with only apple juice and honey is great for St. Patrick's Day or any day of the week.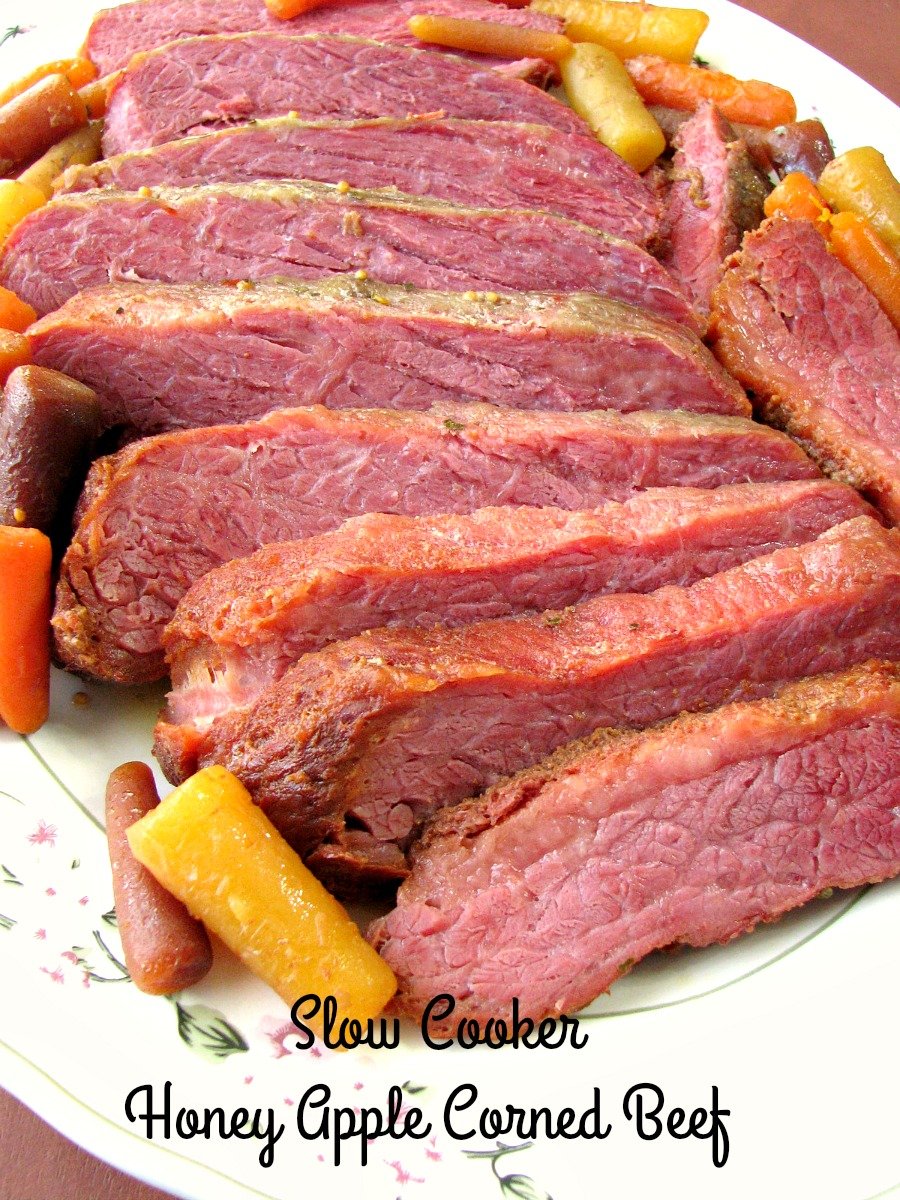 Yesterday was Blizzard of 2017 here in the Northeast. 22 inches or more throughout my area, the streets and sidewalks are nowhere near cleared, and I don't see school starting again before Monday. What I'm saying here is I'm going nuts and send wine, please!
I love corned beef, but I usually only make it once or twice a year. When I made it this year I wanted something a little different. I've never gotten fancy with corned beef, just put it in the slow cooker covered in water and the spice packet. No cabbage or potatoes with it for me. I've never liked cabbage and prefer potatoes cooked separately. So, I decided to make my corned beef different by making it sweeter.
Since I decided I wanted to make a sweetened corned beef at pretty much the last minute I had to go with what I had on hand to do it. I was going to do brown sugar, but then I remembered I had thrown mine out a few weeks ago because it was hard and past it's expiration date. The apple juice came from juice boxes for the kids. Don't judge, that's how this delicious Slow Cooker Honey Apple Corned Beef came about.
The corned beef is sweet, but not overly sweet, you can taste the honey, but it isn't sticky. I did include the spice packet to give it a little kick. Then it just simmers in the slow cooker for 5-6 hours until tender. I did include the carrots pictured in the slow cooker, so truthfully mine was 4 ingredients (not including the spice packet). The carrots are a package of rainbow baby carrots that I thought looked good in the grocery store. Any kind of carrots would do, or just leave them out. I'm sure you could substitute cabbage, if you like it.
WANT EVEN MORE DELICIOUS RECIPES FROM MYSELF AND MY FAVORITE FOOD BLOGGERS? FOLLOW ME ON PINTEREST, INSTAGRAM, OR FACEBOOK, WHERE I SHARE NEW RECIPES DAILY. YOU CAN ALSO SUBSCRIBE BY EMAIL TO GET NEWLY POSTED RECIPES FOR FREE!
Slow Cooker Honey Apple Corned Beef
Bernadette Martin
Yields Serves 4-6
Slow Cooker Honey Apple Corned Beef
Three ingredient Slow Cooker Honey Apple Corned Beef made with only apple juice and honey is great for St. Patrick's Day or any day of the week.
5 minPrep Time
6 hrCook Time
6 hr, 5 Total Time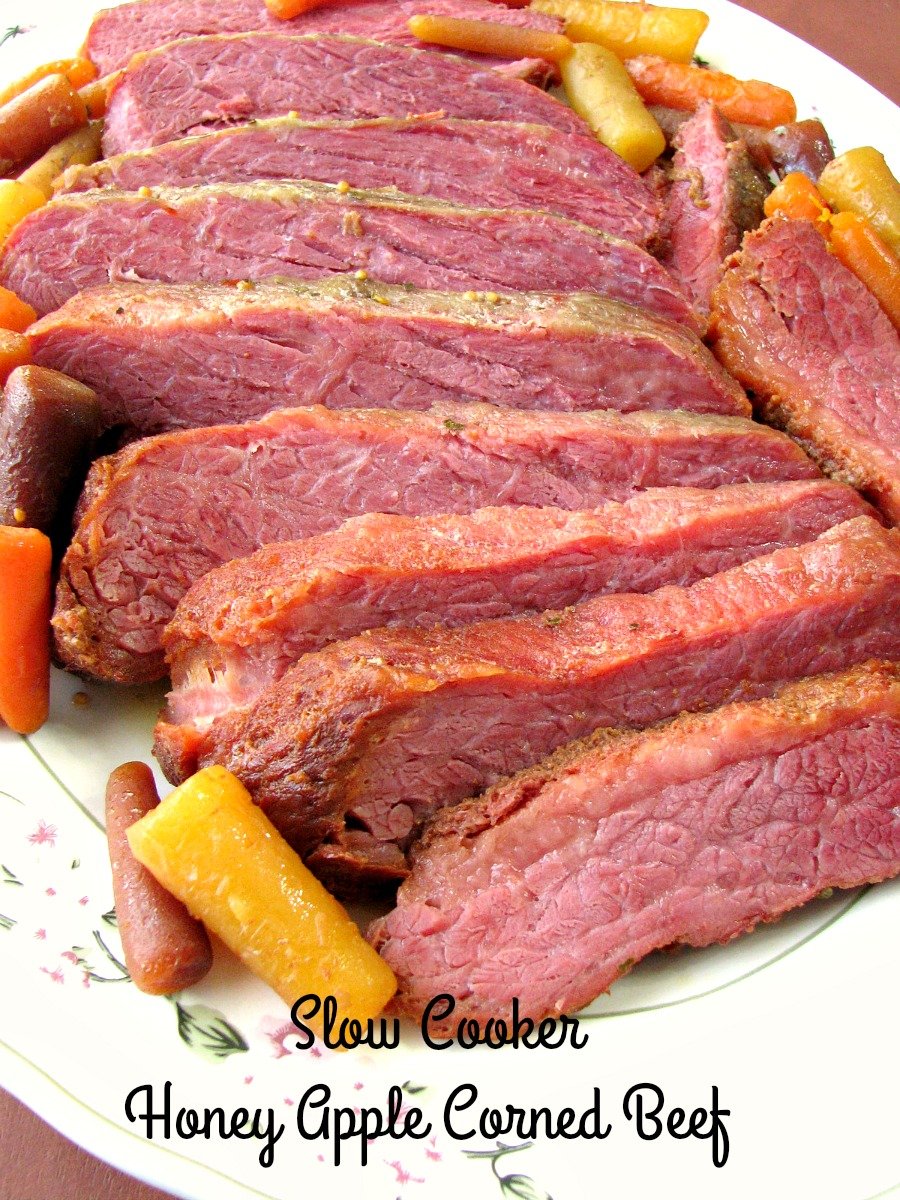 Ingredients
5-6 pound point cut corned beef brisket, including juices from the package and seasoning packet
1 2/3 cups apple juice
1 cup honey
12 ounces rainbow baby carrots, optional
Instructions
Place the corned beef in a large slow cooker along with the juices. Pour in the apple juice. Add the carrots (if using) and seasoning packet. Pour the honey over the corned beef and carrots, making sure to get the full cup with a rubber spatula.
Cover and set the slow cooker to HIGH for 5-6 hours, or cook on LOW for 10-12 hours.
Remove from the slow cooker and let rest for 5 minutes before slicing. Serve with the strained and excess fat removed juices from the slow cooker, if desired.
Notes
Sliced cabbage can be used instead of carrots.
7.6.7
238
https://rantsfrommycrazykitchen.com/2017/03/15/slow-cooker-honey-apple-corned-beef/