A few weeks ago I made my 4 year old daughter cupcakes one night. The next day she wanted them for breakfast and my husband and I  told her "No cupcakes for breakfast" but then we both started thinking about breakfast muffins, and eventually I thought of corn muffins filled with scrambled eggs, bacon, and cheese. Not mixed in the batter but topped with some of the eggs cooked right in the muffins to hold everything together. It took me a few weeks until I was able to make them, and boy am I glad I did! They are delicious, would be great for a brunch or holiday breakfast, and can be made the night before and reheated in the microwave. Before I give you the recipe, I want to remind you that my Cooking Planit T-Fal Giveaway ends tomorrow night at midnight! Here's the link if you would like to enter  http://rantsfrommycrazykitchen.com/2013/09/08/cooking-planit-t-fal-giveaway/ and I will put the entire list of participating bloggers at the bottom of this post, because you can enter on each and every one of the open contests! There are 12 of them right now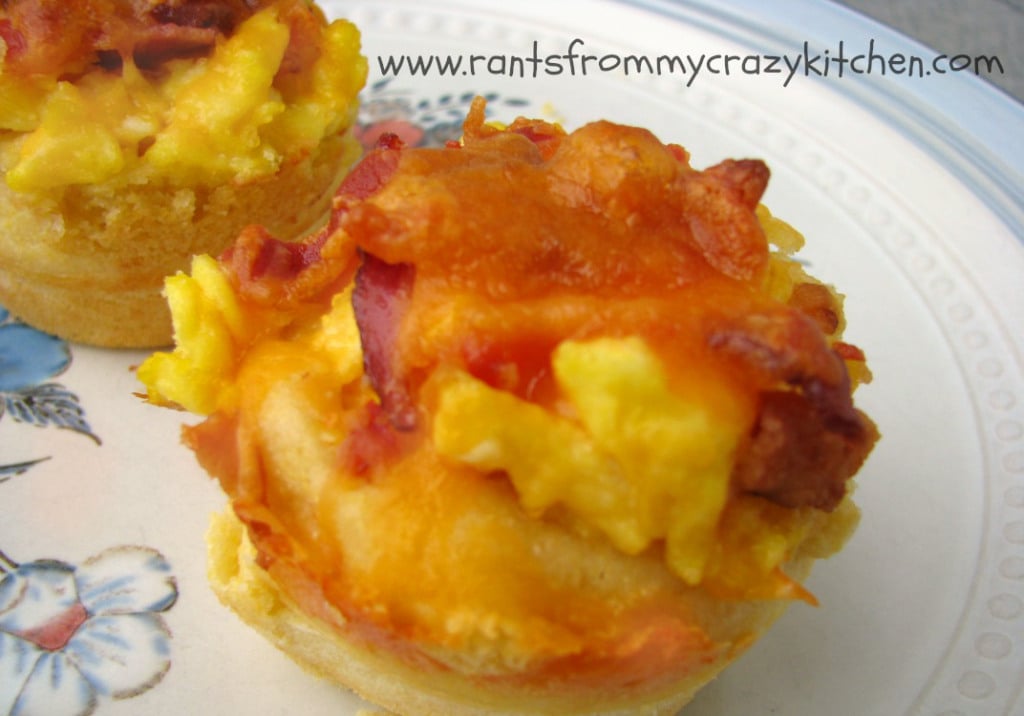 Bacon Egg and Cheese Corn Muffins
Quaker Yellow Corn Meal ingredients
1/2 lb bacon, cooked well enough to crumble but NOT well done
9 eggs, scrambled but still a little runny
3/4-1 cup shredded mild cheddar cheese
Preheat oven to 400 degrees F. Prepare ingredients for corn muffins according to Quaker yellow corn meal directions. Grease a 12 cup muffin tin well with butter, including around the rims.
Pour prepared muffin mix equally into greased tins and bake for seven minutes. Meanwhile, cook the bacon, drain, and set aside until cook enough to crumble.  Scramble the eggs until cooked but still a little soft (lightly done).
Remove partially baked muffins from the oven, and using a teaspoon spoon out a hole in the middle of each muffin, about an inch down. The muffins will be unbaked in the middle, you can spread the uncooked muffin mix around the outside of each muffin, or discard the excess.
Spoon a little of the scrambled eggs into the middle of each muffin hole ( does that sound bad, or is it just me?
)   then top with crumbled bacon and shredded cheddar cheese. Return to the oven for another 5-7 minutes, or until the muffins are cooked through and the cheese is melted. Serve warm with a glass of tomato juice ( you need to get those veggies in, right? Ok, I just happen to like tomato juice!)
Variations:
Add 1/8 of a teaspoon of black pepper or a few dashes of hot sauce to the muffin mix.
Add sautéed chopped vegetables (peppers, tomatoes, onions…) to the scrambled eggs.
Mix a little salsa with the scrambled eggs and top with Mexican cheese.
This recipe is feature on Foodie Friends Friday Cheese Party.