I'm excited to be joining in the Crazy Ingredient Challenge once again! I had to take a few months off due to other commitments, but these are fun. Each month a group of food bloggers are given two ingredients that might not normally go together, and we make a recipe and post it on the 20th of the month. This month's ingredients are Strawberries and Mustard!
In my last post I mentioned I've been messing up recipes recently. The good news is even if they don't come out exactly like I thought they would, they are still good or even better than what I was aiming for in the first place! Well, that's what happened here. I wanted to make a glaze, but I made it too thin and also made too much of it, so it's more of a sauce than a glaze. A sauce that is poured over the ham in the last half hour of baking, and then drizzled over the ham at serving. Good news, it's delicious! Little bits of strawberry combined with Dijon mustard and brown sugar, sweet with just a hint of spice. I think it would be perfect for an Easter ham, but it's also good on random Tuesday's 🙂
I used a pre-cooked half ham for this recipe, so all I had to do was put it in the oven about an hour and half before dinner time, and then get the sauce ready. The sauce is easy to make, which was great because I was babysitting and couldn't spend a ton of time in the kitchen.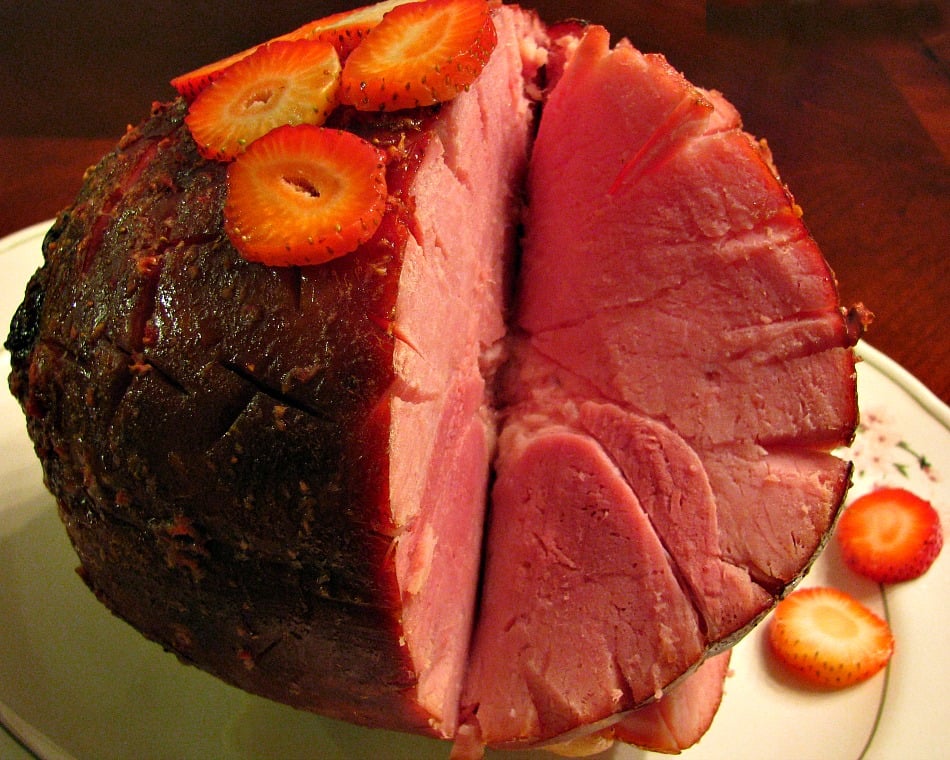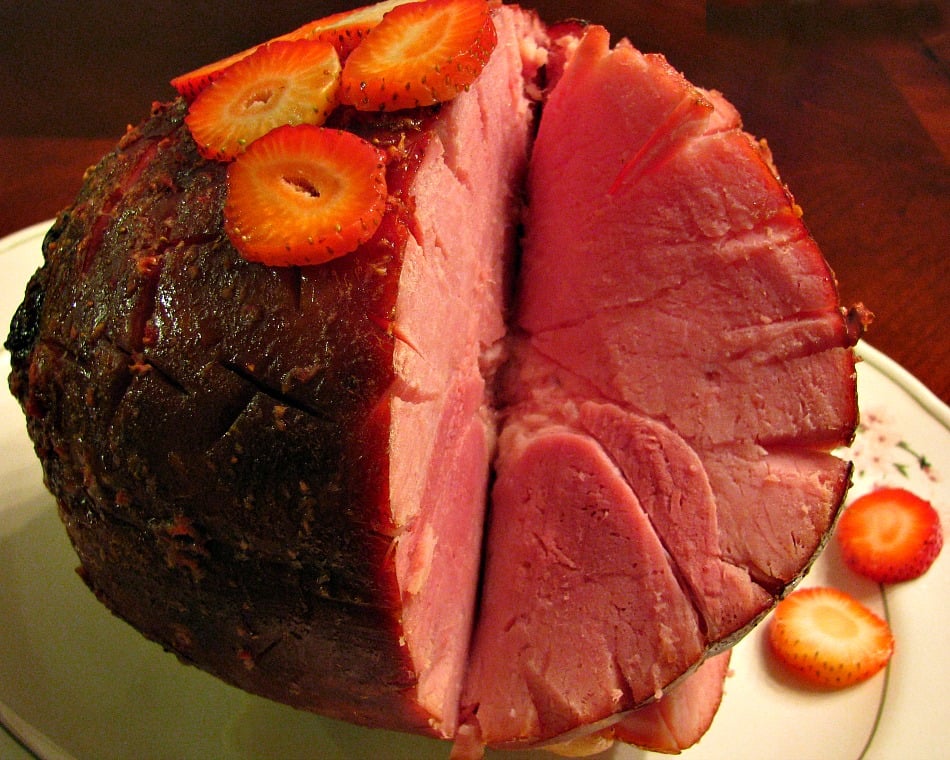 Print Recipe
Baked Ham with Strawberry Dijon Glaze Sauce
Baked Ham with a fabulous strawberry Dijon sauce, perfect for Easter or Sunday dinner!
Ingredients
Half ham

bone-in, about 7 pounds

½

inch

water in the bottom of the roasting pan

1

cup

chicken broth

2 ½

cups

sliced thin strawberries

1

cup

packed brown sugar

3

tablespoons

Dijon mustard

⅛

teaspoon

fresh ground black pepper
Instructions
Preheat oven to 350 degrees F. Put about ½ inch water in the bottom of a roasting pan with a rack.

Score the ham all over in a criss-cross pattern using a sharp knife. Place in the roasting pan, and pour the chicken broth over the ham. Cover tightly with tin foil, and bake for 10 minutes per pound.

Meanwhile, prepare the sauce. Place the brown sugar in a food processor along with the pepper, and Dijon mustard. Cover and pulse while adding the strawberries a few at a time, until pureed with little chunks of strawberries.

After 1 hour ( for a 7 pound ham, a larger ham judge ½ hour before ham should be done), turn the oven up to 400 degress F. Uncover the ham, and pour the glaze sauce over the top of the ham. Bake, uncovered for about 1//2 hour more, or until a meat thermometer registers 140 degrees.

Serve the sauce from the bottom of the pan on the side, or drizzle over individual slices of ham. You can run the sauce through a fine mesh sieve ,if desired, to remove some fat and bigger bits of strawberry, or serve as it is.
Nutrition
Calories:
190
kcal
|
Carbohydrates:
19
g
|
Protein:
12
g
|
Fat:
6
g
|
Saturated Fat:
2
g
|
Cholesterol:
35
mg
|
Sodium:
1052
mg
|
Potassium:
78
mg
|
Sugar:
18
g
|
Vitamin C:
16.3
mg
|
Calcium:
20
mg
|
Iron:
0.7
mg
Any leftovers are great for sandwiches, without the sauce. This does make a lot of sauce, but it can be frozen, and it would be great over chicken!
If you are a food blogger and are interested in joining the Crazy Ingredient Challenge, click on the image below for more details!
and be sure to check out all the other recipes that were made for this fabulous challenge here: