My summer is almost in full swing now, and I'm busier than ever! If you followed along last year, you know I had some wonderful friends fill in once a week for me with a guest post, and the same is happening this year. I think it's great because it gives me a chance to showcase some of my favorite bloggers, they get to possibly reach a new audience, and you get some great new recipes that I might not make myself! I'm kicking off my summer guest posters today with the awesome Dawn from Spatulas On Parade, and some very delicious sounding Pan Seared Pork Cutlets with Black Eyed Pea Salsa. Enjoy!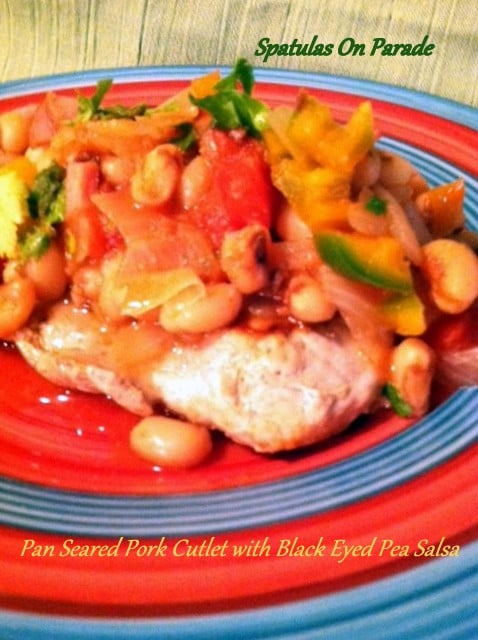 Hi everyone! I'm Dawn from
Spatulas On Parade
. I'd like to thank Bernadette for asking and allowing me to be her first guest host of the summer. Summer time is so busy for most people and as a blogger I appreciate the opportunity to speak to a new audience. And I'm sure she enjoys the break.
This recipe is not like my normal supper time fare, as I have not cooked pork in YEARS except for bacon and the once-in-a-blue-moon sausage. However, I was seriously looking for something different. I browsed through some old recipe books, looked in my cupboard, scanned the freezer…nothing jumped out at me. Then I thought about black eyed peas. WHY? I am not a fan, ask my family, but they were calling to me.
Now, how to make them so they were not just a "bowl of beans" was the question. How about in a salsa?! That's the ticket. My husband's aunt had been talking about a pork roast for about a week and got me thinking, how about pork cutlets.
So off to the store I went with ingredient list in hand, oh yeah I made that before I left. Got what I needed and began to prepare our "out-of-the-ordinary" supper.
This doesn't take long and was really good.
Pan Seared Pork Cutlet with Black Eyed Pea Salsa - Guest Post from Spatulas On Parade
Pork Cutlets with a flavorful Black Eyed Pea Salsa
Ingredients
4

pork cutlets

(or more depending on how many you're feeding)

1

can black eyed peas

,rinsed and drained

1

jalapeno

,seeded and diced

1

onion

,chopped

2

cloves

of garlic minced

1/2

cup

Canadian bacon

,chopped

1/4

tsp

cumin

1/4

tsp

pepper

14

ounce

can no salt whole tomatoes

1/3

cup

chopped cilantro
Instructions
In a large skillet or sauce pan, saute your Canadian bacon, onion and garlic with a dab of oil. Stir in your garlic after a couple of minutes and saute, be careful not to burn the garlic. Stir in your spices and chop your tomatoes, I crushed mine with my hand. Stir well. Allow this to simmer while you cook the pork cutlets. Lastly before serving stir in the jalapeno and cilantro. Serve on top of your pork cutlet.

For the pork I just seasoned it with a sprinkle of garlic powder and fresh cracked black pepper, seared it in a hot pan on each side and cooked it for 3 minutes per side. I do this while the salsa is simmering, .you can prepare the salsa earlier and allow it to cool if you like, we ate it warm.

/4 cup of salsa only has 42 calories, 3.2g protein, makes 3 1/2 cups prepared salsa
Nutrition Facts
Pan Seared Pork Cutlet with Black Eyed Pea Salsa - Guest Post from Spatulas On Parade
Amount Per Serving
Calories 250
Calories from Fat 54
% Daily Value*
Fat 6g9%
Cholesterol 99mg33%
Sodium 391mg17%
Potassium 922mg26%
Carbohydrates 11g4%
Protein 36g72%
Vitamin A 340IU7%
Vitamin C 16.2mg20%
Calcium 49mg5%
Iron 2.3mg13%
* Percent Daily Values are based on a 2000 calorie diet.