Asparagus is my all-time favorite spring vegetable. It's one of the healthiest vegetables there is, with less than four calories per serving and  high in vitamins including folic acid and potassium*. It's also one of the few vegetables my four year old won't eat. Yep, you read that right, A (my daughter), loves most vegetables and always has! It's only getting her to eat everything else that is a challenge. I imagine when she gets older she will like asparagus though, and she did try this one, because she LOVES Parmesan cheese!
This asparagus is roasted to perfection with a good quality extra-virgin olive oil. Yes, I know extra-virgin is supposed to be for dressings and marinades, and you are supposed to use regular olive oil for roasting, but just trust me here, the extra-virgin olive oil gives the asparagus amazing flavor even before the Parmesan cheese is added!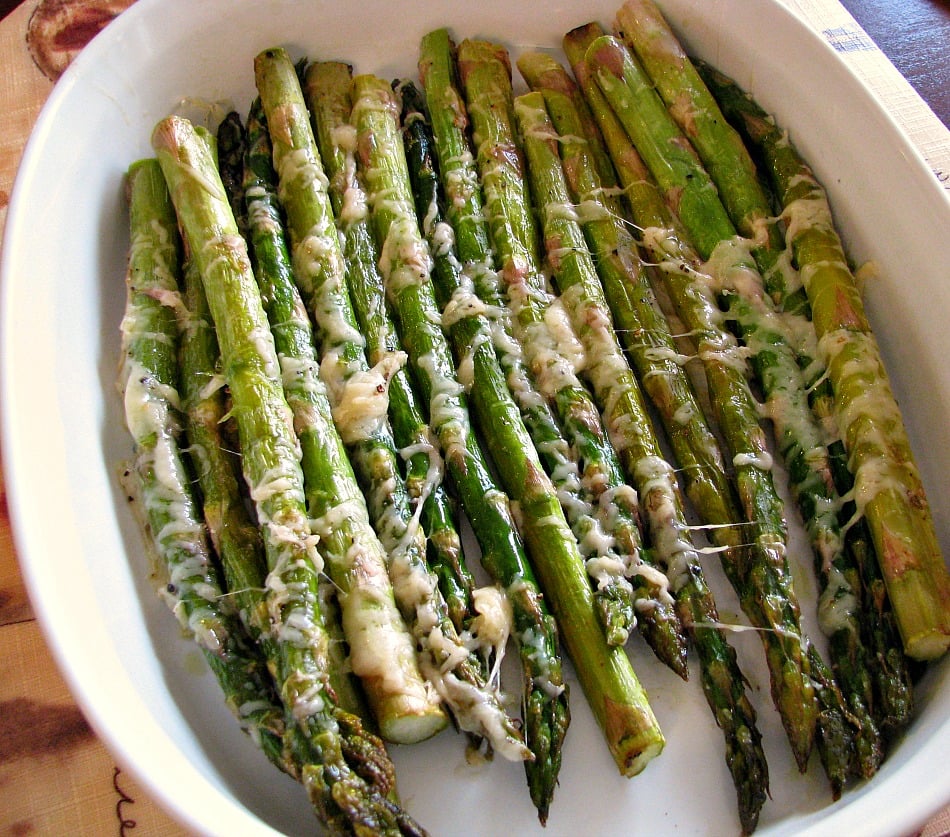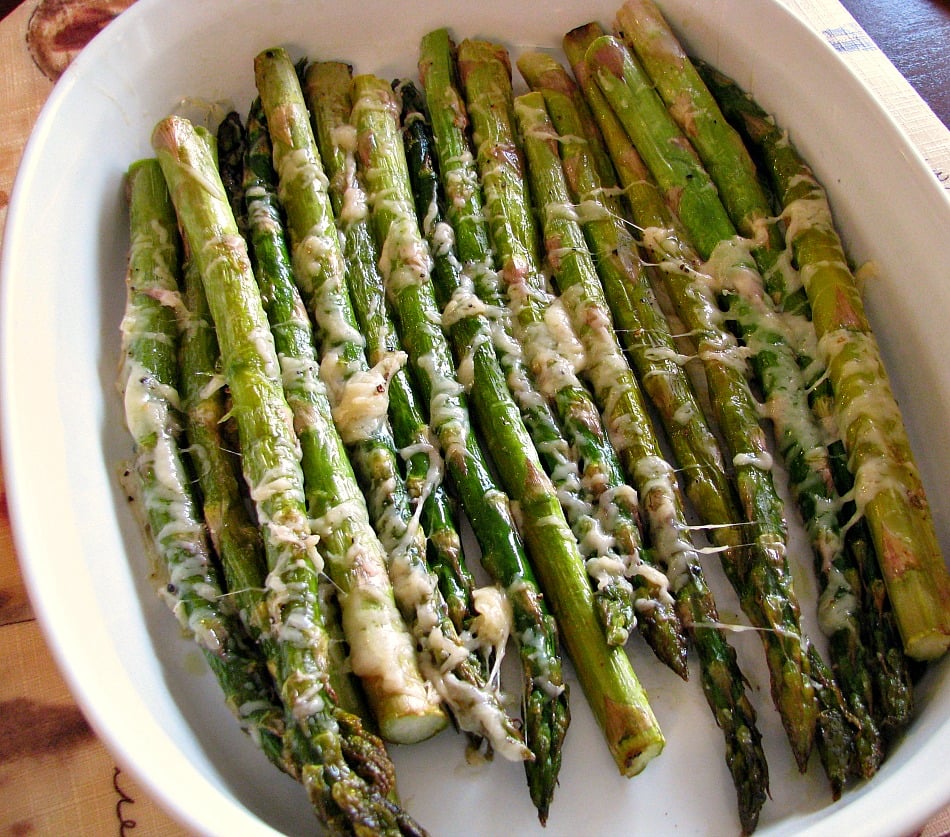 I drizzled a little lemon juice over the asparagus for an extra burst of flavor, along with salt and pepper. The Parmesan cheese is then sprinkled on at the end of roasting just long enough to melt, and is a wonderful addition. Make this as a side dish for your next holiday dinner to perfectly round out your meal! You'll have to double or triple the recipe, though, what I'm giving you hear is just two servings!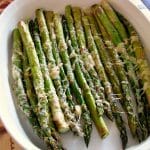 Print Recipe
Roasted Asparagus with Parmesan
Asparagus drizzled with extra-virgin olive oil and lemon juice, roasted, and topped with Parmesan cheese for a perfect side dish.
Ingredients
1

small

bunch asparagus

(about 13 pieces)

½

cup

shredded fresh Parmesan cheese

2

tablespoons

extra-virgin olive oil

1

teaspoon

lemon juice

½

teaspoon

coarse sea salt

¼

teaspoon

fresh ground black pepper
Instructions
Preheat oven to 400 degrees F. Rinse asparagus and pat dry.

Cut off the bottom tough end (about 1 inch). Lay the asparagus flat on a baking pan and drizzle with the olive oil and lemon juice. Sprinkle with the salt and pepper and turn to coat evenly.

Roast for 15-20 minutes, turning halfway through cooking, until tender. Turn once more, sprinkle evenly with Parmesan cheese, and return to the oven for 1 minute
Nutrition
Calories:
242
kcal
|
Carbohydrates:
1
g
|
Protein:
9
g
|
Fat:
20
g
|
Saturated Fat:
6
g
|
Cholesterol:
17
mg
|
Sodium:
982
mg
|
Potassium:
231
mg
|
Vitamin A:
845
IU
|
Vitamin C:
6.4
mg
|
Calcium:
296
mg
|
Iron:
1.4
mg