Simply seasoned and crunchy baked flounder recipe. Perfect for an easy weeknight dinner. Serve with steamed vegetables or a healthy salad for a complete, heart healthy meal without a lot of cholesterol or calories.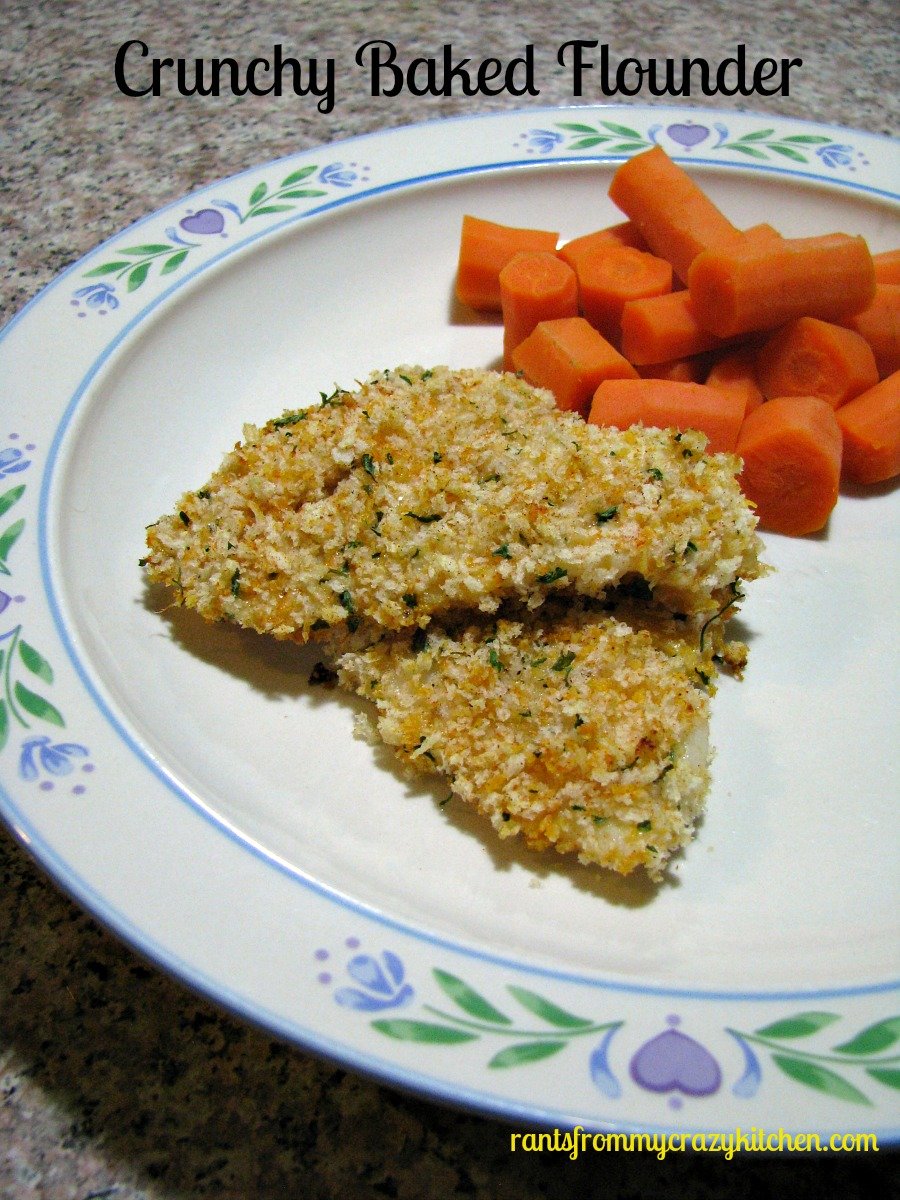 My daughter loved fish when she was between the ages of 2 to 4. I'm not talking about the store bought fish sticks most kids like, I'm talking baked flounder, cod, lemon-pepper fish, pretty much any kind except those fish sticks. Just in the past year has she refused to eat any kind, so I was really surprised when I gave her a few choices for dinner the one day and she chose the fish. Then she said "But it has to be crunchy!" Well, alright! I can't fry fish in oil while watching our diet, but I knew panko breadcrumbs would give the fish a nice crunch even baked.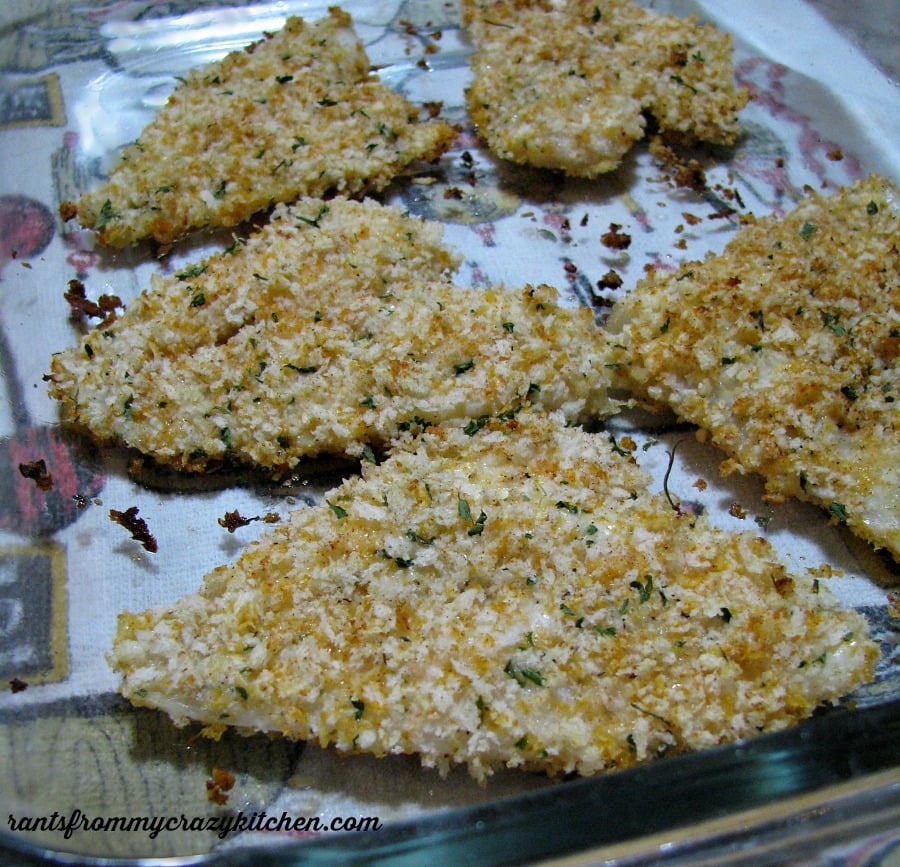 I can't really call this baked flounder "healthy" because I added Parmesan cheese to the panko, and Parmesan cheese has A LOT of saturated fat, but it's still lower in calories and fat than fried fish. I simply dipped the fish fillets in egg whites, then coated them in panko mixed with parmesan, smoked paprika, parsley, and black pepper. That's it, so simple, you can have dinner ready in less than 30 minutes.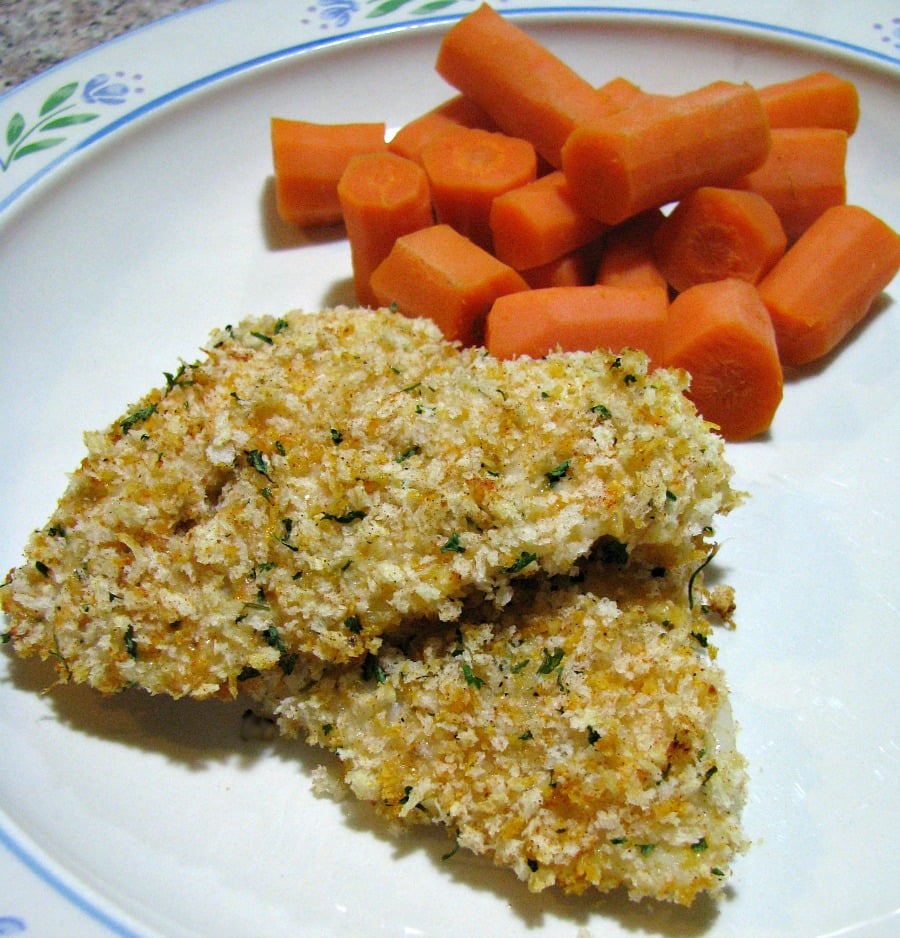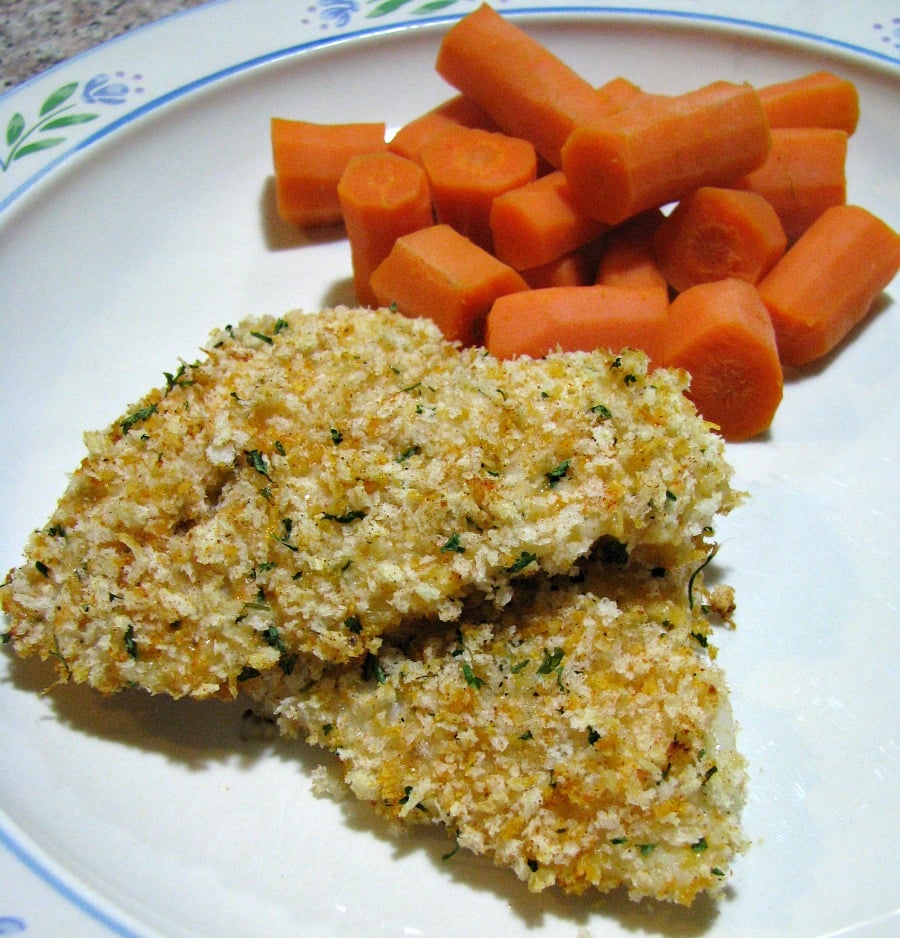 This baked flounder recipe will work with any white fish like cod, haddock, or tilapia.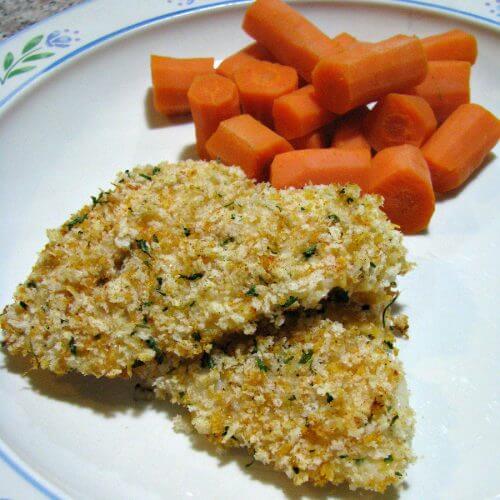 Crunchy Baked Flounder
Crunchy baked flounder simply coated with a seasoned panko breadcrumb mixture. Ready in less than 30 minutes, makes it perfect for busy weeknights!
Ingredients
1

pound

thin flounder fillets

1

cup

panko breadcrumbs

1/2

cup

thinly shredded Parmigiano Reggiano

2

egg whites

,lightly beaten

1/2

tablespoon

dried parsley flakes

1/2

teaspoon

smoked paprika

1/4

teaspoon

black pepper

nonstick cooking spray
Instructions
Preheat oven to 425 degrees F. In a shallow bowl, lightly beat the egg whites. In another shallow bowl, combine panko breadcrumbs, parmesan reggiano, smoked paprika, parsley flakes, and black pepper, mix well.

Dip each fillet in the egg, coating both sides, Drip of excess egg, then coat in the breadcrumb mixture, pressing the crumb mixture into both sides of the fish. Place the fillets in a large glass baking dish (you may need to use two dishes) sprayed with nonstick cooking spray. Bake in the preheated oven for 6-8 minutes per 1/2 inch thickness of fish, around 12 minutes, or until the flounder flakes easily with a fork.
Nutrition Facts
Crunchy Baked Flounder
Amount Per Serving
Calories 197
Calories from Fat 54
% Daily Value*
Total Fat 6g 9%
Cholesterol 59mg 20%
Sodium 671mg 28%
Potassium 246mg 7%
Total Carbohydrates 11g 4%
Protein 22g 44%
* Percent Daily Values are based on a 2000 calorie diet.