Tender beef, carrots, onions, and potatoes slow simmered in a low-sodium broth. This Beef Pot Roast Soup is just the thing to warm you up this winter!
I haven't been doing well at posting new recipes. Too be honest, I'm struggling a little bit with the change to a low-fat, low-salt, no red meat diet since my husbands heart attack a month ago. We have been eating a lot of fish, and pasta with low-sodium jarred sauces (I'll make my own in the summer when we have fresh grown tomatoes), and of course chicken and turkey, but I haven't made anything outstanding (except this soup of course) in over a week. I've also been slowly using up the red meat I already had frozen. Like less than once a week, that's the most I'll cheat on the diet.
In other news, on Sunday morning, January 25th, we found a dog in our front yard. I was able to get it (it was wearing the blue harness in the picture). It's a boy, no tags. We took it to the SPCA to find out if he had a chip, and he doesn't. I have posted in several Facebook groups, my personal page, my blog page, and it's been shared hundreds of times, but no leads. My husband made up flyers and put them around the neighborhood, showed the flyers to several groomers, and the vets office, nothing. Now we are putting a notice in the newspaper. I have to admit after 4 days I'm getting attached! He's adorable, well mannered, and cries when I leave his sight. Of course my daughter wants to keep him, so if we do find the owner I want it to be sooner rather than later.
Update: We never did find the owner, and decided to keep him and name him Jack. As of the time of this update, he has been with us for three years this week.
I had a package of boneless chuck roast in my big freezer downstairs, and it's been cold and snowing the past few days, so I thought soup sounded good. The problem was I didn't really have time to defrost the meat, so I decided to just go ahead and start the soup with the beef still frozen. By simmering it for a few hours the beef becomes tender and delicious, even if started from frozen.
I simmered the whole boneless chuck roast in low-sodium beef broth with nothing else added, then after a few hours removed it to a cutting board and chopped/shredded the meat, removing the fat almost entirely. Then I put the chopped vegetables in the pot, brought it to a boil, reduced the heat to a simmer while adding the beef back to the pot, and let it simmer until the vegetables and beef were tender.
I kept the vegetables simple, but if you want more, peas or chopped tomatoes would be a great addition.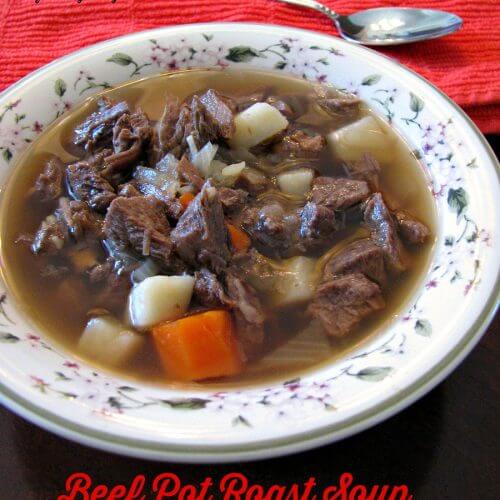 Print Recipe
Beef Pot Roast Soup
Tender beef, slow simmered in a low sodium broth makes a delicious, warming soup great for cold winter days.
Ingredients
2 ⅓

pounds

boneless chuck roast

64

ounces

beef broth

(no fat, low sodium)

2

cups

peeled and chopped carrots

1

large Russet potato

,peeled and diced

1

large sweet onion

,chopped

2

large garlic cloves

,slivered

black pepper

,to taste
Instructions
Place the beef in a large pot with the broth. Bring to a boil, reduce heat, and simmer for 1-2 hours (from frozen or fresh), until the beef is tender. Meanwhile, chop the vegetables.

Once the beef is tender, turn off the heat, remove the beef to a cutting board and chop or shred the beef. Add the vegetables to the pot, bring to a boil over high heat, reduce heat to a simmer, add the beef back to the pot, and simmer until the vegetables and beef are tender. Serve with a salad for a complete meal.
Nutrition
Calories:
403
kcal
|
Carbohydrates:
15
g
|
Protein:
38
g
|
Fat:
21
g
|
Saturated Fat:
9
g
|
Cholesterol:
121
mg
|
Sodium:
1303
mg
|
Potassium:
1099
mg
|
Fiber:
2
g
|
Sugar:
5
g
|
Vitamin A:
7150
IU
|
Vitamin C:
7.5
mg
|
Calcium:
80
mg
|
Iron:
4.8
mg