My cat has been sick this past week. The diagnosis has run anywhere from a sinus infection to a possible tumor! She's 12 and pretty much lives in our basement because she doesn't like anyone in this house except me. I have nothing to do with that, she's just anti social. So, this week while she's been sick, now all of a sudden she has become more social, deciding to live in our laundry room. The laundry room is gated off so the dog can't get back there and our daughter can't get in the basement, so it's baby steps really. I have a point here, bare with me. The vet gave her a shot of a steroid, and then a pill steroid to give her at home. Did you ever try to get a cat to take a pill she doesn't want to take? Yeah, she growled at me and ran down into the basement. Until the third time, when I decided to try putting the pill in some sharp cheddar cheese. She didn't take it right away, but sometime throughout the night, the cheese disappeared! The same thing happened last night! So, although I can't guarantee it will work, if you need to get a cat to take a pill, stuff it in some sharp cheddar cheese and walk away 🙂
I wanted to make a copycat version of TGIFriday's Broccoli Cheese Soup. I used to love it back when I went there more often. Now, I can't remember the last time I was there, but I still remember the soup! I got the flavors right, and the texture of the broccoli, but I think TGIFriday's version is a little thicker. I tried, though! 

One very important thing I learned while coming up with this recipe is NOT to use packaged pre-shredded cheese. Pre-shredded cheeses have an anti-caking agents in them (in the case of cheddar cheese, potato starch, corn starch, and calicum sulfate)  that prevents them from clumping in the package, but also prevents it from melting but instead clumps (irony, huh?). I've using pre-shredded cheeses in sauces before, but in this case it did not work out! Don't do it, give your arm a workout and shred the cheese yourself, or use your food processor.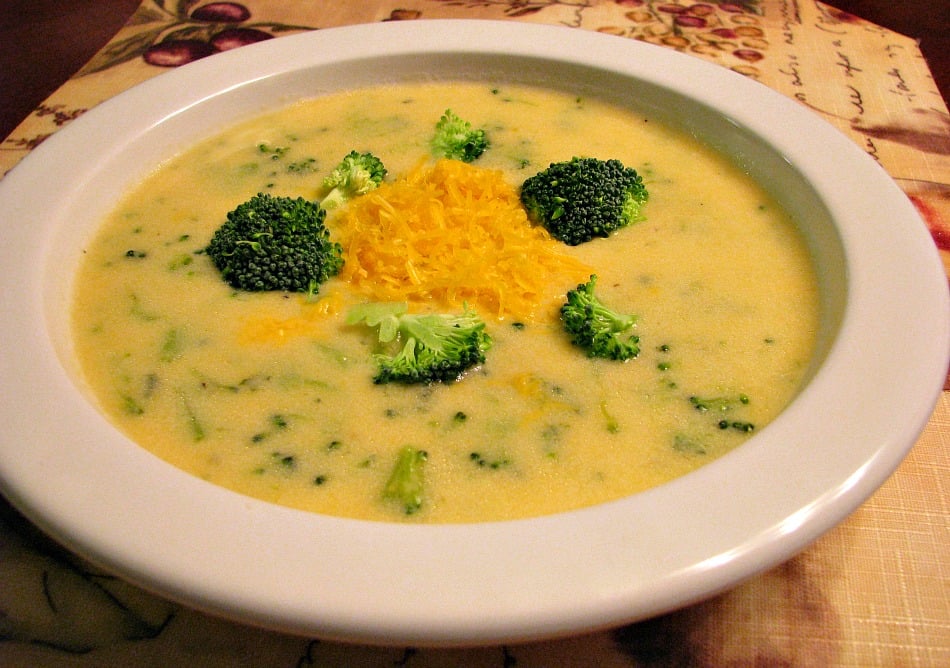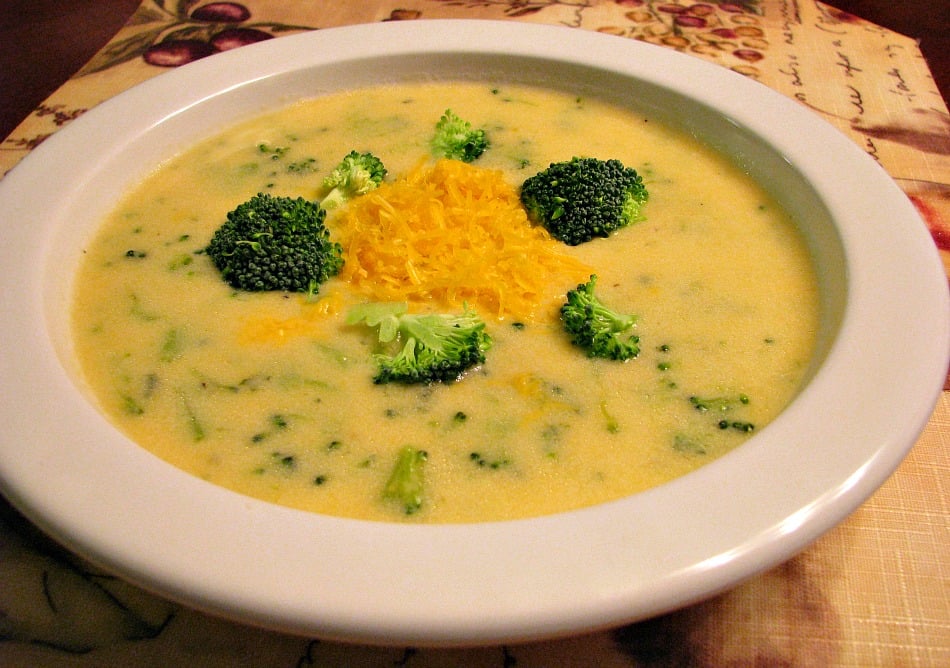 Another important tip is to put the broccoli in a fine mess strainer while steaming it. This is because the broccoli is chopped so fine that it will fall right through a regular steamer basket. I placed the strainer directly over the steamer basket and covered it with a lid large enough to cover the broccoli, not tightly, but enough to steam the broccoli.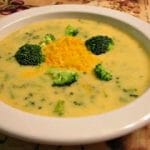 Print Recipe
Broccoli Cheese Soup
Creamy, cheesy Broccoli Cheese Soup in a quick and easy recipe!
Ingredients
5 ¼

cups

chicken broth

,divided

4

cups

finely shredded sharp cheddar cheese

,plus extra for garnish

3

cups

chopped fine fresh broccoli

(plus extra for garnish)

1

cup

half and half

4

tablespoons

flour

1

teaspoon

parsley flakes

½

teaspoon

onion powder

½

teaspoon

garlic powder
Instructions
Chop the broccoli into fine pieces and place in a fine mesh strainer over a steamer basket pot with one inch of water at the bottom. Cover, bring to a boil and steam until cooked through and just slightly crispy, about 10 minutes.

In a large pot with a tight fitting lid combine 5 cups of the chicken broth, parsley flakes, onion powder, and garlic powder. Cover and bring to a boil. Meanwhile mix the flour with the ¼ cup chicken broth with a whisk until smooth.

Once the chicken broth comes to a boil, pour in the flour mixture and whisk constantly for 1 minute. SLOWLY add in the shredded cheddar, whisking constantly until all the cheese is melted. Add in the cream, and then the broccoli, heat through. Soup will thicken upon standing.
Nutrition
Calories:
401
kcal
|
Carbohydrates:
10
g
|
Protein:
22
g
|
Fat:
30
g
|
Saturated Fat:
18
g
|
Cholesterol:
94
mg
|
Sodium:
1252
mg
|
Potassium:
434
mg
|
Fiber:
1
g
|
Sugar:
1
g
|
Vitamin A:
1180
IU
|
Vitamin C:
55.4
mg
|
Calcium:
619
mg
|
Iron:
1.5
mg