Disclaimer: I was provided with a copy of Cooking Light Dinnertime Survival Guide in return for my review. All opinions, as always, are my own.  Read on after the Cooking Light Dinnertime Survival Guide Cookbook Review for the recipe for this yummy Black Bean Soup!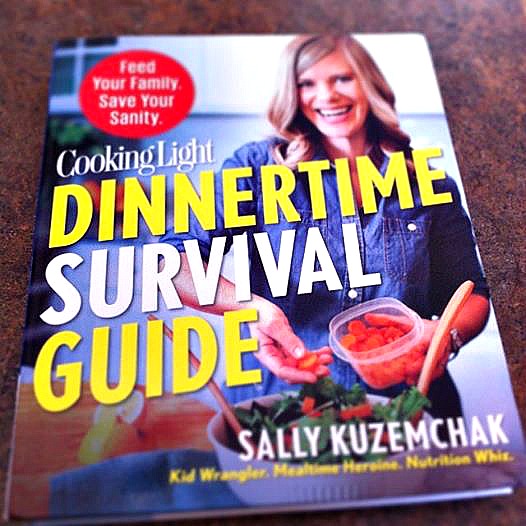 Cooking Light Dinnertime Survival Guide by Sally Kuzemchak is unlike any other cookbook I have ever read. It's chapter titles are what really brought me in. Think about the name of my blog, Rants From My CRAZY Kitchen. CRAZY being the important word. I named it that because my life is always hectic, no matter what I try to do. That's what this cookbook is about! Just a sample of the chapter titles: "Frankly, I Just Don't Feel Like It" (yep, even food writers feel that way!), "My Kids Take All My Attention" (kid, dog stealing things and I have to chase her down, husband, cleaning....) and "I'm Not A Short Order Cook" (I'm getting better at that one.). This cookbook is for busy families, hectic schedules, mom's (and dad's!) that need a break! You need a break, but everyone still needs to eat, and you don't want to be going for fast food every night. Or you have a picky kid that won't eat a thing you make ( I know that one!). This cookbook offers advice on what to do in almost every situation, and it's good advice, like just let your kids have ketchup with EVERYTHING, and letting your children decide what is for dinner (within reason) once a week. There are tips from mom's across the country throughout the book.
Sally Kuzemchak is a mom of two boys, registered dietitian, and blogger at Real Mom Nutrition. Teaming up with Cooking Light for this cookbook follows years of work freelance writing and specializing in nutrition.  The book will be in stores nationwide on April 22, but is available for pre-sale on Amazon right now.
I have made 4 recipes from the cookbook so far,and can say I loved them! I asked on my Facebook page which of a few I should share and several people said the Black Bean Soup, which is great and actually my favorite of the one's we tried!
I hope you enjoyed my Cooking Light Dinnertime Survival Guide cookbook review, and I really suggest you try this one! Now for the yummy Black Bean Soup.
Print Recipe
Black Bean Soup
Delicious, easy and quick Black Bean Soup using canned beans and refrigerated salsa!
Ingredients
1

teaspoon

olive oil

¼

cup

chopped onion

1

clove

garlic

,minced

2

cups

organic vegetable broth

½

teaspoon

Spanish smoked paprika

¼

teaspoon

ground cumin

¼

teaspoon

dried oregano

2

15-ounce cans unsalted black beans, rinsed and drained

½

cup

refrigerated fresh salsa

⅜

teaspoon

salt

1

4.5 ounce can chopped green chiles, drained

1

diced peeled avocado

,optional

1

tomato

chopped (optional)

Chopped fresh cilantro

,optional

sour cream

optional
Instructions
Heat a large saucepan over medium-high heat. Add oil to pan; swirl to coat. Add onion and garlic;saute 3 minutes or until tender. Add broth and next 4 ingredients (through beans); bring to a boil. Cover, reduce heat, and simmer 10 minutes.

Place half of bean mixture in a blender. Remove center piece of blender lid (to allow steam to escape); secure blender lid on blender. Place a clean towel over opening in blender lid (to avoid splatters). Blend until smooth. Add pureed soup to remaining soup in pan. Stir in salsa, salt,and green chiles; cook over medium heat 3 minutes or until throughly heated.

Ladle soup into each of 4 bowls; top with avocado, tomato, cilantro, and sour cream, if desired.
Nutrition
Calories:
311
kcal
|
Carbohydrates:
10
g
|
Protein:
14
g
|
Fat:
9
g
|
Saturated Fat:
1
g
|
Sodium:
1747
mg
|
Potassium:
1083
mg
|
Fiber:
19
g
|
Sugar:
3
g
|
Vitamin A:
860
IU
|
Vitamin C:
17.8
mg
|
Calcium:
104
mg
|
Iron:
4.9
mg
I'll be sharing the other recipes I made at another time, and I give this cookbook 5 stars.  I even see a few more recipes I want to make 🙂