I had the weirdest craving for a Pork BBQ sandwich. Those that know me know that is something I would never crave, and wouldn't even normally want to eat! But, I did and my husband was thrilled when I told him I planned on making it. We have a couple of good BBQ shack type restaurants around here, but they always seem to get overlooked when we eat out.
I started out by chopping up some favorite veggies, carrots, green peppers, and red onions.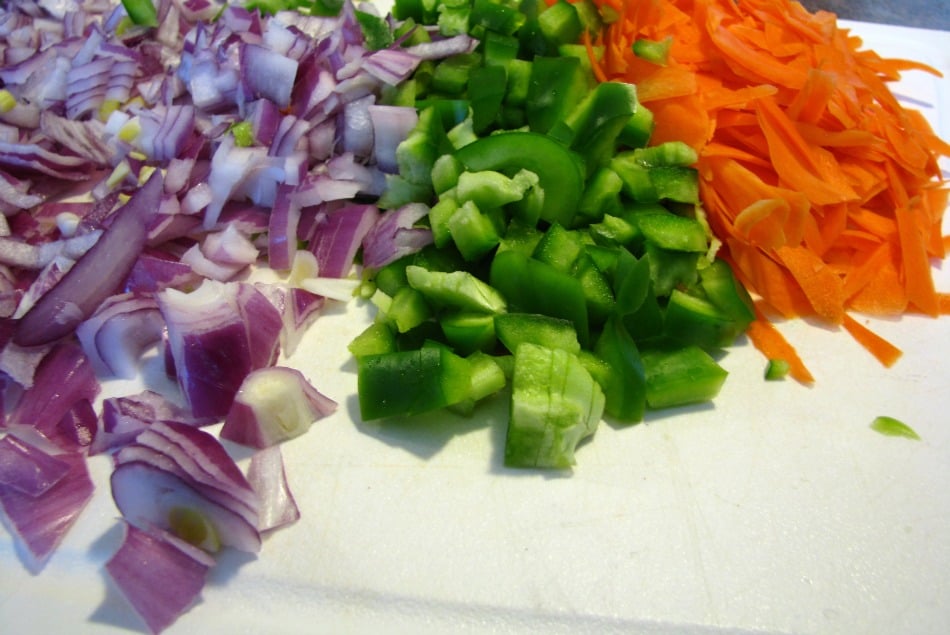 Then I put a pork picnic shoulder in the crock pot with the veggies, and covered it 3/4 of the way with water.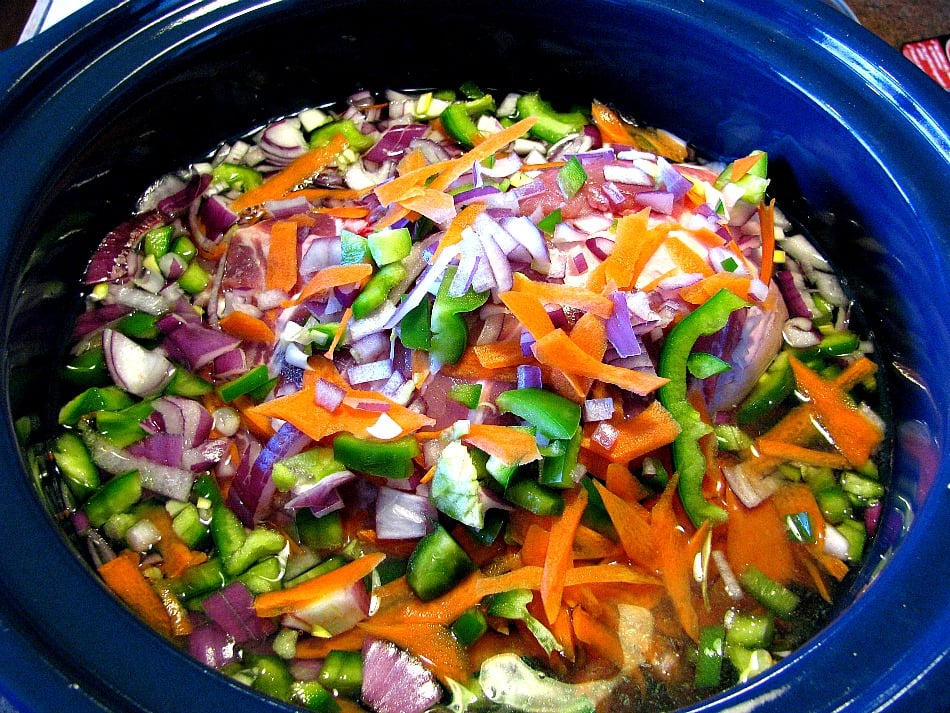 Then I put the Crock Pot on high, and let it cook for 5 hours. I probably could have gone longer, so that the pork would have shredded more easily, but we were perfectly okay with the pork being chopped instead of shredded. After 5 hours I removed the picnic shoulder from the crock pot and left the veggies in to simmer while I removed the excess fat and chopped up the pork. Then I removed the veggies to a large bowl using a slotted spoon, and drained the water from the Crock Pot, reserving one cup to add into my BBQ sauce mixture.
My husband wanted a sweet barbecue sauce so I made one with brown sugar and molasses. I had never made a barbecue sauce before, sweet or spicy! I just didn't want to use bottled this time, and felt it was time to expand my cooking skills into barbecue sauce 🙂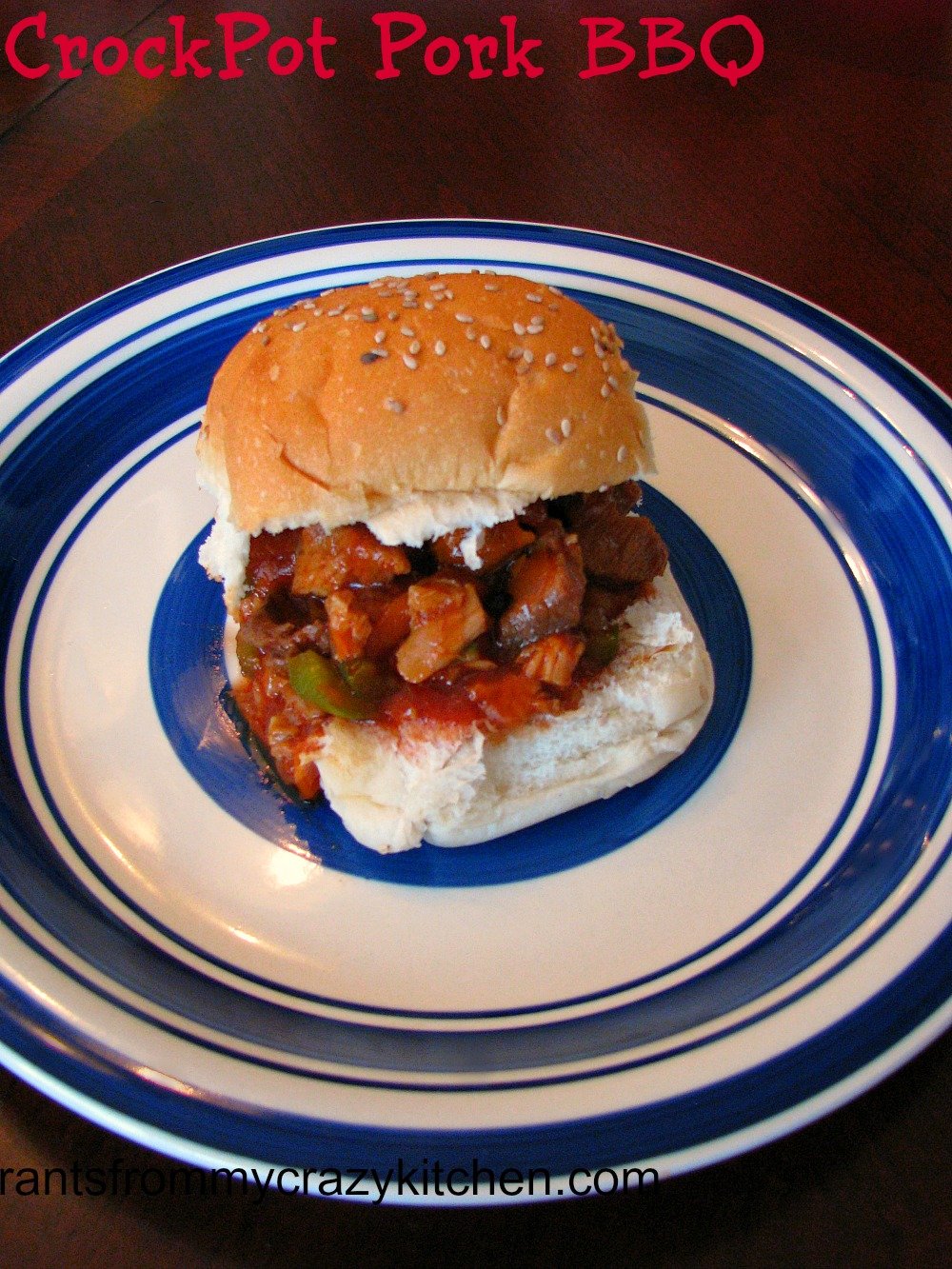 I'm pretty sure I'll be making my own sauce again! Next time I want to try a spicy one. Hmmm…..
Crock Pot Pork Barbecue
Pork slow simmered in the Crock Pot with favorite veggies, then finished with a sweet barbecue sauce!
Ingredients
5

pound

pork picnic shoulder

2

carrots

,shredded

1

green bell pepper

,diced

1

red onion

,diced

8

Kaiser rolls

,for serving

For the barbecue sauce:

2

cups

100% natural ketchup

(no corn syrup or preservatives)

1 1/2

cups

light brown sugar

3

tablespoons

tomato paste

3

tablespoons

apple cider vinegar

2

tablespoons

molasses

1/4

teaspoon

garlic powder
Instructions
Place the pork picnic shoulder in a large crock pot. Sprinkle the shredded carrots and diced green peppers and onions around and on top of the pork, and fill the crock pot with water until the pork shoulder is three-fourths covered. Turn the crock pot on (<THIS STEP IS ALWAYS VERY IMPORTANT!), set to high and cook for a minimum of 5 hours, or up to 7 hours. You may want to turn the pork once during cooking if it seems like the pork is "floating" in the water.

Meanwhile prepare the barbecue sauce: In a large bowl combine the ketchup, brown sugar, tomato paste, vinegar, molasses, and garlic powder; stir until well mixed.

Remove the pork from the crock pot (leave the veggies in) and remove the excess fat with a sharp knife. Chop or shred the pork. Remove the veggies from the crock pot using a large slotted spoon, then drain the all the water from the crock pot, reserving 1 cup. Stir the hot liquid into the barbecue sauce mixture, then put the chopped or shredded pork and vegetables back into the crock pot. Stir in the barbecue sauce, cover, and cook on high for 1 hour more. Serve on Kaiser rolls.
Nutrition Facts
Crock Pot Pork Barbecue
Amount Per Serving
Calories 645
Calories from Fat 126
% Daily Value*
Fat 14g22%
Cholesterol 115mg38%
Sodium 834mg36%
Potassium 935mg27%
Carbohydrates 86g29%
Protein 40g80%
Vitamin A 2905IU58%
Vitamin C 16.6mg20%
Calcium 135mg14%
Iron 4.8mg27%
* Percent Daily Values are based on a 2000 calorie diet.