Don't throw away a leftover meaty ham bone! Make Ham and Pea Soup, with delicious ham stock and frozen peas for vibrant color.  The stock can be made ahead of time and frozen for up to 9 month, and so can the soup.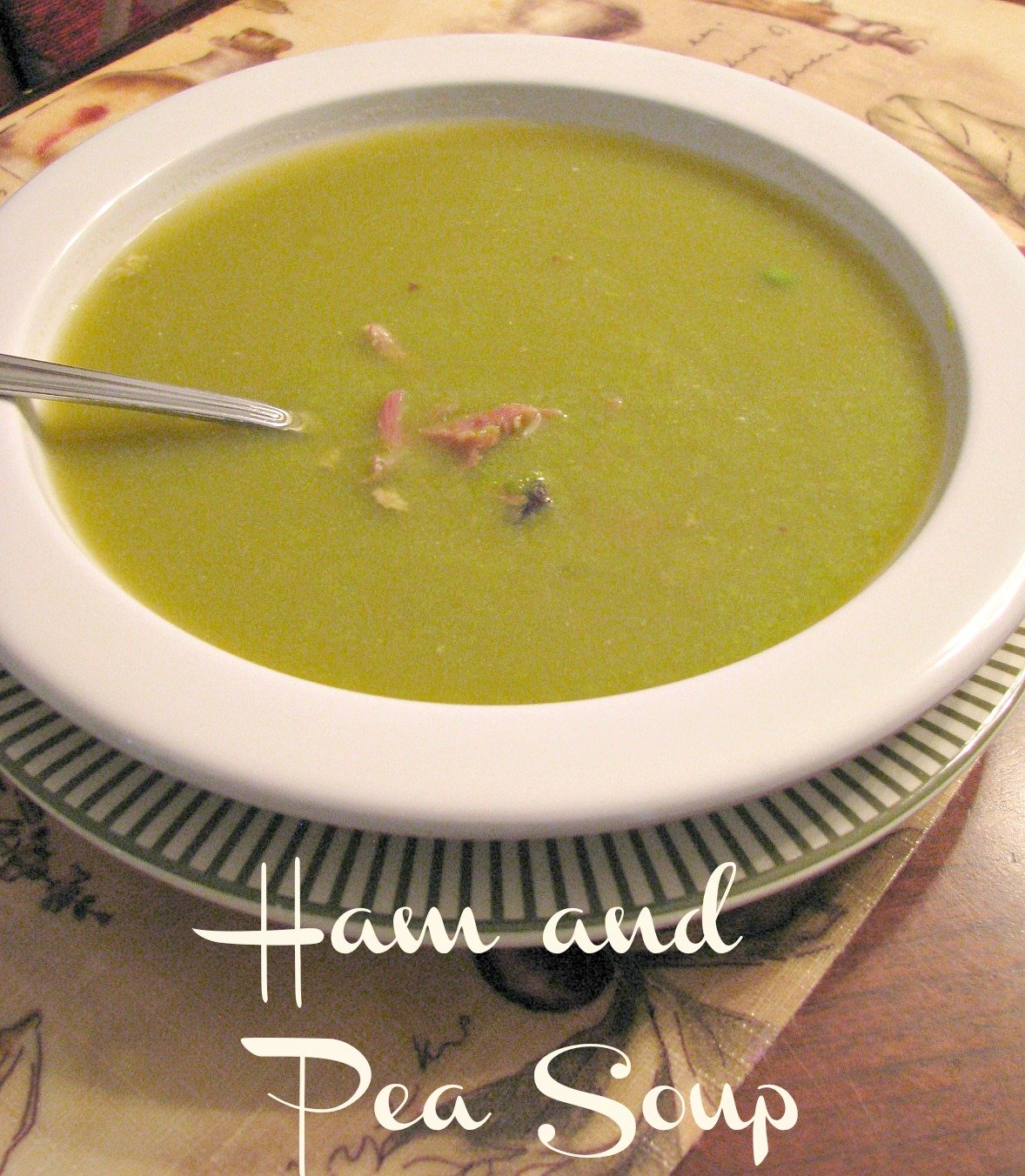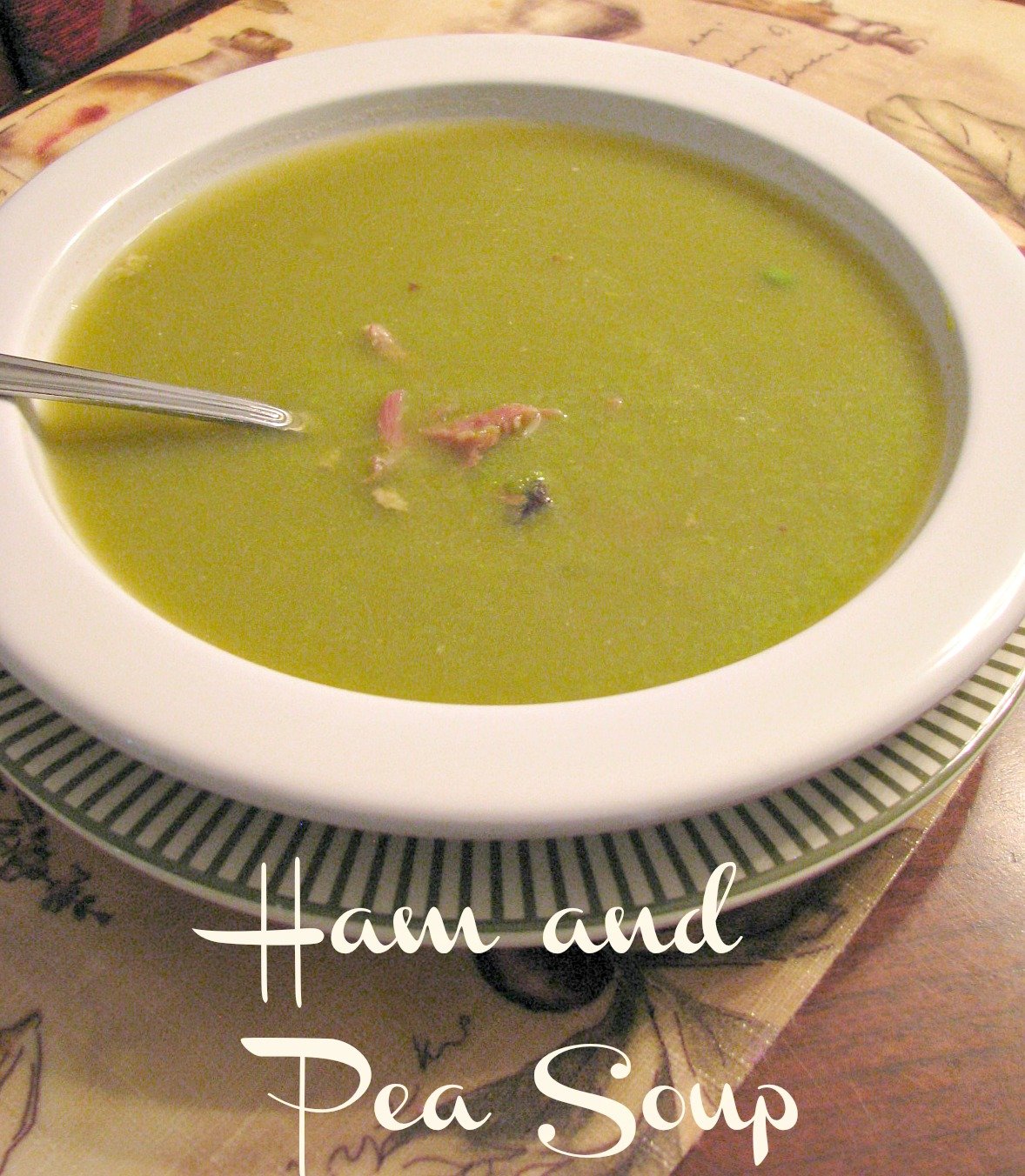 With any luck at all, this will be the last winter kind of recipe I post for months. I made this Ham and Pea Soup a few days after Easter with the leftover ham bone from our dinner, when it was 40-something degrees out. Right now, as I write this, it is 75 degrees out, and I love it! I can't wait to start making grilled recipes, and cookout recipes, and maybe a few summertime drinks! But for now, soup is where I'm at.
I was never able to make a pea soup that I really loved until I learned to use frozen peas instead of dried, that had to be simmered for forever and had such a bland taste that it wasn't really worth it. Frozen peas are more flavorful to begin with, since they are frozen soon after picking. Then, using a fresh made ham stock really gives this pea soup flavor. Yes, that part takes time, but it's totally worth it!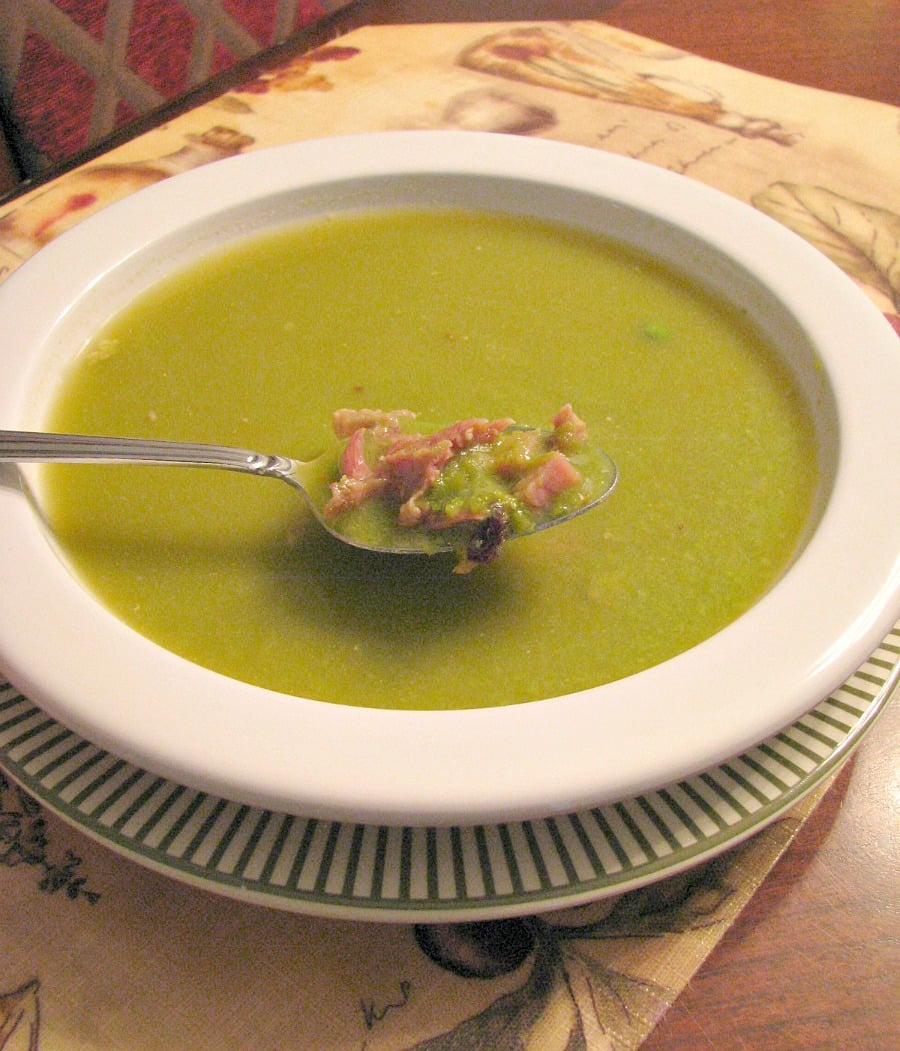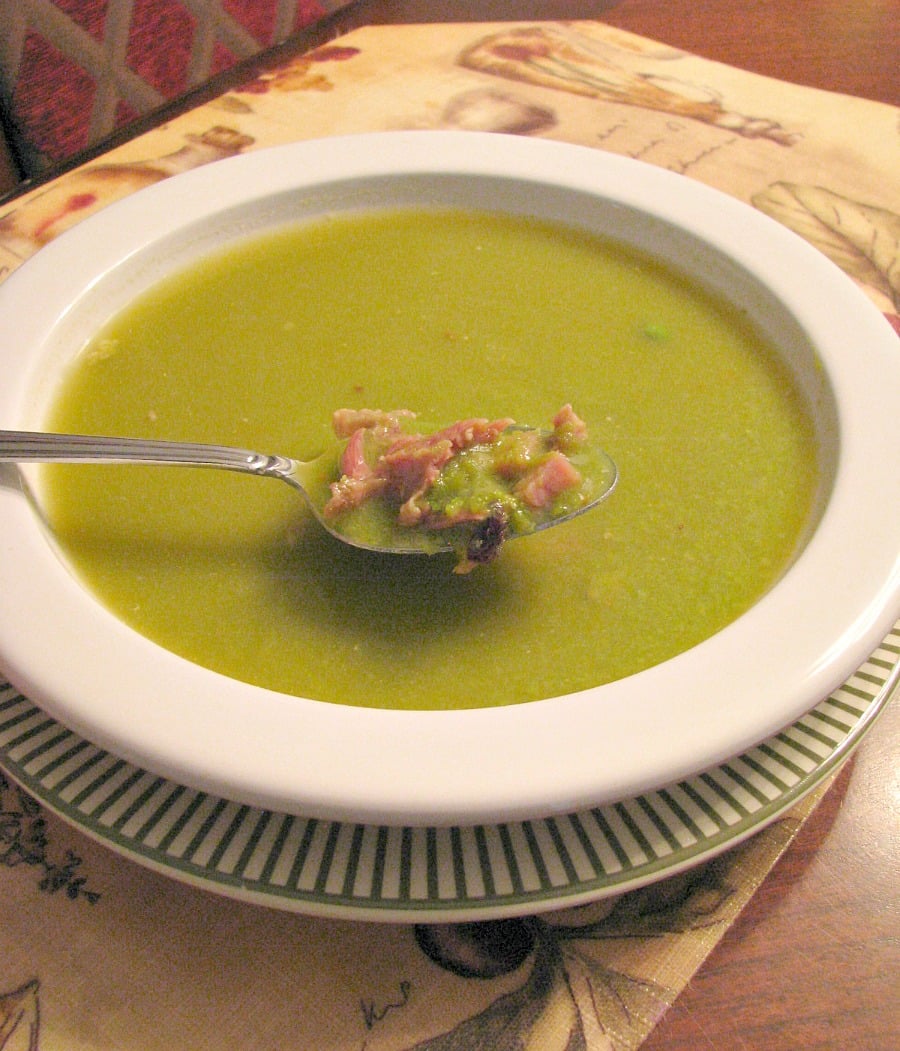 It's not hard at all, really. You don't even have to chop anything for the stock. Just put the meaty ham bone, peeled whole carrots, a peeled potato and unpeeled onion and garlic in a large stock pot and cover with water, then cook for an hour and a half (or more). Leaving the onion and garlic cloves unpeeled gives great flavor to stocks and leaves them a nice golden color. If you don't have a few hours to cook the stock, and you have a large enough slow cooker, you could use it to make the stock, and then finish the soup when you get home. The soup part of this recipe takes less than half an hour, and since the stock can be made ahead of time, it would be great for a busy night.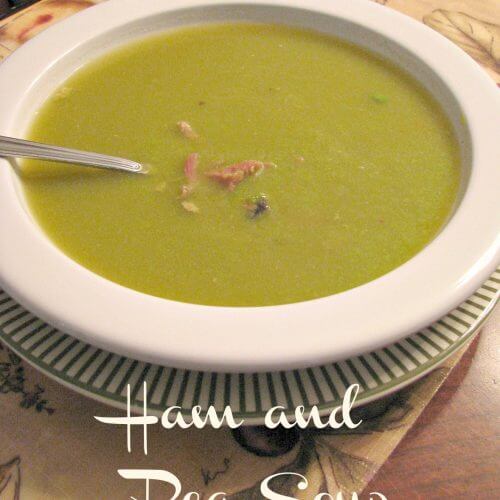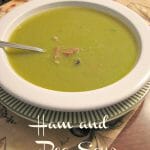 Print Recipe
Ham and Pea Soup
Delicious ham and pea soup made with homemade ham stock and frozen peas for great flavor
Ingredients
1

leftover meaty ham bone

about 1 ¾ pounds

4

medium carrots

,peeled

2-3

cloves

garlic

,unpeeled

1

medium onion

,unpeeled

1

medium russet potato

,peeled

2

bay leaves

large pinch whole black peppercorns

¼

tsp

ground cloves

water to cover

2

pounds

frozen sweet peas
Instructions
Place the ham bone with the meat attached, carrots, onion, garlic, potato, bay leaves, peppercorns and ground cloves in a large stock pot and cover with water. Bring to a boil over high heat, reduce heat and simmer, uncovered, for 1 ½ - 2 hours. Skim the top of the broth occasionally to remove the fat.

Turn off the heat. Reserving the stock and allowing it to cool, use a large slotted spoon (a pasta draining spoon works great!) to remove the ham bone, onion, carrots, set aside to cool slightly. Discard the potato, bqy leves, and peppercorns.

Remove all the meat from the ham bone and chop fine. Peel the skin from the onion, and squeeze out the garlic pulp. Skim any remaining fat from the top of the broth. Place the onions, carrots, and garlic back in the ham stock, add the frozen peas. Bring to a boil, reduce heat, and simmer for about 5 minutes, or until the peas are tender. Using an immersion blender, puree the soup until smooth. Stir the the ham, heat through and serve.
Notes
Notes:
1: If preparing the stock in a slow cooker, cook for 8-9 hours on low, or 5 hours on high.
2. If freezing the stock for later use, puree the onion, carrots, and garlic in the broth until smooth. Cool in small batches and skim the fat off the top before freezing.
3. Nutritional information for this recipe is approximate and will vary by the amount of meat you have. 
Nutrition
Calories:
176
kcal
|
Carbohydrates:
34
g
|
Protein:
9
g
|
Sodium:
38
mg
|
Potassium:
673
mg
|
Fiber:
9
g
|
Sugar:
11
g
|
Vitamin A:
7950
IU
|
Vitamin C:
66.6
mg
|
Calcium:
62
mg
|
Iron:
2.7
mg