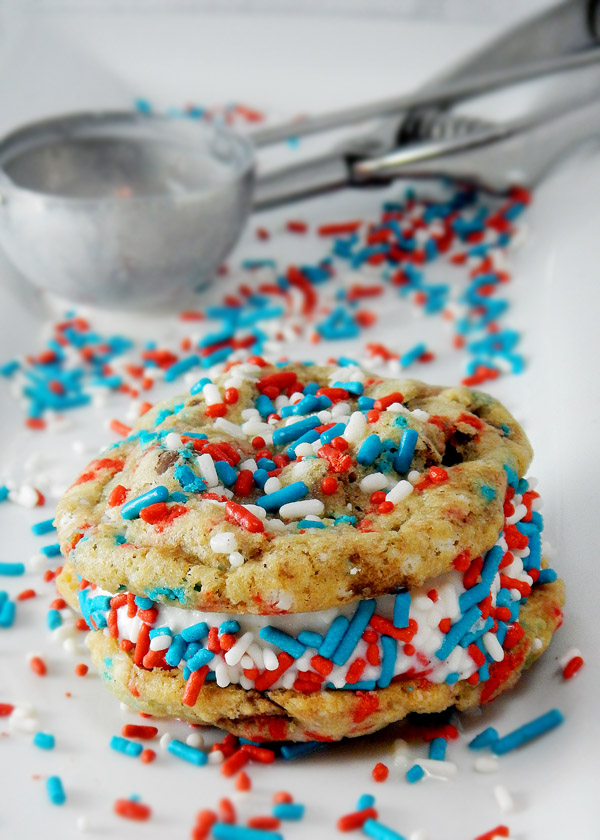 This week has been crazier than my usual level of crazy. I can't even begin to tell you how grateful I am for my guest poster today, Laurie, and these Patriotic Chocolate Chip Cookie Ice Cream Sandwiches. If you want to read about my crazy week, and why I'm now weeks behind on new recipes and reviews, you can read on. If you don't, you can skip right to the recipe, I don't blame you one bit!
If you've been following me for a while, you know I'm very close to my daughter's Godmother, Chelsea. She's the daughter of two of my friend's, and the niece of another, and many moons ago I lived with her and took care of her and her sister while her mother was in college and working. Her first baby, a boy named Ayden, was born on Wednesday after two days of labor. Even though I wasn't going to be in the room when the baby was born, I wanted to be at the hospital, so I got the first phone call that she was going to the hospital last Tuesday at 3:30 in the morning. I never made it there before she was sent home, but I was wide awake from the phone call until midnight that night. She continued to have contractions, so I knew it would be soon, but by late Tuesday night I thought maybe not until the next day. I clearly remember writing a status on my personal Facebook at midnight that said "Okay, I'm going to bed now, nobody have a baby for the next two hours!" I should have know better, the phone rang at 12:53 AM! Thirteen hours later, Ayden finally made his appearance!
In the days following, I recovered from not sleeping for two days, put a ton of laundry away, spent time with my daughter and my sister, did garden work, and then our central air broke so I haven't been cooking.  I'm coming back this week, though, so I will have more for you soon! For now I'll hand you over to Laurie for this delicious dessert.
Hello everyone! I'm so happy to be hanging out with you here at Rants From My Crazy Kitchen. I'm visiting from Frosting and a Smile. This is the first guest post I have ever written. I hope I can do Bernadette and her site justice. From the first month I started blogging, Bernadette welcomed me like an old friend. She is so kind and generous with her time that there was no way I could say no when she asked me to write here.
I brought the instructions for Chocolate Chip Cookie Ice Cream Sandwiches with me. We can whip up a batch while we chat.
We start with a soft and chewy chocolate chip cookie. It's slightly adapted from the All Recipes Big, Fat, Chewy Chocolate Chip Cookie. There's nothing as tasty as this from-scratch version but If you only slept three hours last night because the kids kept you up (I've totally been there) or it's just too darn hot to turn on the oven (been there too), you can use store-bought cookies.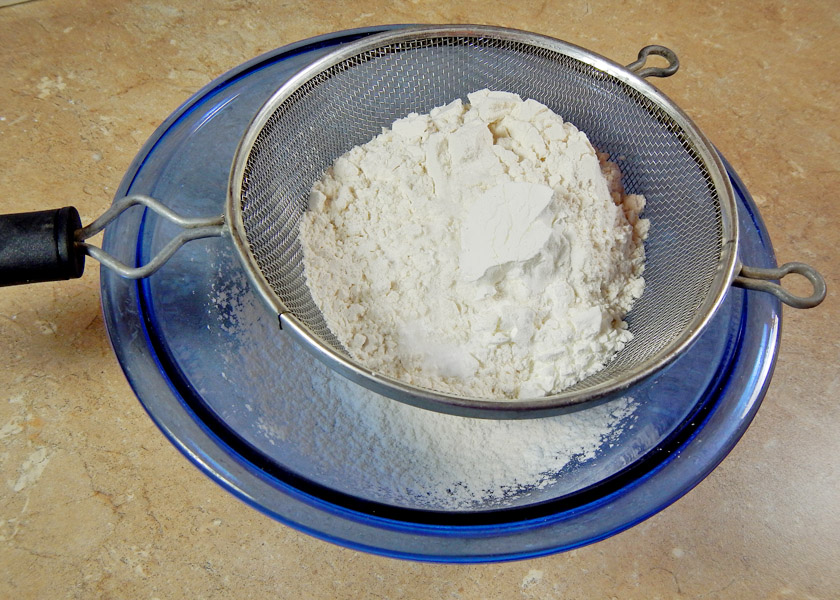 To start, sift together your dry ingredients.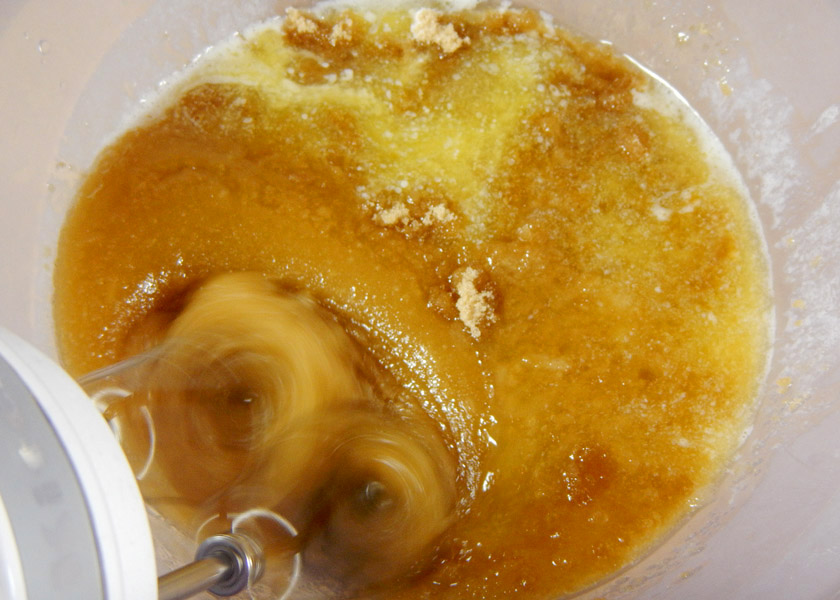 Beat melted butter with brown sugar and white sugar. I'll let you in on a kitchen secret; Melted butter is the key to perfectly chewy chocolate chip cookies.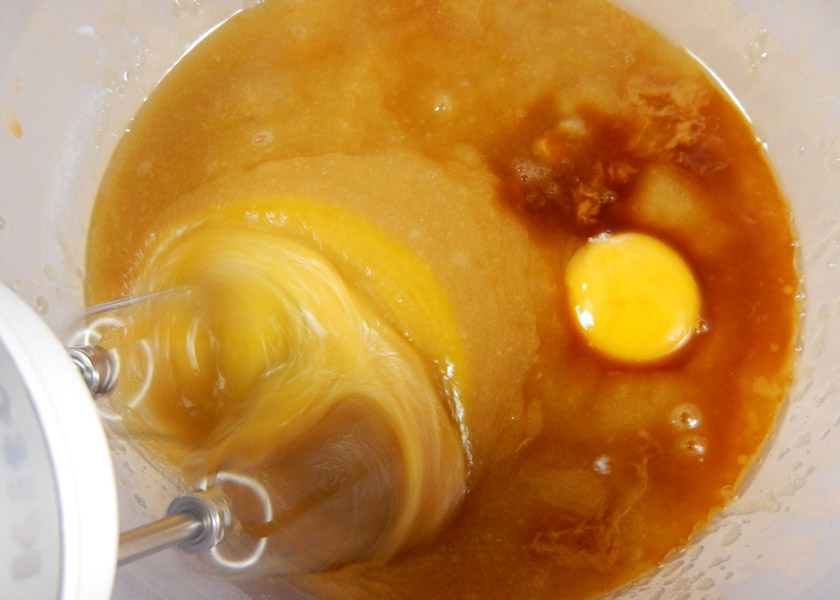 Add an egg, egg yolk, vanilla extract, and almond extract. The almond flavor doesn't come across too strong. It just adds a little extra something special that makes people ask "what is that?" You can just tell them it's your little secret.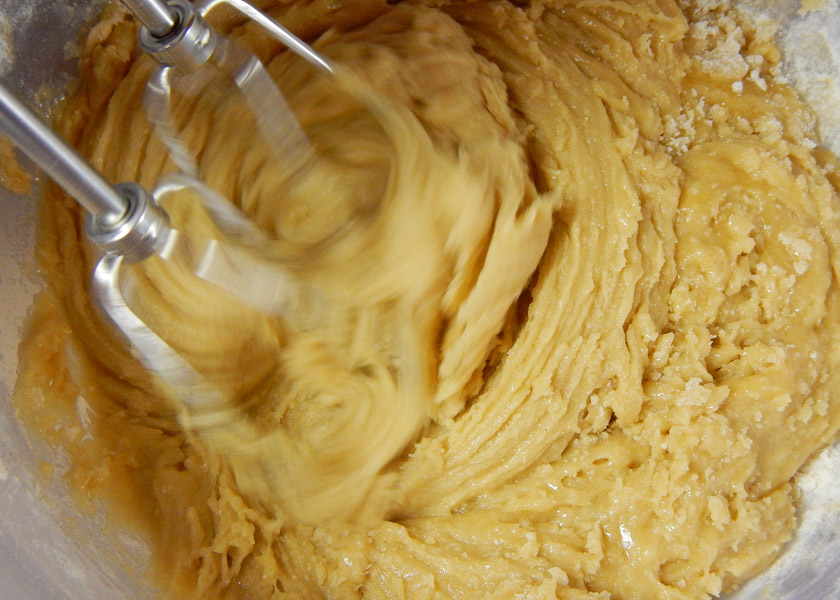 Gradually beat in the flour mixture.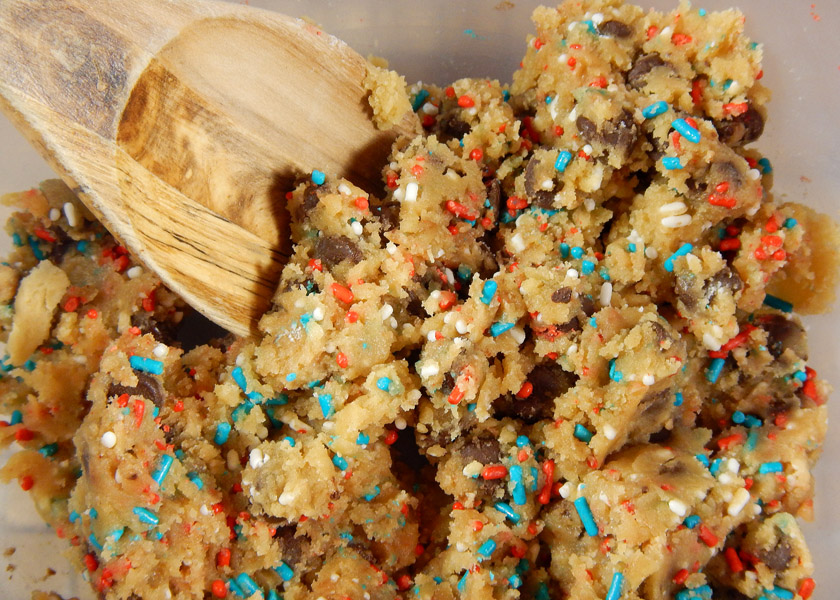 Stir in chocolate chips and sprinkles.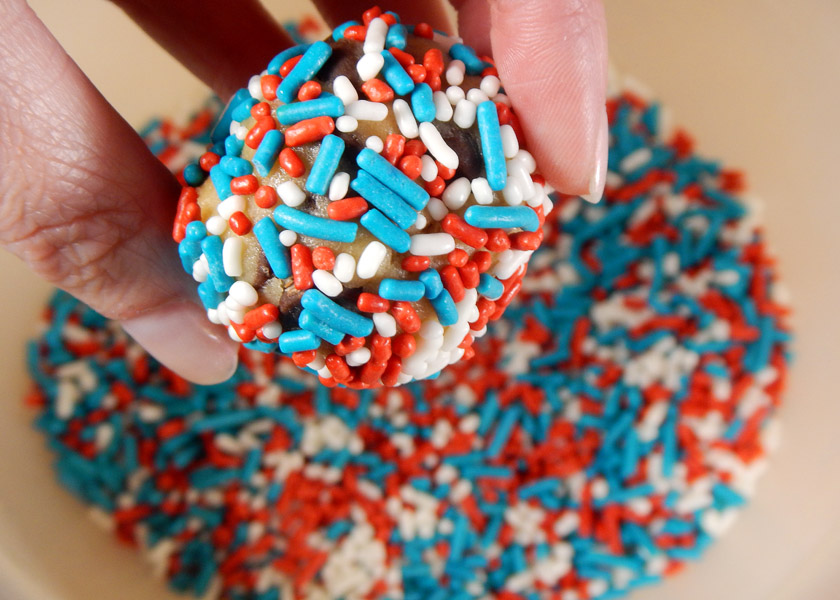 Scoop the dough into tablespoon-sized balls. Dunk the top of each ball into sprinkles.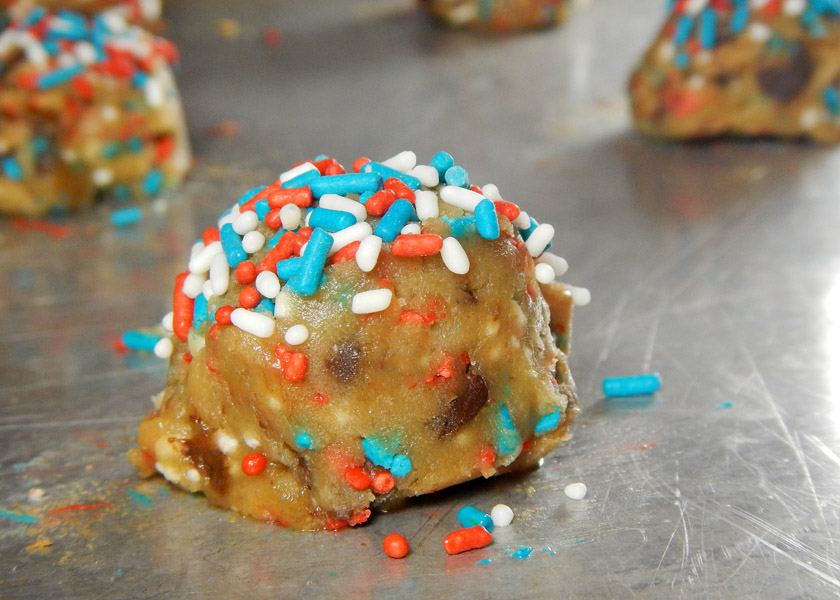 Bake until golden brown.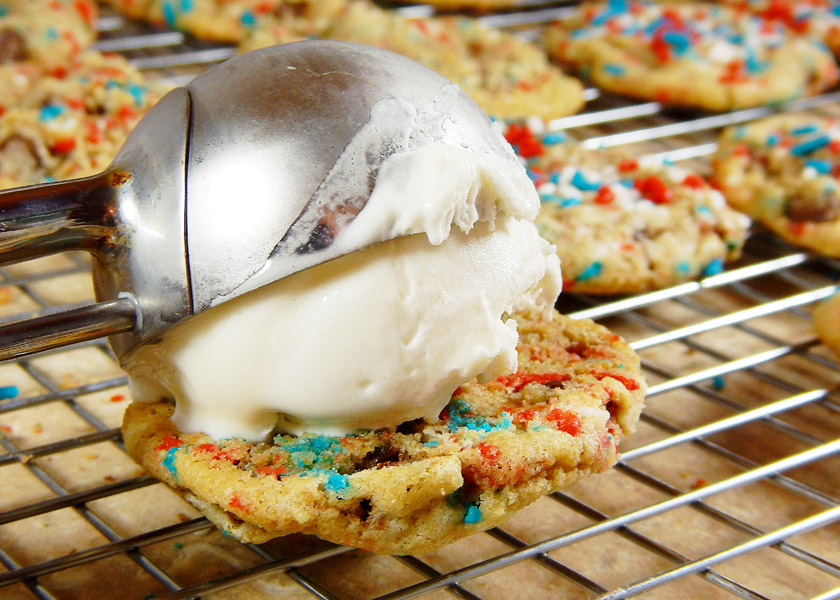 Once your cookies cool, turn half of them over and top them with a scoop of vanilla ice cream. You can use any flavor ice cream (or even frozen yogurt) you would like.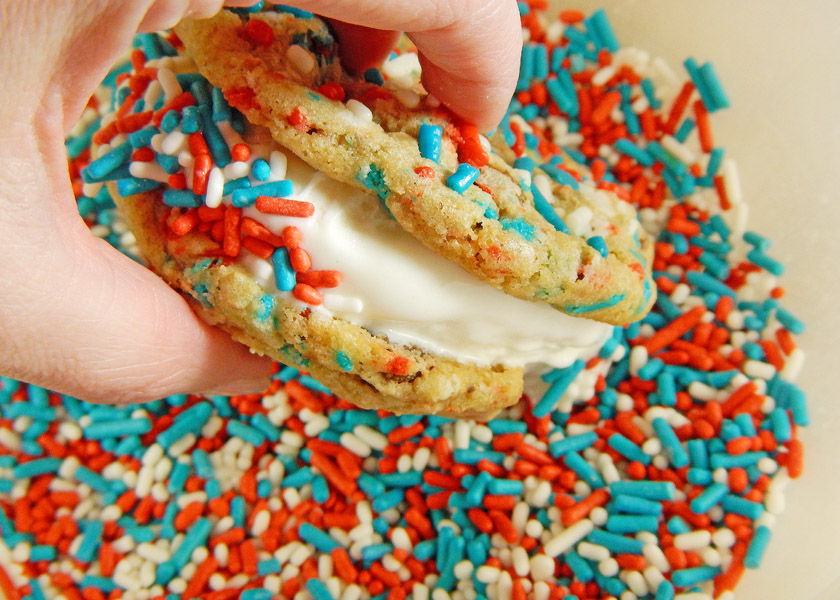 Top each scoop of ice cream with another cookie, then roll the edges in sprinkles. Can you tell I have an absolute fascination with sprinkles? Confession; I've been known to order my ice cream sundaes with a double shot of sprinkles. Really, I don't even need the ice cream. Just give me a big bowl of sprinkles swimming in whipped cream and I'm all set.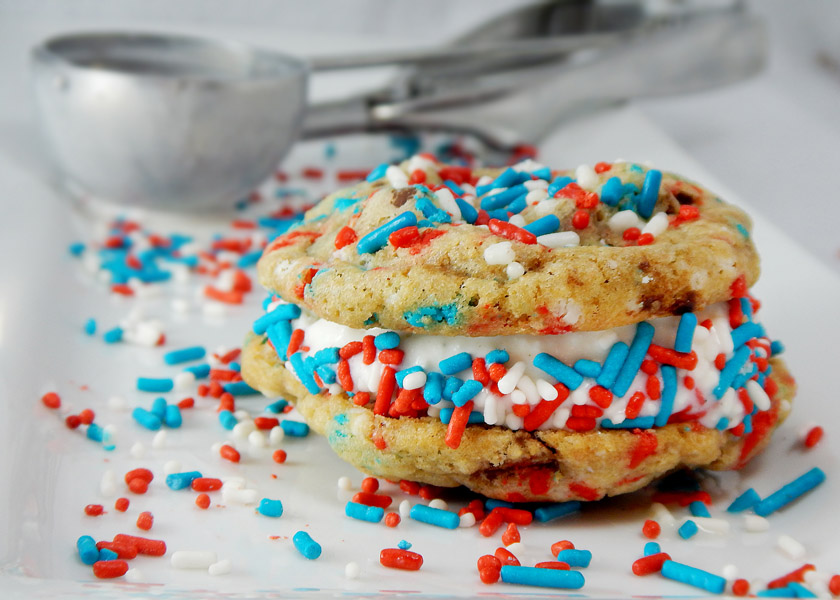 These red, white, and blue sprinkles are great for Fourth of July or Memorial Day. You can change it up with any colors you like. Try mixing it up to match a holiday or party theme.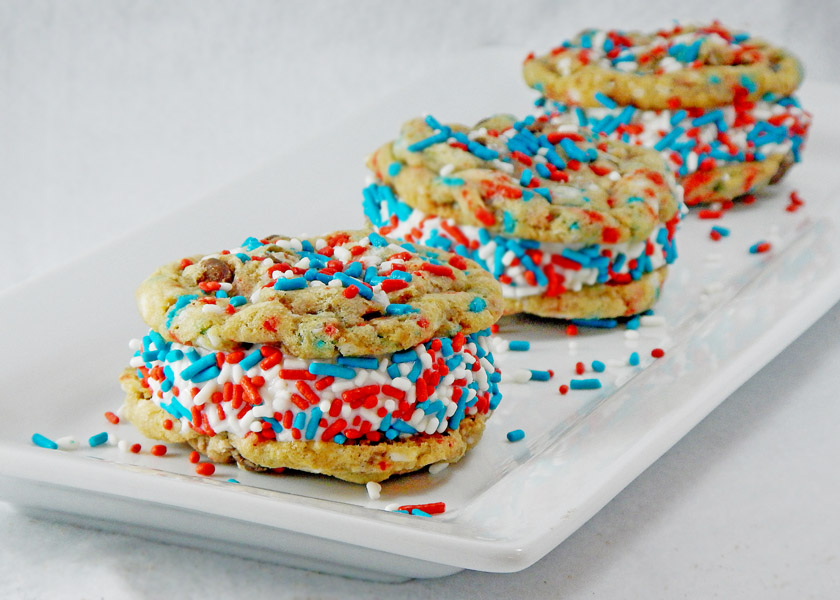 Thank you for spending some time with me. I hope Bernadette will invite me for another visit. Until then, stop on over to visit me any time. Have a sweet day!
About the Author: Laurie helps you satisfy your sweet tooth on her blog Frosting And A Smile . She develops fun-to-share dessert recipes and breaks them down into simple steps so anyone can make them. Laurie is also a Parade.com contributor and three-time Emmy-nominated journalist. She is married and has a three-year-old son. You can follow her on Pinterest, Facebook or Google +.