I love eggs! I always have. When I was little, in the days before people really worried about food poisoning (salmonella in this case) I even ate raw eggs! And I like them! I don't eat raw whole eggs anymore, but I still do lick the batter once in a while.
Have you ever seen the contest on the last page of Food Network Magazine called Name This Dish? The April 2012 contest was for an egg tart, and although I couldn't think of a clever name for it, I knew I had to make it! It looked that good! I made it for the first time last week and it was sooo good, I made it again last night.
Since this is a review I'm going to give you the exact recipe from the magazine, and tell you what I did just a little bit different.
1 sheet frozen puff pastry (half of a 17-18 ounce package) thawed
2 strips bacon
1 1/2 cups shredded havarti cheese
3 tablespoon shredded parmesan cheese
4 large eggs
Kosher salt and freshly ground pepper ( I used fine sea salt)
Chopped fresh chives, for topping ( I forgot to buy them!)
Preheat the oven to 425* F. Line 2 baking sheet with parchment paper ( I only used 1 large baking sheet). On a lightly floured surface, roll out the puff pastry into a 12 inch square, then cut into 4 equal squares ( I didn't flour my surface, because I forgot but it was fine. I also didn't make sure it was a 12 inch square, but it was close enough). Slightly fold and pinch the edges of each square to form 4 round tart shells. Like this:
Transfer to the prepared baking sheets and prick all over with a fork.
Bake until golden 8-10 minutes.
Meanwhile, cook the bacon in a medium skillet over medium heat, turning, until crisp, 8-10 minutes. Transfer to paper towels to drain, then crumble.
Let the tart shells cool slightly on the baking sheets. If the centers are very puffy, prick with a fork to deflate ( I had to both times). Sprinkle evenly with the havarti and parmesan. Make a shallow well in the cheese in the center of each tart like this:
and crack an egg into each; season with salt and pepper. Top with the bacon, then return of the oven and bake until the egg whites are set, 10-15 minutes. Top with chives.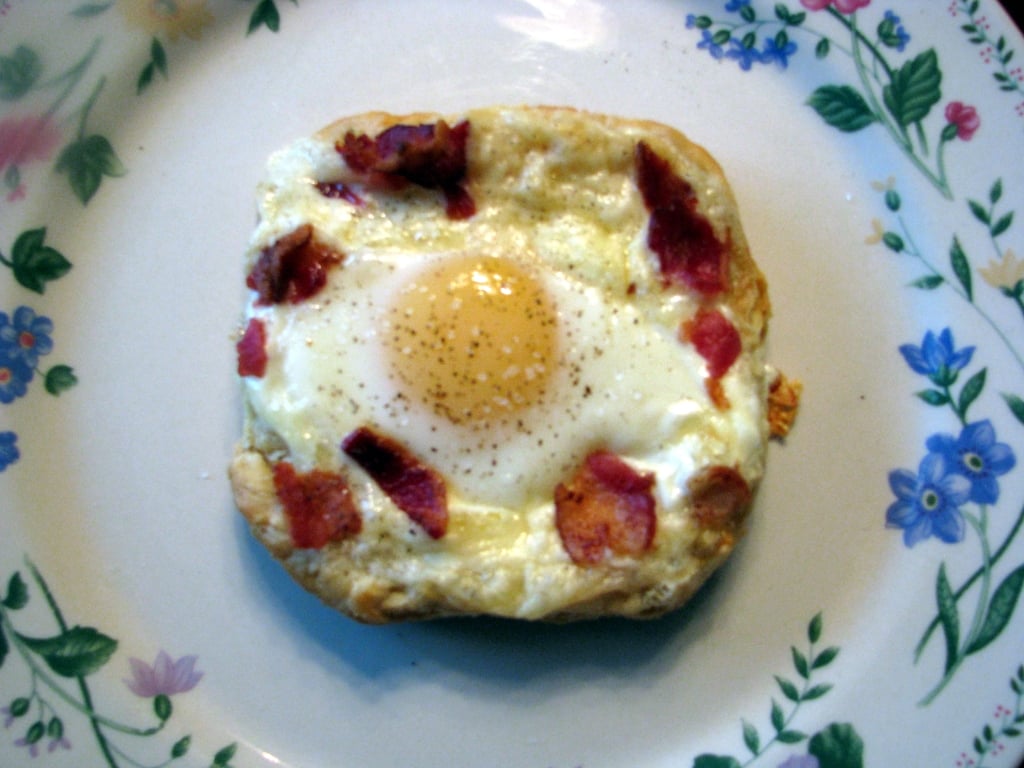 Oh, SO GOOD! I'm going to make this over and over again, and maybe even try to come up with a different version. Hmm, what could I do different?
Some briefs notes: I have been nominated for Circle of Mom's Top 25 Mom Foodie Bloggers 2012. If you want to you can vote for me here and thank you so much if you do!
Don't forget to comment on this or any other posts from May 7th to June 7th, 2012. All comments will be entered into the contest to win a bag of kettle corn from Country Girl Kettle Corn and a box of Gertrude Hawks chocolates or Smidgens ( winner's choice!), and don't forget to follow My Crazy Kitchen here in order to qualify. One winner will be chosen at random on June 8th, 2012.
This recipe is featured on www.foodiefriendsfriday.com and http://www.wifeofthecolonel.blogspot.com