Classic Herbed Rack of Lamb, marinated in olive oil, garlic, and fresh herbs, makes a simply elegant main course for Easter.
This post was originally part of #EasterWeek, celebrating my 5 year blogging anniversery back on April 6, 2017. 
Herb crusted rack of lamb is a classic Easter recipe that is easy to make. A simple marinade and oven roasting is all you need for a delicious main course. This Herbed Rack of Lamb recipe is made with garlic, rosemary, thyme, and oregano made into a rub and then refrigerated for a few hours to let the flavors permeate the meat.
What does lamb taste like?
Lamb is red meat, like beef, but with a more gamey taste, like venison. This is due it's fats, and how intense the flavor is depends on the lambs diet and the cut of meat. Here is a great article from Cooks Illustrated that explains in more detail. I don't love the flavor, but I don't hate it, either. I save making it for special occasions like Easter.
What does Frenched mean in rack of lamb?
Frenched means the rib bones are exposed at one end by cutting back the fat and meat. Butchers can do this for you, and most grocery stores sell them already frenched.
Today's Deliciously Perfect Recipes for Easter:
Main Dishes-
Egg Cupcakes from Making Miracles 
Looking for more lamb recipes? Try these:
Gluten Free Lamb Fajitas from Fearless Dining
Cast Iron Grilled Lamb Chops  from Mediterranean Latin Love Affair
The Best Shepherd's Pie Recipe from House of Nash Eats
Side dishes for your Easter dinner:
Lemon Parmesan Roasted Cauliflower
Bacon Ranch Green Onion Pasta Salad
WANT EVEN MORE DELICIOUS RECIPES FROM MYSELF AND MY FAVORITE FOOD BLOGGERS? FOLLOW ME ON PINTEREST, TWITTER, INSTAGRAM, OR FACEBOOK, WHERE I SHARE NEW RECIPES DAILY. YOU CAN ALSO SUBSCRIBE BY EMAIL TO GET NEWLY POSTED RECIPES FOR FREE!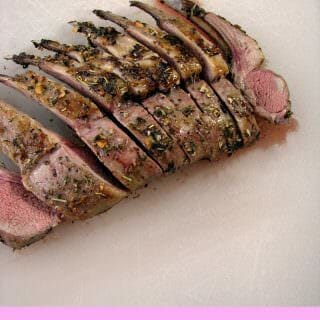 Print Recipe
Herbed Rack of Lamb
Classic Herbed Rack of Lamb, marinated in olive oil, garlic, and fresh herbs, makes a simply elegant main course for Easter.
Ingredients
1 ½

pound

Frenched* rack of lamb

2

cloves

garlic,

minced

1

tablespoon

chopped fresh oregano

(Greek or regular)

1

teaspoon

fresh rosemary,

chopped (or ½ teaspoon dried, crushed between your fingers)

1

teaspoon

fresh thyme,

chopped (½ teaspoon dried)

½

teaspoon

coarse Kosher sea salt

¼

teaspoon

fresh ground black pepper

¼

cup

olive oil

1

tablespoon

fresh squeezed lemon juice

(½ of a lemon)
Instructions
Combine the minced garlic, chopped oregano, rosemary, thyme, sea salt, and black pepper with the olive oil and lemon juice to create a rub. Mix well.

Rub the lamb rack all over with the rub. Place the lamb with the rub in a large freezer bag, squeeze out the air and seal. Place the bag on a plate and refrigerate for at least 2-3 hours, turning occasionally, up to overnight.

Bring the lamb out of the refrigerator at least one hour before baking. Score the fat with a sharp knife all over. Preheat the oven to 450F.

Remove the rack from the bag and place on a baking pan. Cover the exposed ribs with aluminum foil.

Roast on the middle shelf of the oven for 10-15 minutes to brown the top, then reduce the heat to 300F. Continue to roast for 10-30 minutes longer, checking the temperature after 10 minutes, until the meat in the middle of the rack reaches desired temperature, 120-125 Rare, 135-145 medium.
Notes
Prep time includes shortest marinating time. Cook time is for medium. *Frenched lamb is cut so that the rib bones are exposed. A rack of lamb purchased in a grocery store will normally be already Frenched, or ask your butcher to do it for you.
Nutrition
Calories:
588
kcal
|
Carbohydrates:
1
g
|
Protein:
18
g
|
Fat:
56
g
|
Saturated Fat:
20
g
|
Cholesterol:
94
mg
|
Sodium:
361
mg
|
Potassium:
251
mg
|
Vitamin A:
45
IU
|
Vitamin C:
2.7
mg
|
Calcium:
41
mg
|
Iron:
2.3
mg