Quick, easy pan seared lemon pepper rainbow trout, with fresh squeezed lemon juice, fresh ground pepper, and garlic, makes an easy weeknight dinner.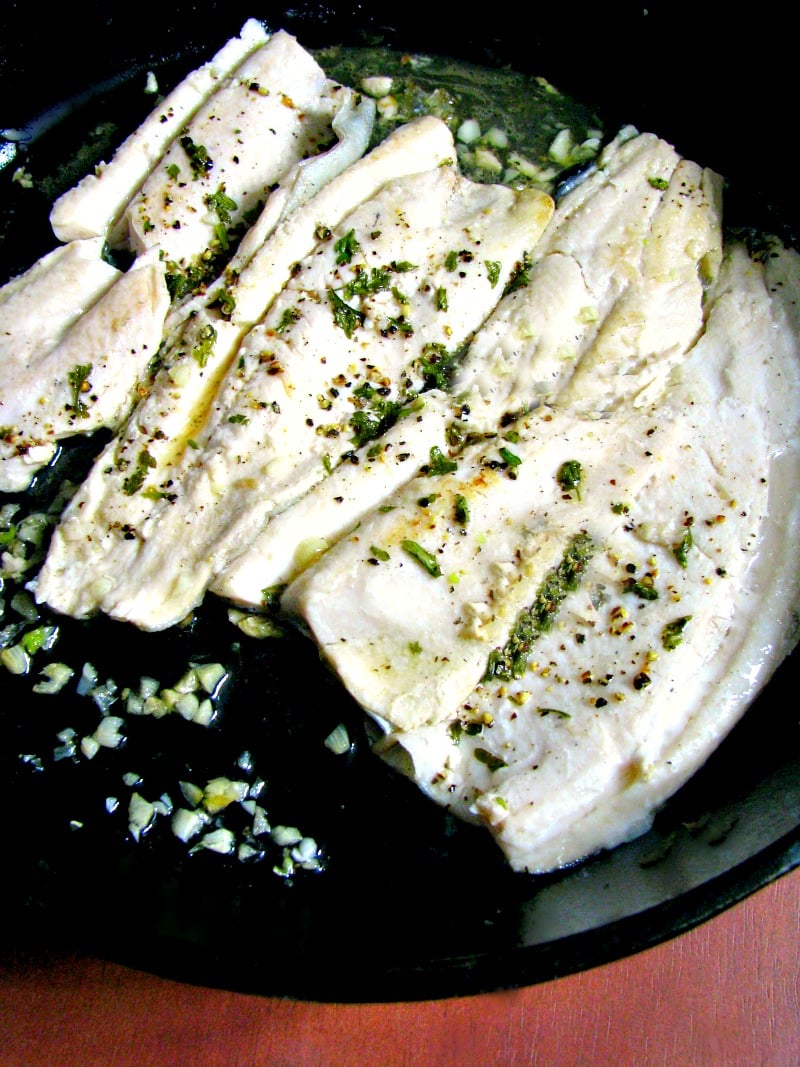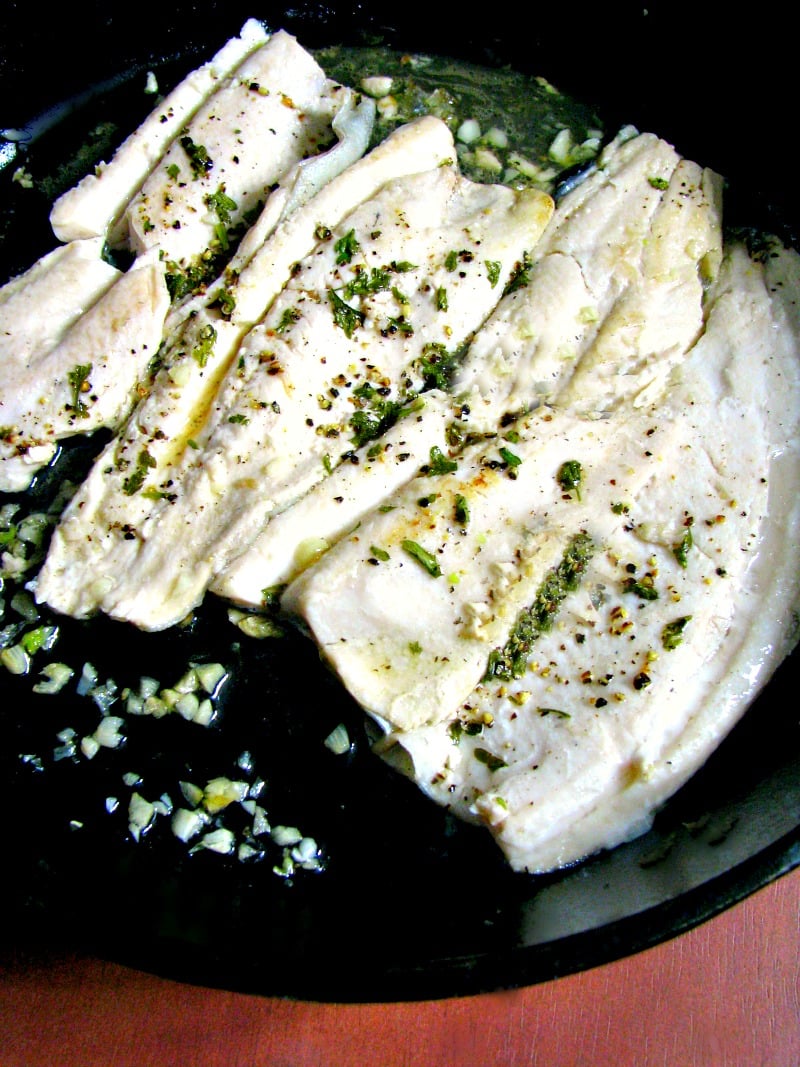 We eat fish at least once a week here, and it's always fresh fish, not fish sticks like most kids like. No, my little girl prefers real fish, and I couldn't be happier! She has never been a big eater, not since birth,  and there are only a few things she will go so far as to ask for. "Fishy and rice" is one of them. She won't eat shellfish, though I'm working on that.
Original photo from a few years ago:
Pan Seared Lemon Pepper Rainbow Trout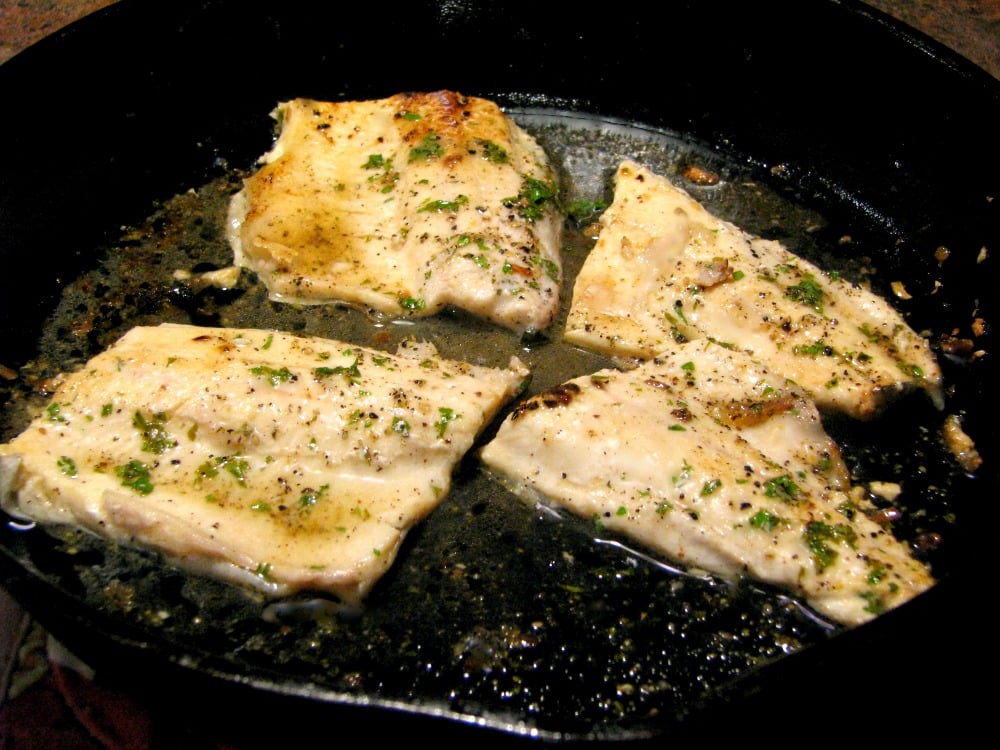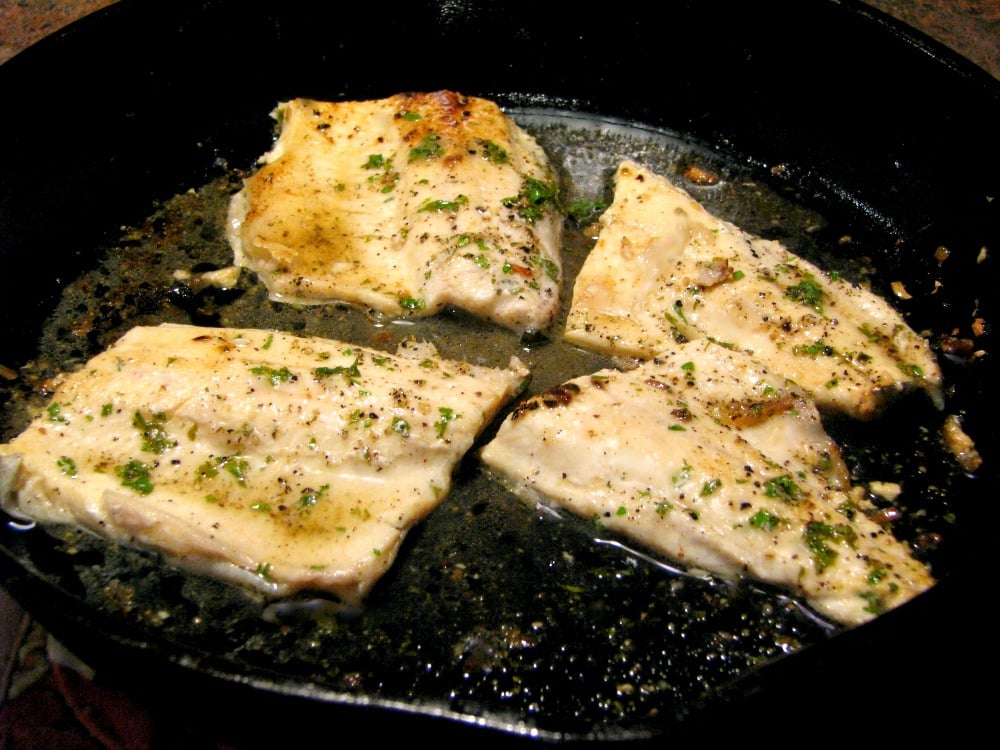 I bought these rainbow trout fillets on a recent trip to one of the better grocery stores in my area since we like it and the other stores don't normally carry it. We live in an area where there is a supply of trout in our rivers and lakes, but my husband hasn't gone fishing in many years, and even if he did, I've never gutted a fish and don't think I want to start now. I'll leave that to the fish mongers. Or my husband, but I'm leaving the house. If your not as squirmish as me, this rainbow trout recipe would be great for freshly filleted.
I've only made trout a few times, but my favorite way to make most fish is simple, with few other ingredients. I had a bag of lemons in my fridge so I had the chance to use fresh lemon juice, but there is nothing wrong with bottled real lemon juice if that's what you have. I leave the skin on the trout because I love it slightly crispy but I would remove it if you are watching your cholesterol. In my opinion, this is the best recipe for trout.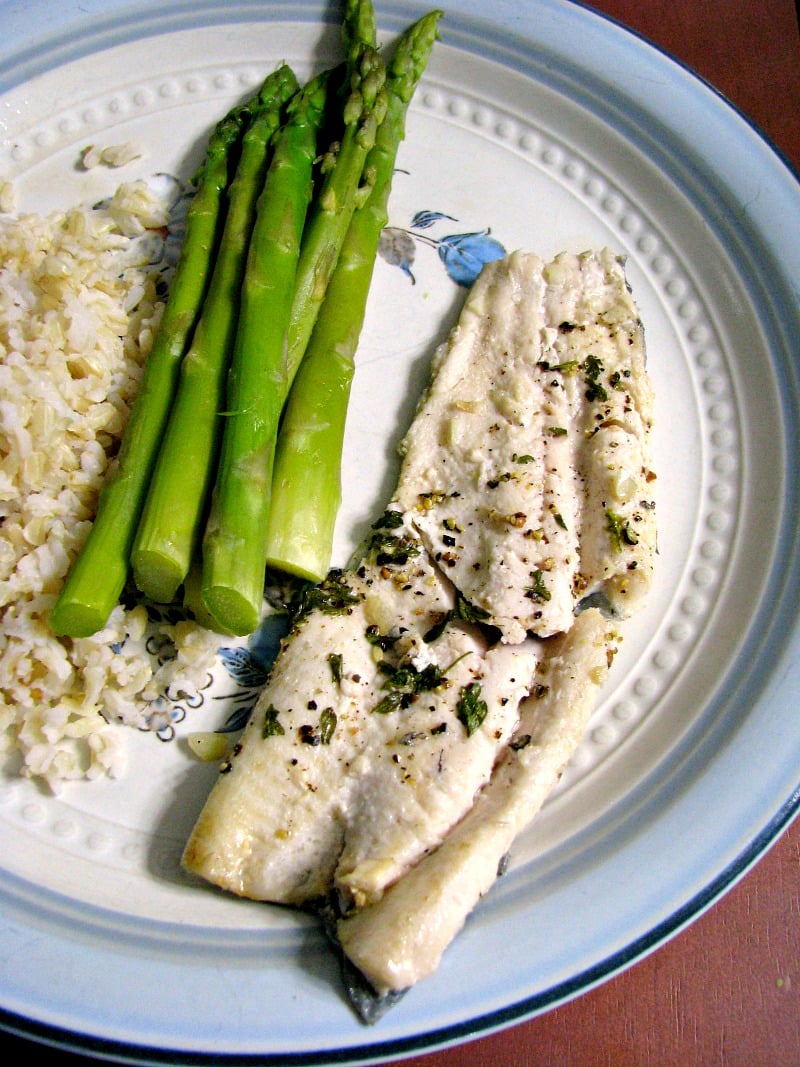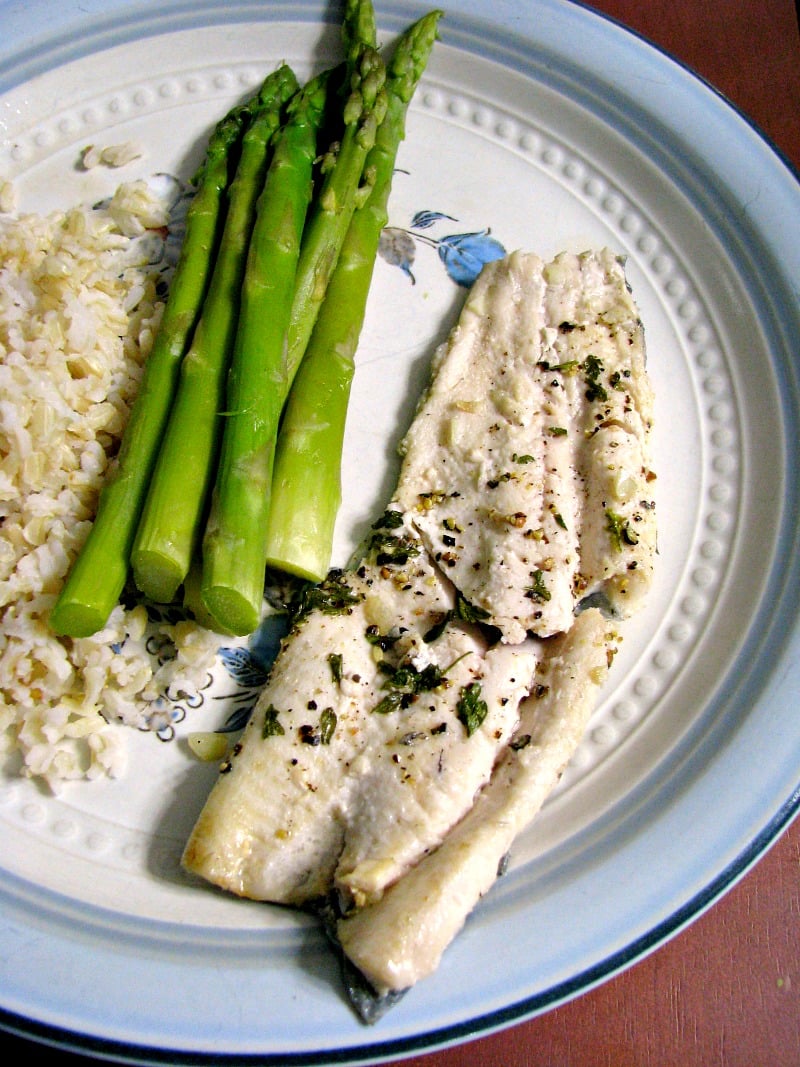 I prefer to pan sear rather than bake trout. Make this fish in a cast iron skillet if you have one. I had to make it in two batches and keep the first batch warm in the oven because my skillet is a bit too small, but the first batch keeps fine without drying out in a oven set to 215 degrees F. The garlic does brown quite a bit, frequent stirring will prevent it from burning, and the second batch is just as flavorful as the first.
Looking for more fish recipes, after you try this lightly pan-fried trout? Check these out:
Castaway's Wreck Diver-Style Lionfish 
Tuna Cakes with Garlic Lemon Aioli 
WANT EVEN MORE DELICIOUS RECIPES FROM MYSELF AND MY FAVORITE FOOD BLOGGERS? FOLLOW ME ON PINTEREST, TWITTER, INSTAGRAM, OR FACEBOOK, WHERE I SHARE NEW RECIPES DAILY. YOU CAN ALSO SUBSCRIBE BY EMAIL TO GET NEWLY POSTED RECIPES FOR FREE!
Print Recipe
Pan Seared Lemon Pepper Rainbow Trout
Rainbow Trout pan seared in fresh lemon juice and fresh ground pepper.
Ingredients
4

trout fillets

cut into serving size pieces

juice of 2 lemons

2

cloves

garlic

minced

1

tablespoon

chopped fresh parsley

1

teaspoon

fresh ground black pepper

½

teaspoon

fine sea salt

3

tablespoons

olive oil
Instructions
Put lemons in the microwave on high for 30 seconds (these were right out of the fridge, reduce to 20 seconds if room temperature). Roll lemons on a clean surface, slice in half and squeeze juice into a small container. Mix in the chopped parsley, pepper and salt.

Cut the trout fillets into serving size pieces and pat dry.

Heat the olive oil in a cast iron skillet or large pan over medium heat. Add the garlic,stir, then add the fillets, skin side down and cook for 5 minutes. Carefully turn the fish using fish tongs if you have them (if you don't I HIGHLY recommend them), and cook for 2 minutes more. Turn again so the skin side is down, turn off heat and pour the lemon juice mixture over the fillets. Let stand for a few minutes before serving.

If working in two batches: Preheat oven to 215 degrees F. Cook as directed above, adding half of the lemon juice mixture to the first batch and reserving the rest for the next batch, then remove to an oven safe dish. Keep in the preheated oven while preparing the second batch. Do not add additional oil or garlic to the pan before cooking second batch.
Nutrition
Calories:
605
kcal
|
Protein:
70
g
|
Fat:
33
g
|
Saturated Fat:
5
g
|
Cholesterol:
197
mg
|
Sodium:
468
mg
|
Potassium:
1227
mg
|
Vitamin A:
280
IU
|
Vitamin C:
9.9
mg
|
Calcium:
149
mg
|
Iron:
5.3
mg