Who wouldn't love a filling meal of cheesy Pumpkin Manicotti with Sage Cream Sauce? Ricotta and Pumpkin filled manicotti in a creamy sage and garlic sauce. This will become your go-to Fall pasta dish!
Pumpkin Manicotti with Sage Cream Sauce  
Some people might call me a pessimist. I call myself a realist. I don't sugar coat things, say everything is wonderful all the time, or act happy when I'm not. I wanted to start blogging more regularly once my daughter went back to school, but in my heart I knew I would never be able to post three times a week like I'm "supposed to". Reality is it only took a few weeks before Amanda got strep throat and spent a few days home from school, and we ordered Chinese and McDonalds, and then when she was better we went to the fair. This is my life. So, until yesterday it had been a few days since I cooked anything new. In fact, it's been a week since I posted anything new.  I'm so glad I finally made these pumpkin manicotti, I loved them!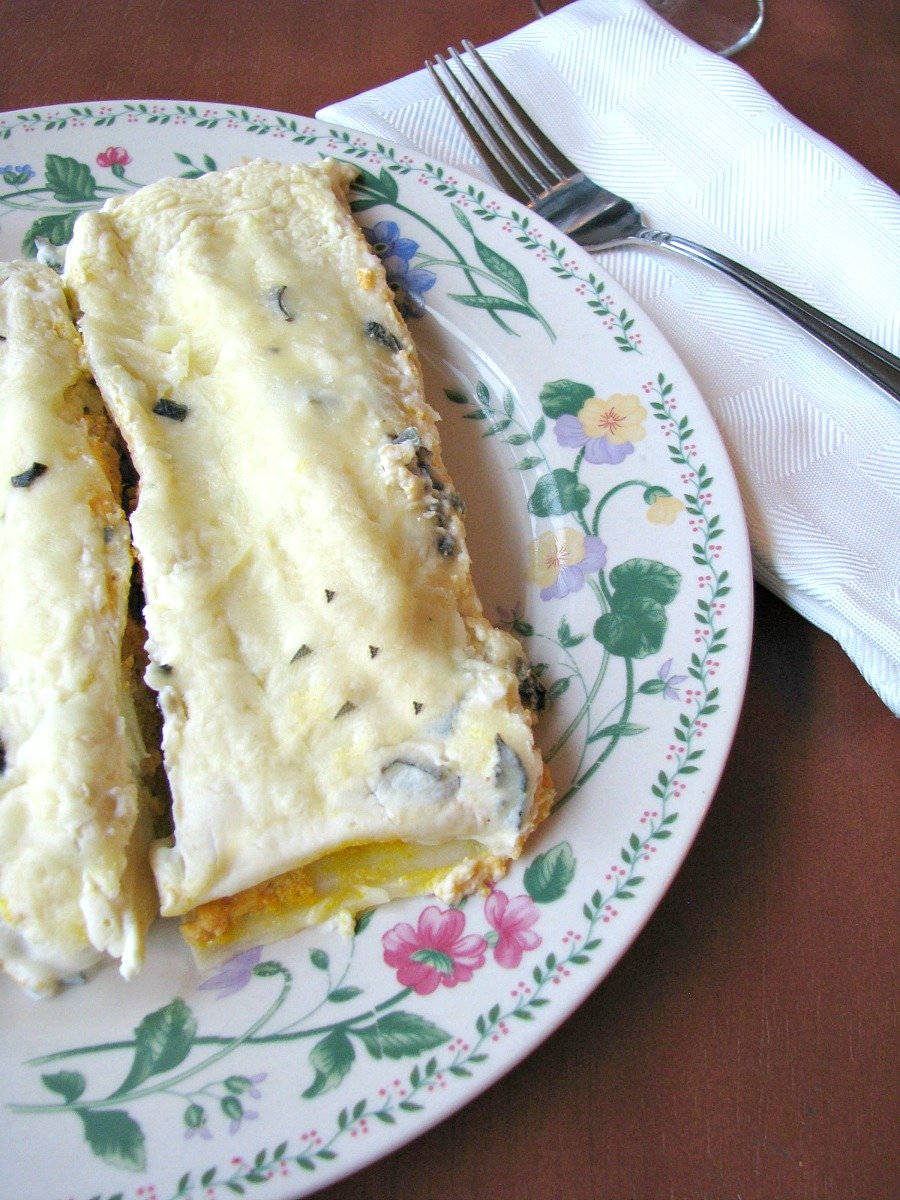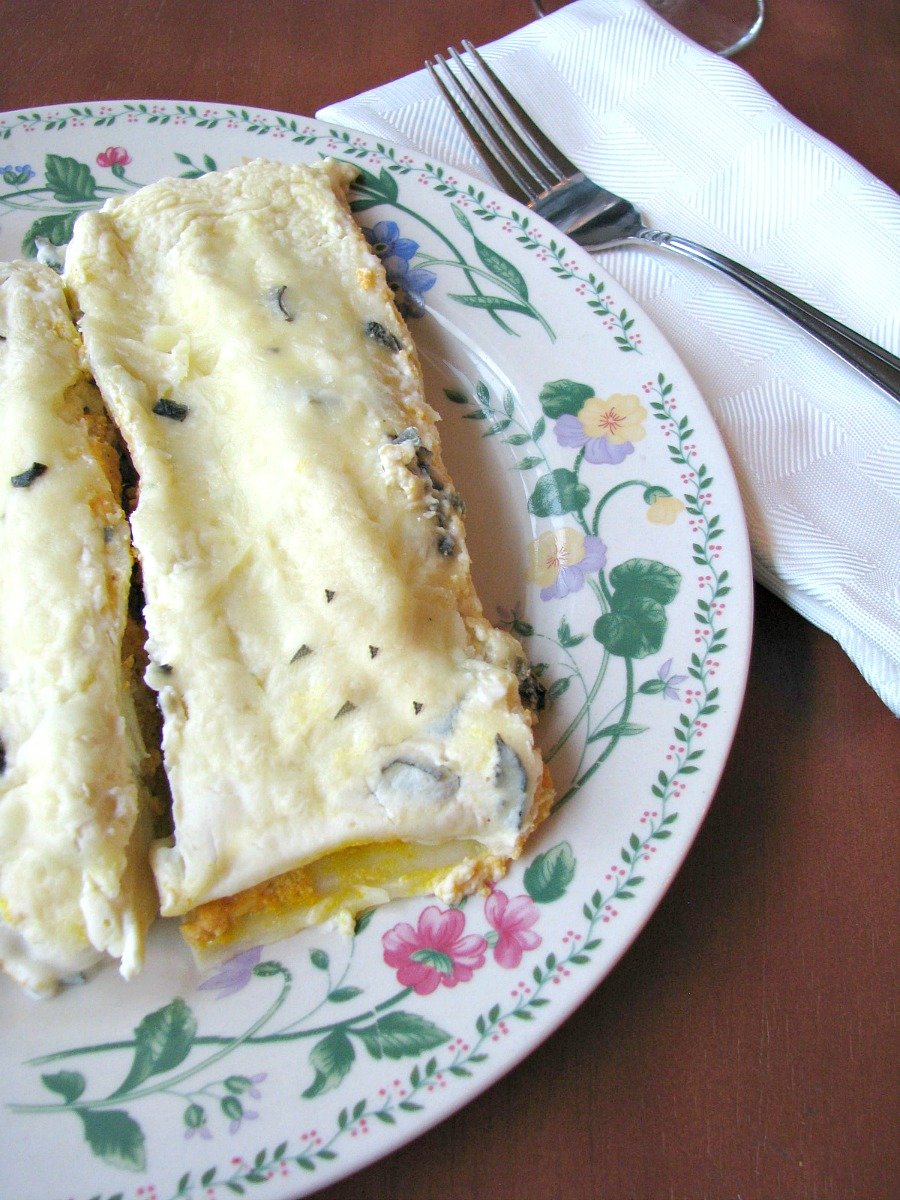 For the most part, I prefer savory pumpkin dishes over sweet. I don't like pumpkin pie spice, so I don't like regular pumpkin pie (but I'm thinking of making a different version, watch for it!). I do love dishes like pumpkin ravioli, Pumpkin Soup, and a few other pumpkin dishes I've made over the years. Pumpkin manicotti just joined the list of savory pumpkin dishes I love. They are cheesy, flavorful, filling...oh my goodness, filling! You could eat one manicotti with a salad and make a full meal of it. Yeah, this isn't diet food, though I did make it as healthy as I could for my husband by leaving out some salt and using light butter. It's still not diet food.
I adapted this recipe from foodiecrush by changing the way I made the sauce. I suggest preparing the sauce up to three days in advance, it will save you a ton of time! This recipe makes enough filling for nine manicotti shells, while a box of shells contains fourteen shells. If you want to make the whole box prepare another half batch of the pumpkin/ricotta filling along with a extra half of the sauce, and bake in two pans. A 13 x 9 pan will nicely hold nine shells.
Print Recipe
Pumpkin Manicotti with Sage Cream Sauce
Ricotta and Pumpkin filled manicotti in a creamy sage and garlic sauce. This will become your go-to Fall pasta dish!
Ingredients
For the sauce:

3

cups

light cream

(or milk)

8

tablespoons

light butter

1

large

clove garlic

¼

cup

flour

⅛

cup

thinly sliced fresh sage

For the manicotti:

8

mancotti shells

(one package) cooked until al dente according to package directions and cooled

1 ½

cup

part-skim ricotta cheese

1

cup

pure pumpkin puree

1

cup

part-skim mozzarella cheese

,shredded (divided)

½

cup

Parmesan cheese

,thinly shredded

1

egg

1

teaspoon

salt

½

teaspoon

nutmeg

1

tablespoon

thinly sliced fresh sage
Instructions
For the sauce: Melt the butter in a medium saucepan over medium heat. Add the garlic and saute for 2 minutes. SLOWLY add the flour while whisking constantly, then SLOWLY add the cream while continuing to whisk constantly. Bring to a simmer, add the sage, lower the heat and cook, stirring often, for ten minutes. If making ahead, cool completely before refrigerating, if using immediately allow to cool while you assemble the manicotti.

For the manicotti: Preheat oven to 350 degrees F. In a large mixing bowl, combine ricotta cheese, ½ cup of the mozzarella cheese, pumpkin puree, egg, salt, and nutmeg. Spread ½ cup of the sauce on the bottom of a 9 x 13 glass baking dish. Using a pipping bag with a large tip or a plastic freezer bag with the bottom corner snipped off, pipe the ricotta/pumpkin mixture into each cooked and cooled manicotti shell. Place the filled shells on top of the sauce in the baking dish. Cover the filled shells with the remaining sauce, sprinkle with ½ cup mozzarella and the Parmesan. Sprinkle the top with the sliced fresh sage. Cover with aluminum foil and bake in the preheated oven for 30 minutes. Uncover and bake for 10 minutes more.
Nutrition
Calories:
890
kcal
|
Carbohydrates:
52
g
|
Protein:
31
g
|
Fat:
63
g
|
Saturated Fat:
37
g
|
Polyunsaturated Fat:
1
g
|
Monounsaturated Fat:
12
g
|
Cholesterol:
254
mg
|
Sodium:
1393
mg
|
Potassium:
609
mg
|
Fiber:
3
g
|
Sugar:
16
g
|
Vitamin A:
12215
IU
|
Vitamin C:
4
mg
|
Calcium:
769
mg
|
Iron:
2.9
mg