Juicy, flavorful Spicy Buttermilk Brined Fried Chicken. Spicy cayenne pepper breading with a hint of buttermilk, this passes the "cold chicken" test.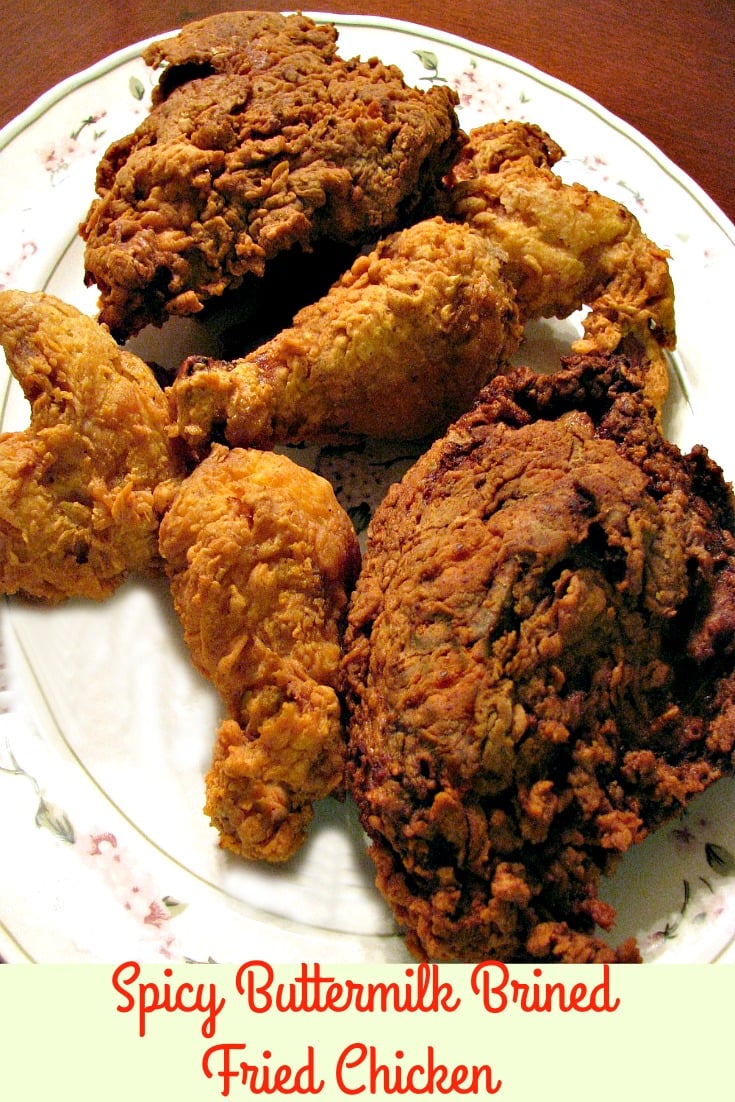 What is the best fried chicken you ever had? Around here the pickings are slim. We have a KFC, a few of them actually and I have to admit that I love them, minus one bad experience years ago but that was out of state so I digress, and a few local restaurants make it, plus there's Walmart's chicken, but none of them really stand out for me. This spicy buttermilk brined fried chicken is supposed to be like Popeyes, but I don't know because I've never been to a Popeyes. A quick search just now tells me the closest one is 40 miles away. Update: Since I originally posted this, we have gotten a Popeye's around here and I don't think it's exactly the same. I believe the coating on this version is thicker. 
Spicy Buttermilk Brined Fried Chicken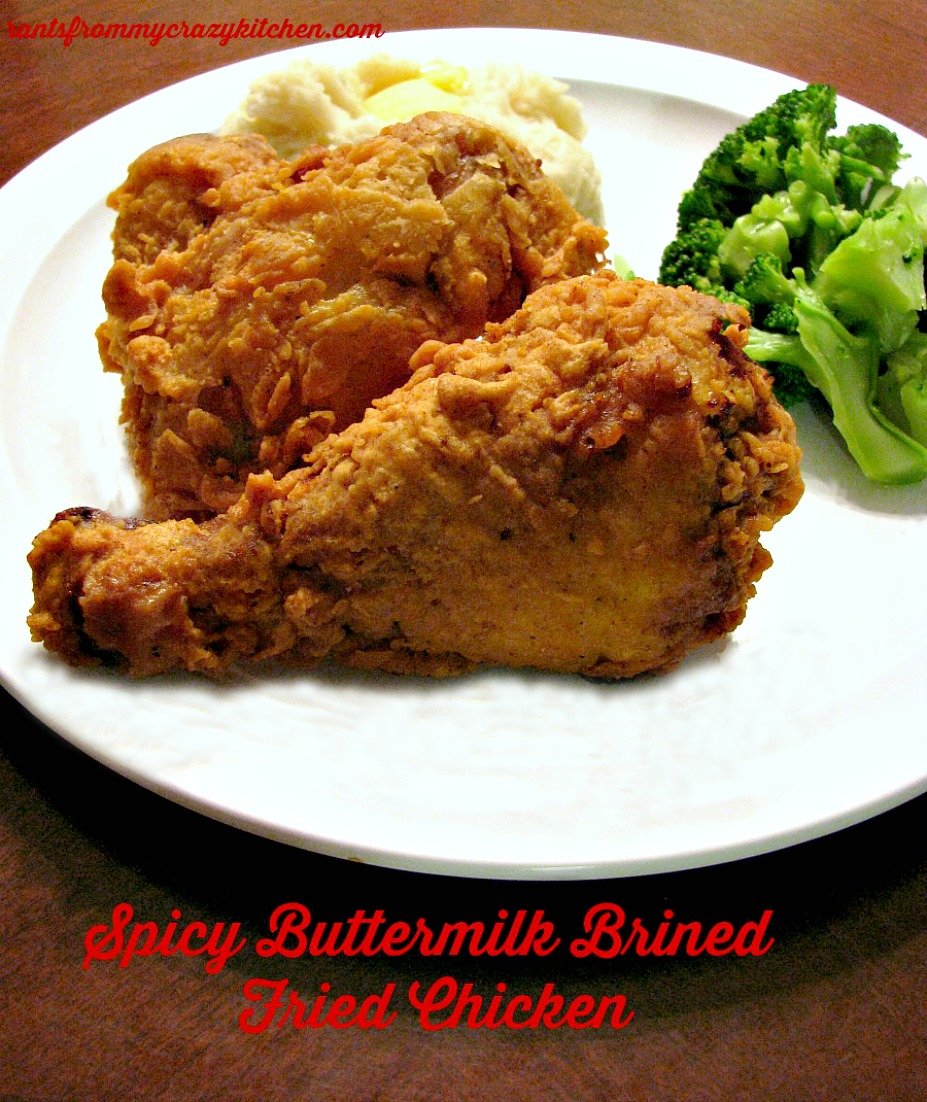 I chose to buy chicken already cut up rather than butcher my own (why butcher if you don't have to, right?), brined it in buttermilk for several hours, coated it in seasoned flour, dipped the pieces in a hot sauce mixture, then back in the flour. Double coating in the flour makes the breading thick and crispy. I recommend letting the battered chicken sit for 5-10 minutes before frying. This ensures that the breading sticks! I don't usually use peanut oil, but I love the flavor it gives fried chicken, so I did here. Most of the chicken will reach 165 degrees around 18 minutes, but if your breasts are particularly large....go ahead, snicker, I'll wait.....okay, are you done yet?.....sorry, dirty mind....Anyhoo, they might take up to 25 minutes. As you can see by the platter the breasts are much darker than the rest of the chicken, but they aren't burned, just extra crispy and I love it.
For my 5 year old, I took the breading off before serving it to her. It's not overly spicy, just not suited for my picky little girl. It's weird, at age two she was eating hot wings and raw onions, now she won't touch anything spicy.
The breading on the chicken is amazing, the chicken itself is juicy with just a hint of buttermilk flavor, and my husband says it passes the "cold chicken" test. Just don't reheat it in the microwave, or it will be soggy! I would put it in the oven at 350 degrees until just hot, 10-15 minutes.
Do you love chicken as much as my family? Check out my 12 Best Chicken Recipes for more ideas.
WANT EVEN MORE DELICIOUS RECIPES FROM MYSELF AND MY FAVORITE FOOD BLOGGERS? FOLLOW ME ON PINTEREST, INSTAGRAM, OR FACEBOOK, WHERE I SHARE NEW RECIPES DAILY. YOU CAN ALSO SUBSCRIBE BY EMAIL TO GET NEWLY POSTED RECIPES FOR FREE!
Adapted slightly from From Away , as found on Meg's Everyday Indulgence.
Print Recipe
Spicy Buttermilk Brined Fried Chicken
Delicious Spicy Buttermilk Brined Fried Chicken
Ingredients
6

pounds

chicken pieces

(breasts, wings, thighs, and legs)

2

quarts

peanut oil

1

quart

buttermilk

4

cups

flour

3

teaspoons

cayenne pepper

2

teaspoons

paprika

½

teaspoon

garlic powder

½

teaspoon

salt

¼

teaspoon

black pepper

3

large eggs

1

cup

cayenne pepper sauce

(I used Franks Red Hot)

⅓

cup

water
Instructions
Place the chicken pieces in a large mixing bowl or a deep baking pan, pour buttermilk over the chicken. Cover and refrigerate, turning at least once, for at least 4 hours, or overnight.

Combine flour, cayenne pepper, paprika, garlic powder, salt, and pepper in a gallon size freezer bag. Steal the bag tightly and mix well. In a large bowl, whisk together eggs, cayenne pepper sauce, and water.

Working a few pieces at a time, remove the chicken pieces from the buttermilk, allowing excess buttermilk to drip off. Place the chicken in the bag, steal tightly, and shake well. Remove chicken pieces from the flour mixture, shake off excess, dip in cayenne pepper mixture, then back in the flour, shake again. Place on a large plate. Repeat with remaining chicken pieces.

Preheat oven to 200 degrees F (to keep chicken warm while frying remaining pieces). Heat oil in a large, heavy bottomed pot like a cast-iron pot, over medium high heat to 350 degrees. Fry the chicken, a few pieces at a time without overcrowding, turning carefully several times, until golden brown and 165 degrees F. Remove to a large platter lined with paper towel to drain, then keep warm in the preheated oven until all the chicken is done.
Nutrition
Calories:
1195
kcal
|
Carbohydrates:
69
g
|
Protein:
73
g
|
Fat:
67
g
|
Saturated Fat:
18
g
|
Polyunsaturated Fat:
4
g
|
Monounsaturated Fat:
6
g
|
Cholesterol:
328
mg
|
Sodium:
1590
mg
|
Potassium:
919
mg
|
Fiber:
2
g
|
Sugar:
4
g
|
Vitamin A:
1505
IU
|
Vitamin C:
35.8
mg
|
Calcium:
154
mg
|
Iron:
7.6
mg