Instead of frying pork chops, save on the calories and create a healthier meal with this recipe for juicy and flavorful Air Fryer Pork Chops.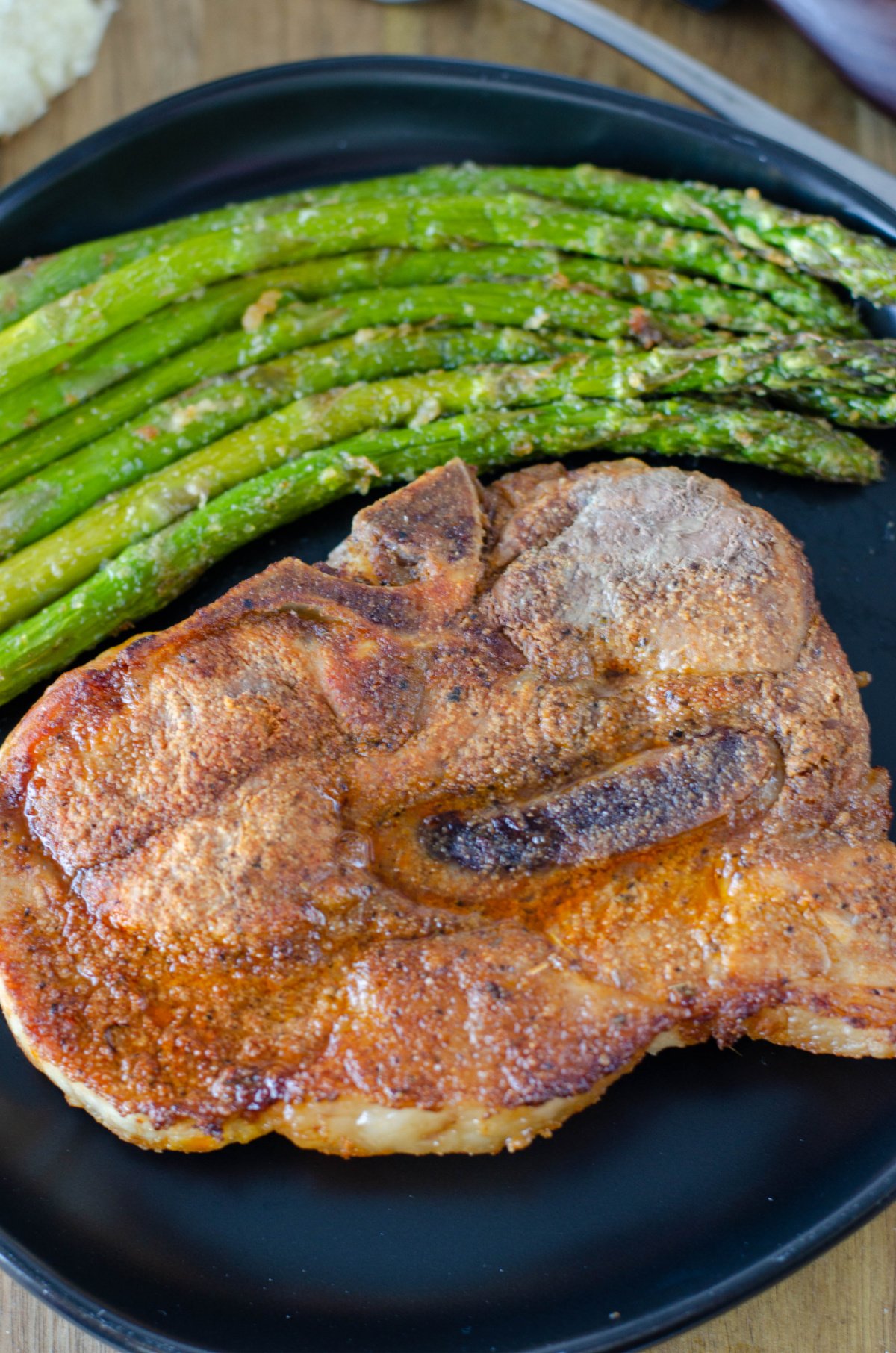 I always struggle with pork chops. Maybe it's because I expect them to come out juicy and tender, but they tend to be dry. However, with this air fryer pork chops recipe, my pork chops come out juicy and full of flavor! In my opinion, it's the only way to cook them.
Why Make Pork Chops in an Air Fryer?
These pork chops are a healthier version of fried pork chops. If you like that crisp taste of pork chops that you get when you fry them in a skillet, try cooking them in the air fryer. You will get that same crisp texture and taste without the extra calories.
Ingredients Needed:
When preparing the pork you need these important ingredients:
Pork Chops.

Grab two bone-in or boneless pork chops that are at least a ½ inch thick.

Garlic Powder.

Add a hint of garlic to your chops with garlic powder.

Smoked Paprika.

The smoked paprika is a great addition to these chops, adding both flavor and color to them.

Onion Powder.

Use onion powder with the garlic powder to season these pork chops to perfection.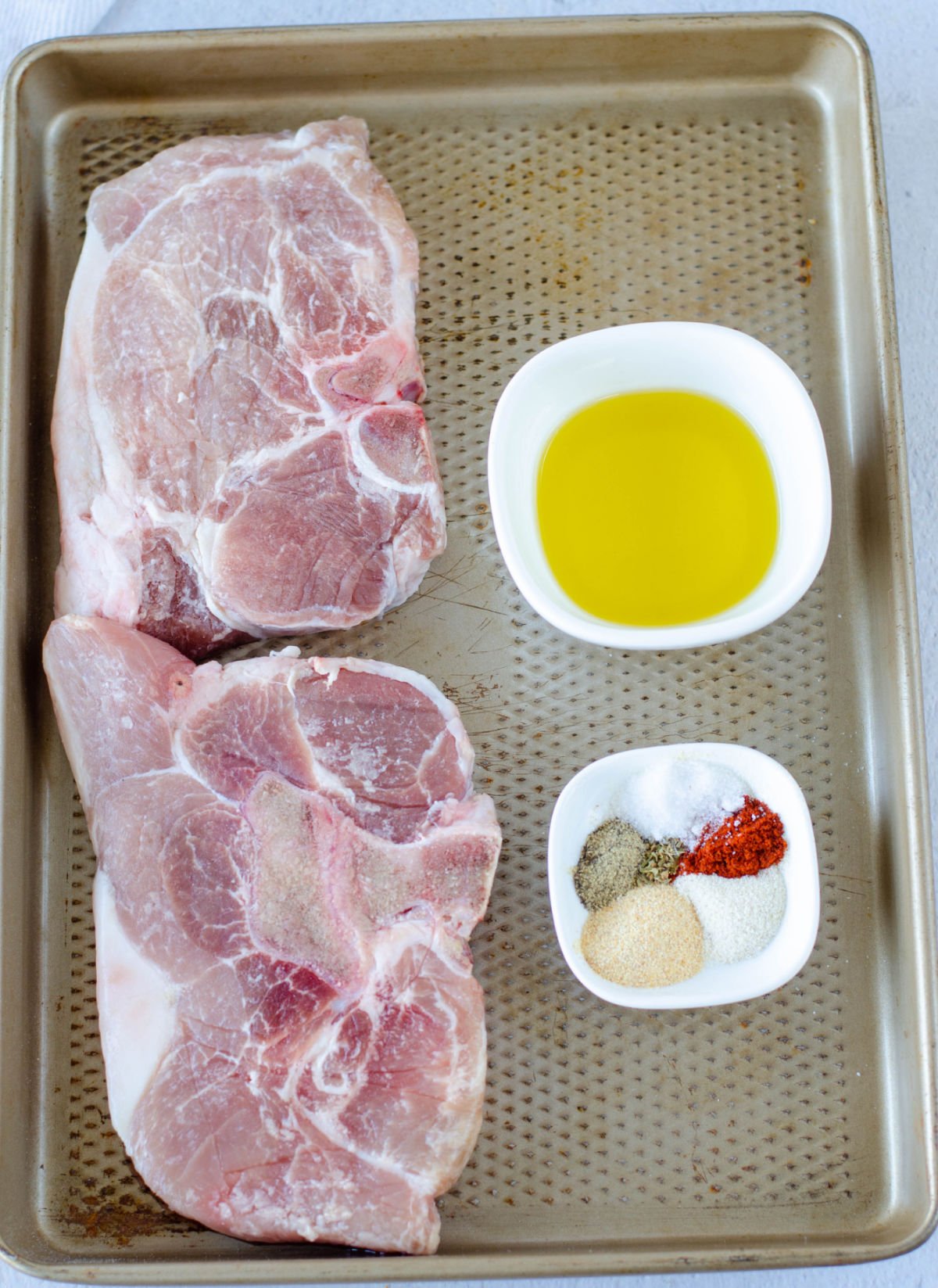 You will also want to use salt, pepper, and a pinch of oregano when seasoning your pork chops before tossing them into your air fryer. Make sure you have some olive oil to use as a coating for the pork chops.
How to make Pork Chops in the air fryer
Make these easy pork chops in no time by following this simple steps:
Step 1: Preheat
First, preheat your air fryer to 350 degrees Fahrenheit.
Step 2: Season Your Pork Chops
Add a bit of olive oil to both sides of your pork chops. After you have the olive oil on them, you can begin adding your seasonings, coating both sides with a generous amount of them.
Step 3: Start Cooking the Pork Chops
Place your pork chops in the air fryer basket. Allow them to cook for 12 minutes. You can flip them over at the halfway point to ensure they get crisp on both sides.
Step 4: Serve and Enjoy
It is that simple. After 12 minutes, you can remove the pork chops and slice into them to serve them.
Enjoy!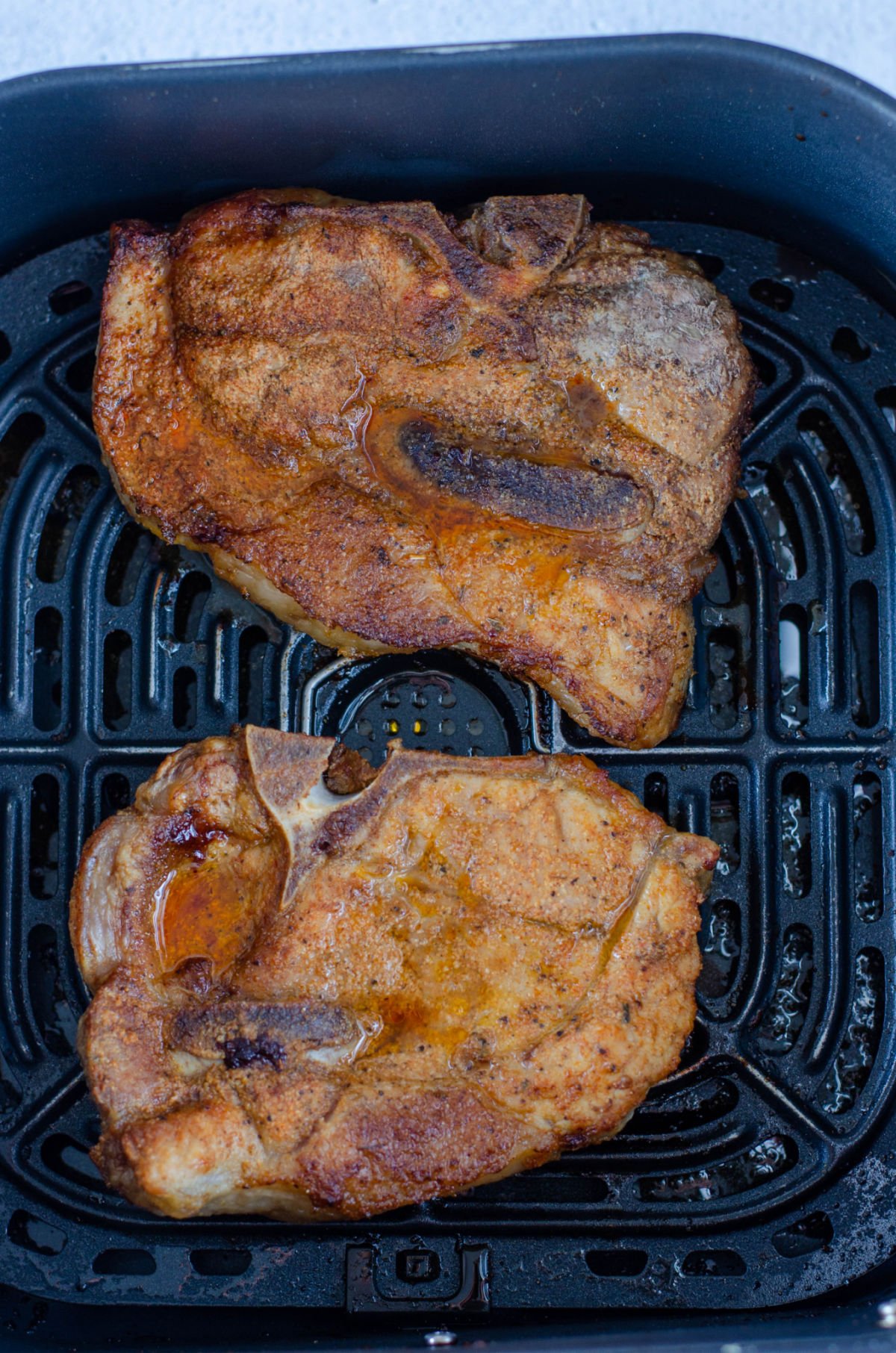 Tasty Side Suggestions
When preparing for dinner, you might want to serve it with some sides. Some of the side dishes that taste great with pork chops include:
They will also taste great with any vegetable or a fruit on the side.
How to Store:
If you have leftovers, put them in a tupperware container. Make sure the container has an airtight lid. If you do not have any tupperware available, put your pork chops in a plastic freezer or gallon storage bag, remove the excess air, and seal it shut.
Can You Freeze the Pork Chops?
You can freeze the pork chops. While it is better to freeze the pork chops before cooking them, you can do so after you prepare them in the air fryer. I personally would not find them as appetizing when frozen after you cook them. In fact, they seem dry.
To store them properly, place your pork chops in ziplock freezer bags. You can keep them in the freezer for as long as 3 months.
Other Great Air Fryer Recipes to Try
If you like pork chops in the air fryer, try some of these other tasty recipes. You can make many delicious foods using the air fryer!
Cooking in the air fryer makes food healthier, juicier, and all around more delicious! If you liked this deliciously easy air fryer pork chop recipe, please pin it to Pinterest for others to enjoy. Remember, sharing is caring!
Print Recipe
AIr Fryer Pork Chops
Instead of frying pork chops, save on the calories and create a healthier meal with this recipe for juicy and flavorful Air Fryer Pork Chops.
Ingredients
2

pork chops

at least ½ in thick - can be bone-in or boneless

1

tablespoon

olive oil

½

teaspoon

salt

¼

teaspoon

pepper

1

teaspoon

garlic powder

1

teaspoon

onion powder

¼

teaspoon

smoked paprika

Pinch

of oregano
Instructions
Preheat the Air Fryer to 350 degrees.

Pour the olive oil onto the pork chops.

Add the seasoning and pat it into the pork chops.

Place them in the Air Fryer and cook for 12 minutes total. You can flip them over half way through cooking, if you'd like.

Remove, serve with your favorite side and enjoy.
Nutrition
Calories:
279
kcal
|
Carbohydrates:
2
g
|
Protein:
29
g
|
Fat:
16
g
|
Saturated Fat:
4
g
|
Trans Fat:
1
g
|
Cholesterol:
90
mg
|
Sodium:
648
mg
|
Potassium:
537
mg
|
Fiber:
1
g
|
Sugar:
1
g
|
Vitamin A:
130
IU
|
Vitamin C:
1
mg
|
Calcium:
17
mg
|
Iron:
1
mg