These easy scotcheroos are the perfect combination of sweet and salty. They combine peanut butter, caramel and milk chocolate together in one easy no-bake dessert. If you can melt, mix, layer and pour then you are going to love these scotcheroos. Let me show you how to make this easy dessert today.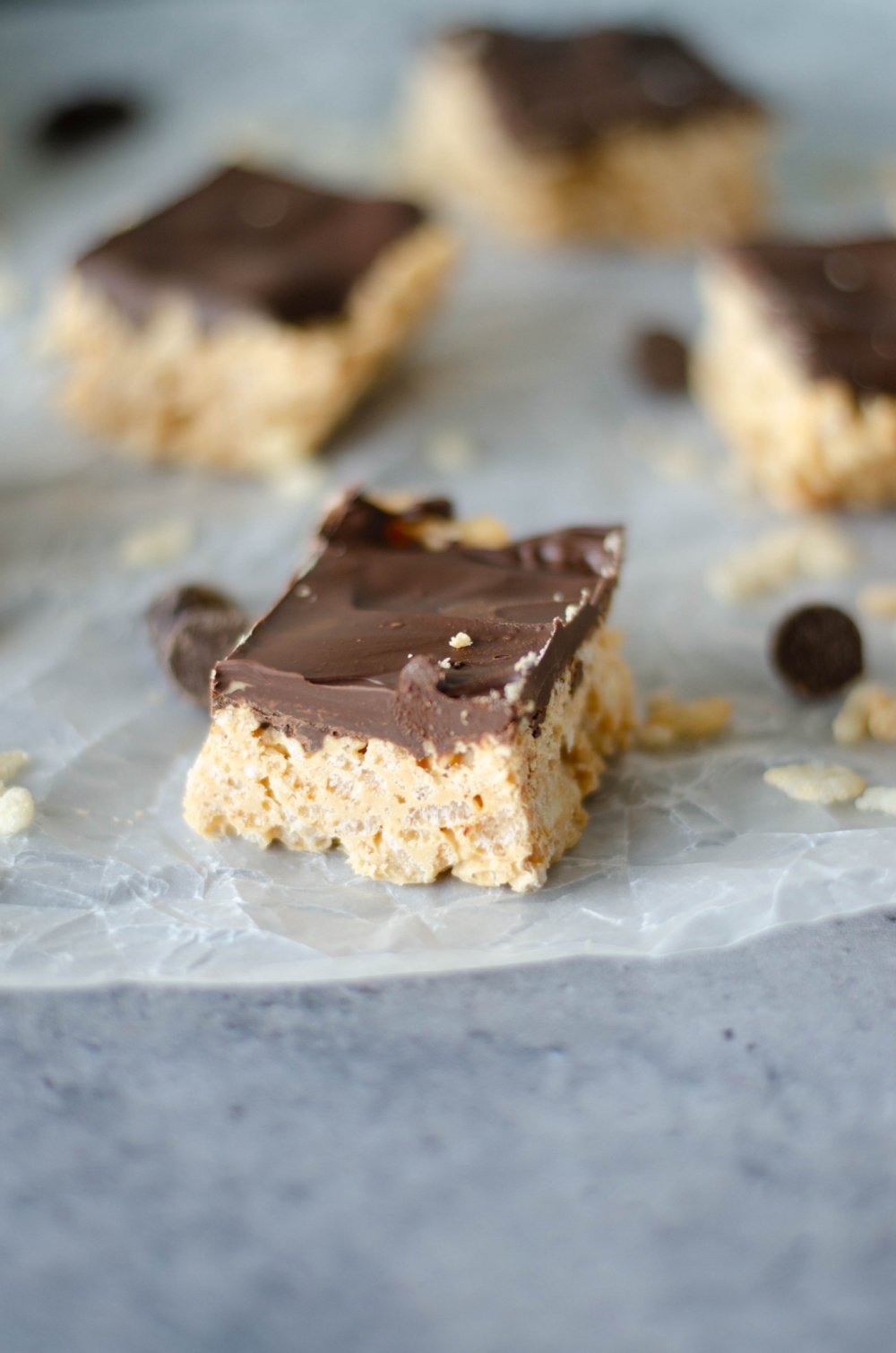 By Kelley Grant Mom Makes Dinner.
I think that no-bake desserts are my favorite. There is less waiting time and you don't have to turn on your oven, which is great in the summer months. Plus, no-bake desserts are always kid friendly options to have the kiddos help in the kitchen.
What are scotcheroos?
Scotcheroos are a chewy bar type of dessert made from peanut butter and rice krispies as the base. The bars are then topped with a decadent chocolate and butterscotch ganache type topping. The combination of the salty bar and the sweet chocolate topping make these treats irresistible.
Scotcheroo ingredients
The great thing about these scotcheroos is that you probably have most of the ingredients in your pantry already! If not, they are easy to find at most grocery stores. To make these no-bake bars you will need:
Peanut butter
Sugar
Honey
Rice Krispies
Chocolate chips
Butterscotch chips
Peanut butter - You need a smooth peanut butter for these bars. Pick your favorite brand of creamy peanut butter and you are good to go.
Sugar - You need plain white sugar for these scotcheroo bars.
Honey - Some people use corn syrup in their scotcheroos, but I prefer honey. You can use either or as the substitute at a 1:1 ratio.
Rice Krispies - Grab the biggest box of cereal on the shelf because you need 6 cups for this recipe.
Chocolate chips - Find your favorite chocolate chips at the grocery store and grab a bag. Any variety will work in this recipe.
Butterscotch chips - These get mixed in with the chocolate chips. You can find them in the baking aisle next as well.
Do I have to use honey?
No, you can use corn syrup instead. Some recipes use corn syrup but I prefer the taste of honey. If you want to use corn syrup, use 1 cup in place of the 1 cup of honey.
How to make easy scotcheroo bars
Once you have gathered all your ingredients you will also need:
Measuring cups and spoons
Saucepan
9x13 baking dish
Mixing bowls
Spatula
Step 1 Dissolve the sugar
In a medium saucepan over medium heat add the sugar, peanut butter and honey. Stir to combine. Bring to a soft boil and then remove from heat. The goal is to dissolve the sugar and not over boil the mixture.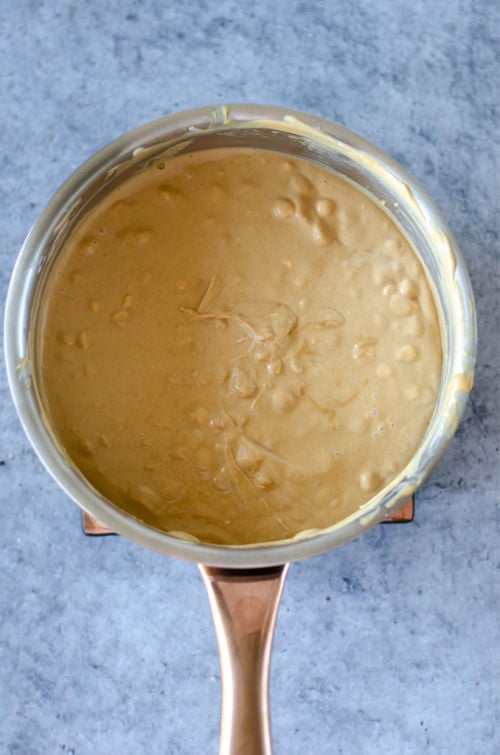 You can also do this in the microwave. Add the peanut butter, sugar and honey to a microwave safe bowl and cook for 1 minute. Remove and stir. If the sugar isn't dissolved, add 30 seconds and cook again. Repeat until the sugar is dissolved.
Step 2 Mix in the Rice Krispies
In a large mixing bowl, add the cereal. Pour in the peanut butter mixture and stir to combine. Make sure your bowl is big enough that you can fit all 6 cups of Rice Krispies.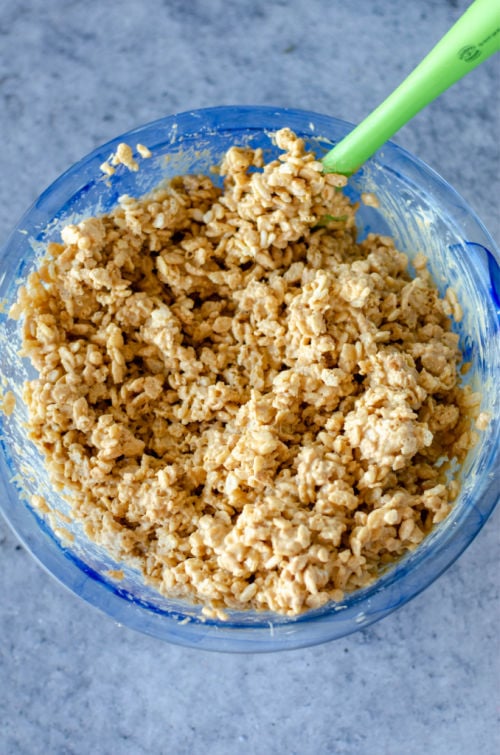 Step 3 Press into pan
Spoon the Rice Krispie/peanut butter mixture into your baking dish. Press down the Rice Krispies into the dish with the spatula. You can also use the bottom of a glass or one of your measuring cups to press them into the pan.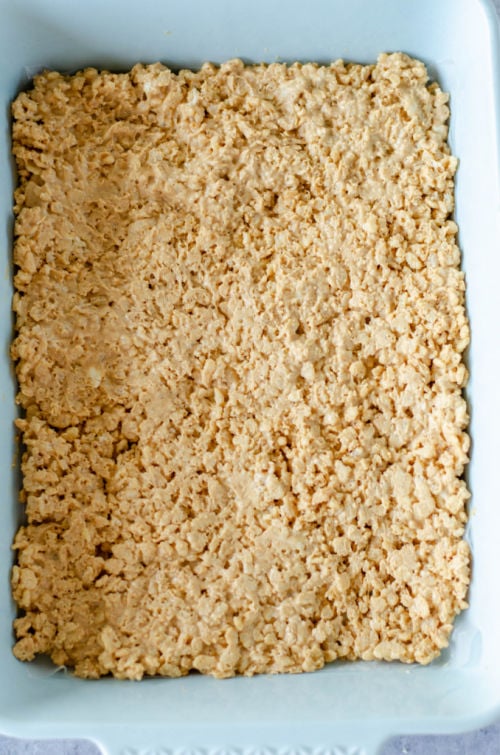 Step 4 Make the topping
In a microwave safe bowl, melt the chocolate and butterscotch chips. Start with 1 minute and stir. The heat from the microwave will continue to melt the chocolate even after you remove the bowl. Combine in 30 second intervals until all the chips are melted and it's smooth.
Step 5 Top the bars
Pour the melted chocolate and butterscotch chips over the prepared Rice Krispie mixture. Use your spatula to smooth it over the top. Set in the refrigerator to chill and harden.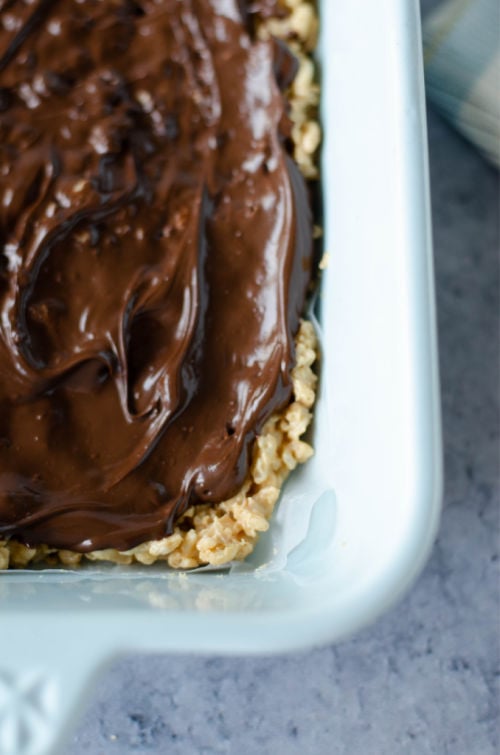 Step 6 Slice
Once the chocolate has hardened, remove the baking dish and slice into squares.
How to store leftovers
If you happen to have any leftover scotcheroo bars, place them in an airtight container - a Ziplock bag or a Tupperware with a secure lid will work. Store them on the counter or in the refrigerator. They will be good for 2-3 days after making them.
Can I freeze them?
Yes, you can! After the bars have cooled completely, place them in a Ziplock bag. Put the bag in the freezer and allow to freeze. They will be good for up to 3 months, if stored properly. To eat later - allow to thaw in the fridge.
Here are a few more no-bake desserts to enjoy:
No-Churn Chocolate Peanut Butter Ice Cream
No-Bake Chocolate Peppermint Cheesecake
Print Recipe
Easy Scotcheroos
These Easy Scotcheroos are a perfect combination of peanut butter, caramel and milk chocolate together in one easy no-bake dessert.
Ingredients
1

cup

honey

1

cup

peanut butter

1

cup

sugar

6

cups

Rice Krispie cereal

1

cup

chocolate chips

1

cup

butterscotch chips
Instructions
In a medium saucepan, combine the honey peanut butter and sugar. Bring to a soft boil, stirring constantly. Once the sugar has dissolved, remove from heat.

Pour the cereal into a large mixing bowl and add the peanut butter mixture. Stir to combine and coat all the cereal.

Press the cereal into a 9x13 baking dish using your spatula.

Melt the chocolate and butterscotch chips in a bowl in the microwave. Start with 1 minute and then mix afterwards. Add 30 second intervals if the chips are not melted, stirring after each time.

Pour the chocolate/butterscotch mixture over the Rice Krispie mixture. Smooth with a spatula.

Place the baking dish in the refrigerator to cool and harden up.

Once cooled, use a knife to cut into squares and enjoy!
Nutrition
Calories:
386
kcal
|
Carbohydrates:
69
g
|
Protein:
6
g
|
Fat:
12
g
|
Saturated Fat:
3
g
|
Cholesterol:
1
mg
|
Sodium:
229
mg
|
Potassium:
172
mg
|
Fiber:
1
g
|
Sugar:
55
g
|
Vitamin A:
945
IU
|
Vitamin C:
9
mg
|
Calcium:
11
mg
|
Iron:
5
mg