If you are looking for a sweet treat that everyone will love, this rocky road fudge is the answer. You only need 5 simple ingredients to make this decadent fudge that is perfect for cookie exchanges, gift giving or sharing at a family dinner. Did I mention it's no-bake?! Let me show you how to make this easy rocky road fudge recipe today!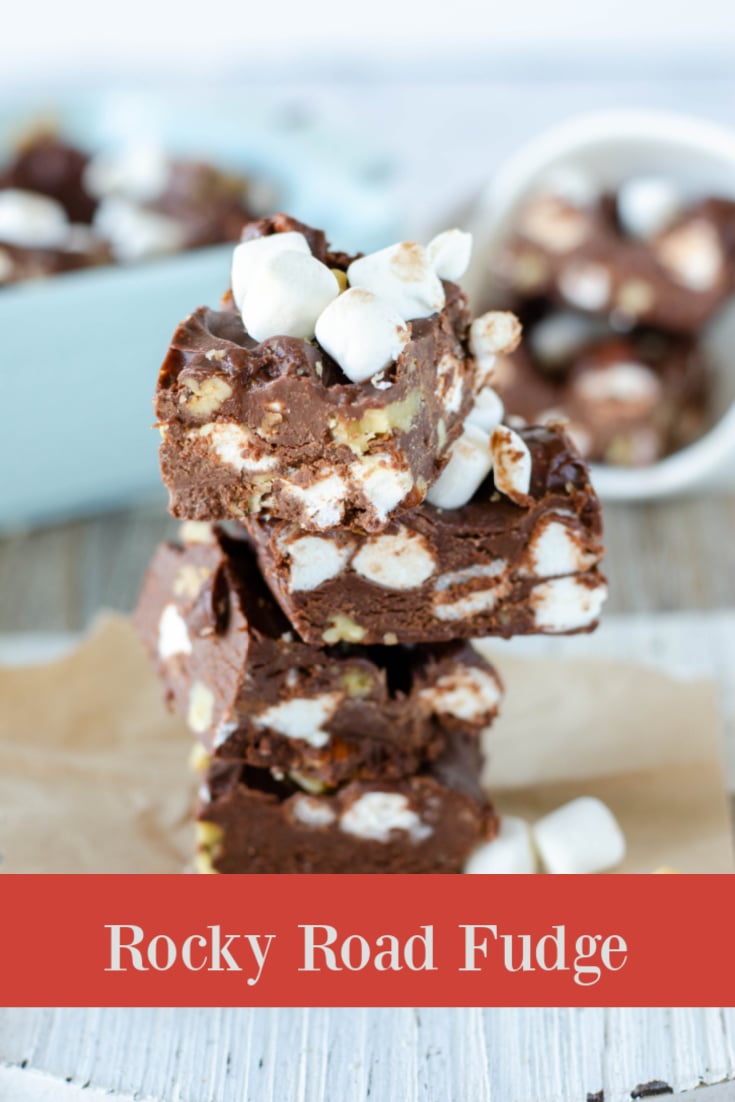 What happens when you take one of your favorite ice creams and turn it into chocolate-y fudge? You get rocky road fudge of course! I was never able to resist the temptation of marshmallows, chocolate and nuts folded into creamy ice cream. This fudge takes the best parts of it's ice cream counterpart and makes it easy to share and portable.
What is rocky road fudge?
This fudge is a combination of chocolate, marshmallows and nuts. There is debate on what type of nut is included in traditional rocky road. I like to use walnuts or pecans, personally, but some say that almonds are the traditional nut for this dessert.
The name rocky road comes from when people traveled by horse and had to take dangerous roads, or lack thereof, across the country. Their goods would get all mixed together and rocky road treats were born.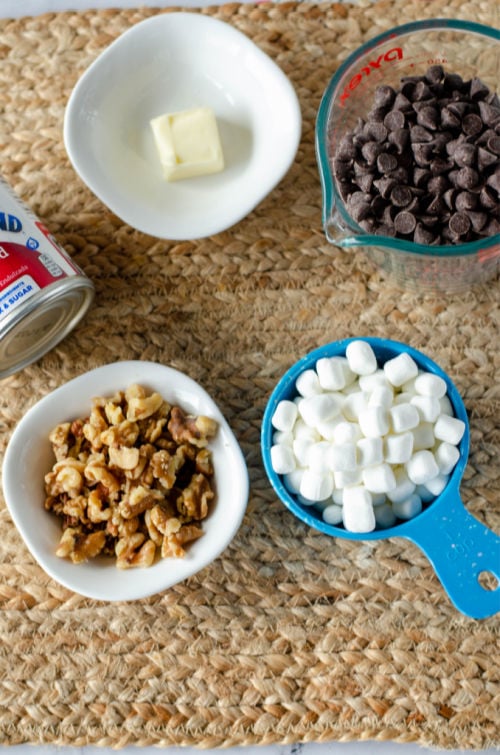 Like I mentioned, you only need a few common ingredients to make this fudge. In fact, you can get most of them right in your baking aisle. To make this fudge you will need:
Chocolate chips
Sweetened condensed milk
Mini marshmallows
Nuts
Butter
Chocolate chips - I always suggest getting a good quality chocolate when you are going to make fudge. The better the quality of the chocolate, the better the fudge quality. You can grab your favorite bag of chocolate chips from your baking aisle.
Sweetened condensed milk - You can grab a can of sweetened condensed milk from the store, or you can try your hand at homemade sweetened condensed milk. It's fairly simple to make if you have the extra time.
Mini marshmallows - You will need a cup of mini marshmallows for this recipe. If you can't find any, you can always cut up larger marshmallows, if needed.
Nuts - I mentioned that the traditional nut for rocky road treats is almonds. I think that any nut will work for most rocky road recipes. I used walnuts in my rocky road fudge, but feel free to use almonds, pecans or even peanuts.
How to make this fudge
Once you have gathered all your ingredients, you will also need to grab:
Measuring cups
Medium saucepan
Spatula
8x8 baking dish
Foil
Step 1 Melt the chocolate
Place the chocolate in a medium saucepan over medium heat. Stirring constantly, melt the chocolate chips carefully.
Step 2 Add sweetened condensed milk
Pour in the sweetened condensed milk to the melting chocolate chips and continue to stir. Do not allow to boil.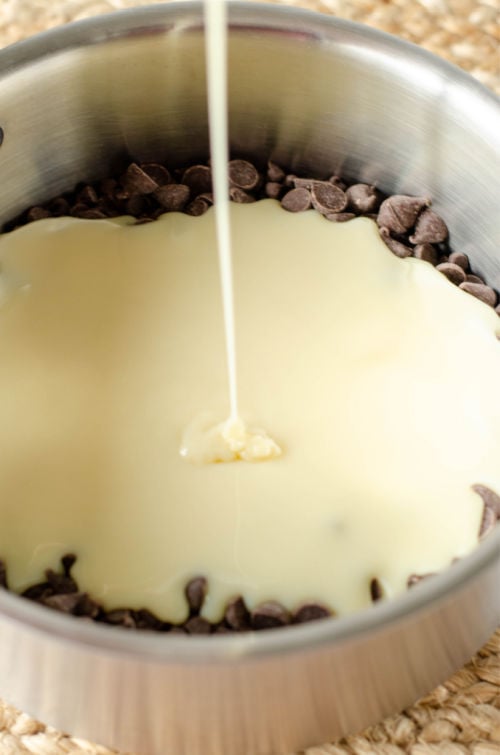 Step 3 Add the butter
Remove from heat and add the butter. Stir to combine.
Step 4 Add marshmallows and nuts
Allow the melted butter to cool slightly, but not for too long that the chocolate starts to set.
Add in the marshmallows and the nuts and fold into the chocolate.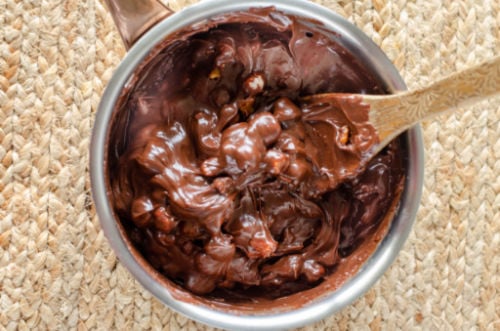 Step 5 Pour into dish
Pour the fudge mixture into a foil lined baking dish. Place in the fridge or freezer to harden.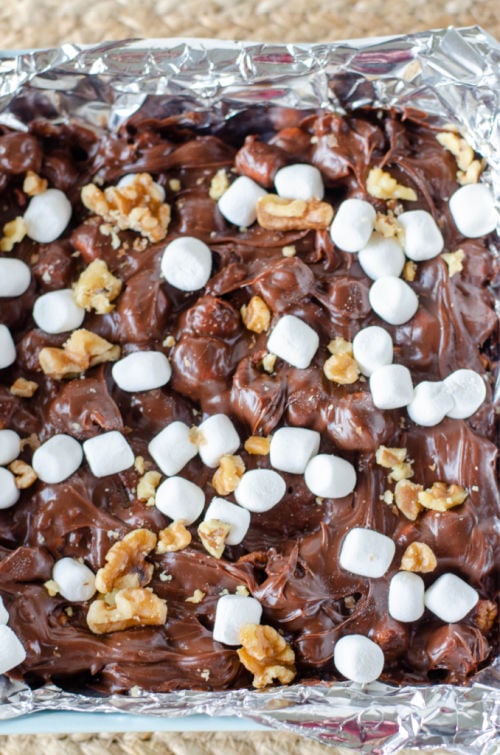 Step 6 Cut into pieces
Cut the set fudge into square pieces and enjoy!
Storing leftover fudge
If you happen to have any leftover rocky road fudge, place it in an airtight container in the refrigerator. You do not want to leave this fudge on the counter.
Can I freeze it?
Yes! You can! I suggest wrapping the fudge in parchment paper and placing it in either a tupperware or ziplock baggy. Place it in the freezer. It will keep for about 3 months, if stored properly.
Looking for more great holiday treats? Try these:
Salted Caramel Thumbprint Cookies
Easy Salted Chocolate Caramels
Peanut Butter Chocolate Chip Scones
WANT EVEN MORE DELICIOUS RECIPES FROM MYSELF AND MY FAVORITE FOOD BLOGGERS? FOLLOW ME ON PINTEREST, FACEBOOK,TWITTER, OR INSTAGRAM, WHERE I SHARE NEW RECIPES DAILY. YOU CAN ALSO SUBSCRIBE BY EMAIL TO GET NEWLY POSTED RECIPES FOR FREE!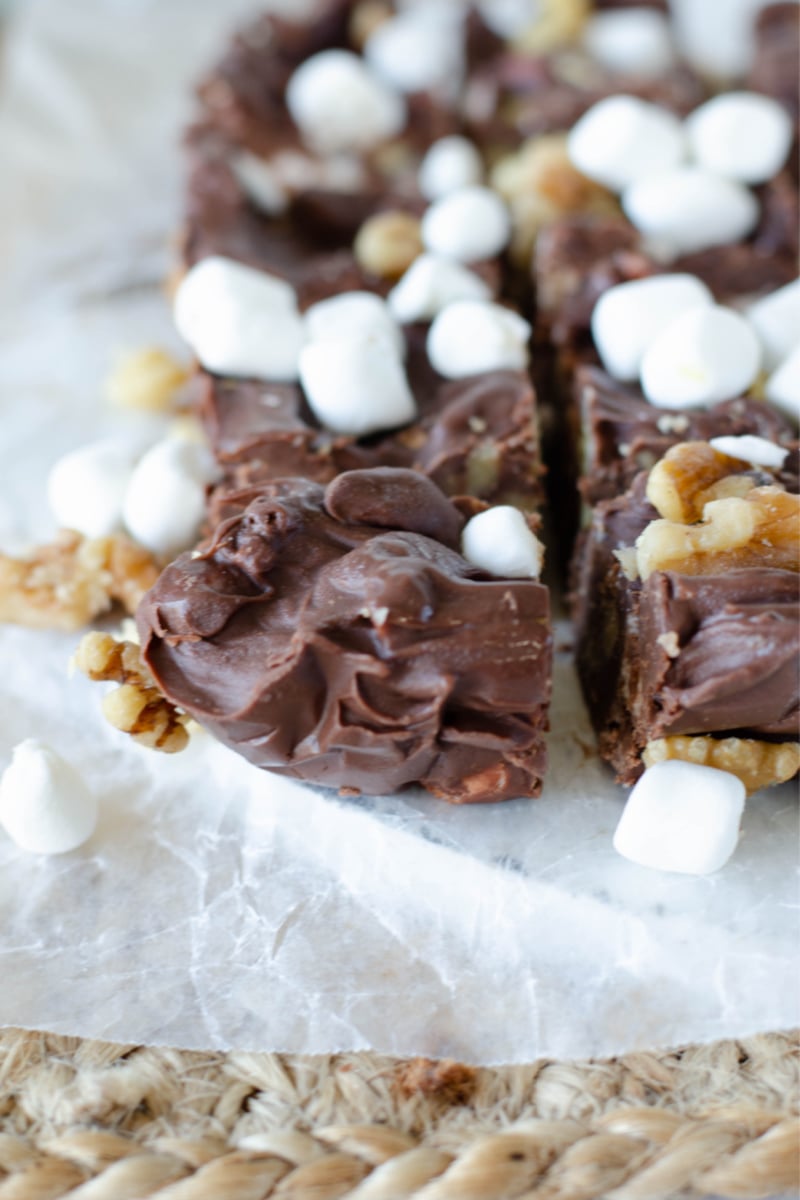 Print Recipe
Rocky Road Fudge
You only need 5 ingredients to make this Rocky Road Fudge that is perfect for cookie exchanges, gift giving or sharing at a family dinner.
Ingredients
2

cups

chocolate chips

10

ounces

sweetened condensed milk

1

tablespoon

butter

1

cup

mini marshmallows

1

cup

nuts

(almonds. walnuts, pecans, or peanuts)
Instructions
Place your chocolate in a medium saucepan over medium heat. Stirring constantly, allow your chocolate chips to melt.

Pour in the sweetened condensed milk and stir until everything is melted and smooth. Remove from heat.

Stir in the butter.

Allow to cool slightly before adding the marshmallows and nuts. Fold them into the melted chocolate.

Pour the fudge mixture into a foil lined 8x8 baking dish.

Top with additional marshmallows and nuts.

Place in the fridge or freezer to harden.

Once firm, slice into squares.

Enjoy!
Nutrition
Calories:
175
kcal
|
Carbohydrates:
21
g
|
Protein:
4
g
|
Fat:
9
g
|
Saturated Fat:
3
g
|
Cholesterol:
11
mg
|
Sodium:
45
mg
|
Potassium:
159
mg
|
Fiber:
1
g
|
Sugar:
16
g
|
Vitamin A:
92
IU
|
Vitamin C:
1
mg
|
Calcium:
75
mg
|
Iron:
1
mg