If you are looking to add a little spice to your next appetizer line-up, you are going to love this jalapeno popper pull apart bread. It is spicy, cheesy, gooey and the perfect game-day or holiday snack. Let me show you how to make this super easy recipe using only 5 common ingredients.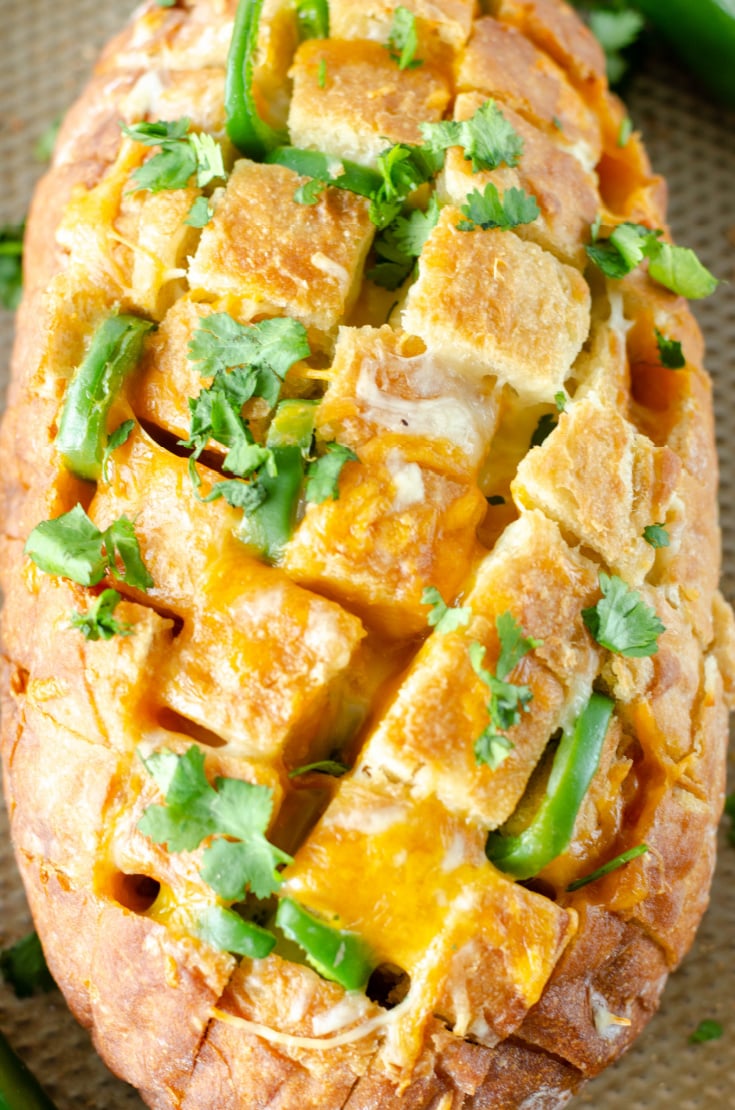 By Kelley Grant Mom Makes Dinner
I love a good snacking appetizer. One that you can keep coming back to and nibbling on throughout the day. This jalapeno bread is one of my favorites because it's got a little bit of spice but it's not overpowering.
What is jalapeno popper pull apart bread?
This is an easy appetizer made with a crusty bread such as sourdough that is then filled with spicy jalapenos, gooey cheese and a delicious garlic butter sauce. It is then baked to perfection. When it is done and cooled, you pull out the squares that are now filled with melted cheese, warm garlic butter and soft jalapeno bites. It's absolutely delicious!
This bread also goes by a variety of different names. It can be called jalapeno popper bread because it's similar to the super popular jalapeno poppers. Sometimes it's called jalapeno cheese bread or jalapeno pull apart bread.
Jalapeno cheese bread ingredients
The absolute best part of this easy appetizer recipe is that you don't need a boatload of fancy ingredients. You need 5 simple ingredients to make this jalapeno bread. You will need:
Round sourdough loaf of bread
Butter
Garlic powder
Jalapenos
Cheese
Bread - You can use any type of bakery style fresh bread that you prefer. I like a good crusty topped sourdough loaf, but feel free to use whatever you like.
Butter - Use unsalted butter for this recipe. Salted may make your cheesy bread a bit too salty.
Garlic powder - Garlic powder and butter are drizzled into the crevices of the sourdough for maximum flavor. The garlic pairs well with the jalapeno and cheese.
Jalapenos - Pick up 1 or 2 large jalapenos from the produce section of your grocery store. I only used 1 but depending on your preference to spice, you may want to add 2.
Cheese - I used mozzarella and cheddar cheese for my bread. The combination of the two gives the bread a nice flavor. You can substitute for your favorite cheese here as well.
How to make cheesy jalapeno pull apart bread
Once you have gathered all your ingredients you will also need:
Bread knife
Baking sheet
Foil
Measuring cups
Fork
Step 1 Preheat the oven
Before you get started, preheat your oven to 350 degrees.
Step 2 Cut your bread
Using your bread knife, cut the bread in diagonal stripes all the way down the loaf. Make sure not to cut all the way through the bread. Do the same thing only the opposite direction of your first cuts. You should have created squares in your loaf after both of your cuts.
Step 3 Add garlic butter
Melt your butter in the microwave and add the garlic powder. Pour the garlic butter into all of the crevices of your newly cut bread.
Step 4 Add jalapenos
Slice your jalapenos into half or full circles, making sure to remove the seeds. (If you want the extra heat - leave the seeds.) Add the sliced jalapenos to as many crevices in your bread as you'd like.
Step 5 Add cheese
Next comes the cheese! Add as much cheese as you can into the cut bread. The more cheese you can add, the better your jalapeno cheese bread will be!
Step 6 Bake
Wrap your loaded loaf of bread in foil and bake for 10 minutes, covered with foil. Remove the foil over the top and cook for another 20 minutes. Remove and allow to cool slightly before serving.
Dips to try
This Jalapeno Popper Pull Apart Bread is delicious on it's own or with a simple side of sour cream or you can always add a fun dip to go along with it! Some of my favorite dips to add are:
How to store leftovers
If you happen to have leftover cheesy jalapeno bread, store it in an airtight container such as a Tupperware or Ziplock baggy. Place the container in the fridge for storage. The bread is best if eaten within 1-2 days of making it.
Can I freeze it?
You can! Follow the instructions completely and allow the bread to cool. Place it in an airtight container in the freezer. The bread will keep for up to 3 months in the freezer, if stored properly.
To re-heat, thaw in the fridge. Place in the oven or microwave and warm through.
Looking for other appetizers to try? I suggest trying:
WANT EVEN MORE DELICIOUS RECIPES FROM MYSELF AND MY FAVORITE FOOD BLOGGERS? FOLLOW ME ON PINTEREST, FACEBOOK,TWITTER, OR INSTAGRAM, WHERE I SHARE NEW RECIPES DAILY. YOU CAN ALSO SUBSCRIBE BY EMAIL TO GET NEWLY POSTED RECIPES FOR FREE!
Print Recipe
Jalapeno Popper Pull Apart Bread
This jalapeno popper pull apart bread is spicy, cheesy, gooey and the perfect game-day or holiday snack made with only 5 ingredients.
Ingredients
1

loaf of sourdough bread

or similar

½

cup

unsalted butter

(1 stick)

1

teaspoon

garlic powder

1-2

jalapenos

diced

½

cup

mozzarella cheese

½

cup

cheddar cheese
Instructions
Preheat the oven to 350 degrees.

Slice the bread at a diagonal angle, making sure not to cut all the way through. Cut the bread at the opposite diagonal as the first cut, creating squares of bread.

Melt the butter in the microwave and mix in the garlic powder.

Pour the garlic butter over top of the bread, making sure to get into the newly cut crevices.

Add the sliced jalapenos to the crevices, being mindful to fill as many as possible.

Add the cheese to the crevices of the bread as well. Stuff as much cheese into the pockets as you can without compromising the loaf.

Cover the bread with foil and bake for 10 minutes.

Remove the foil and continue baking for an additional 20 minutes.

Remove from the oven, allow to cool and enjoy with your favorite dip!
Nutrition
Calories:
211
kcal
|
Carbohydrates:
22
g
|
Protein:
7
g
|
Fat:
11
g
|
Saturated Fat:
7
g
|
Cholesterol:
29
mg
|
Sodium:
320
mg
|
Potassium:
59
mg
|
Fiber:
1
g
|
Sugar:
1
g
|
Vitamin A:
328
IU
|
Vitamin C:
1
mg
|
Calcium:
76
mg
|
Iron:
1
mg