This Seafood Gumbo with crab, clams, and shrimp, is easy to make and perfect for the holidays. Made traditionally with okra, it's a Southern favorite everyone can make at home.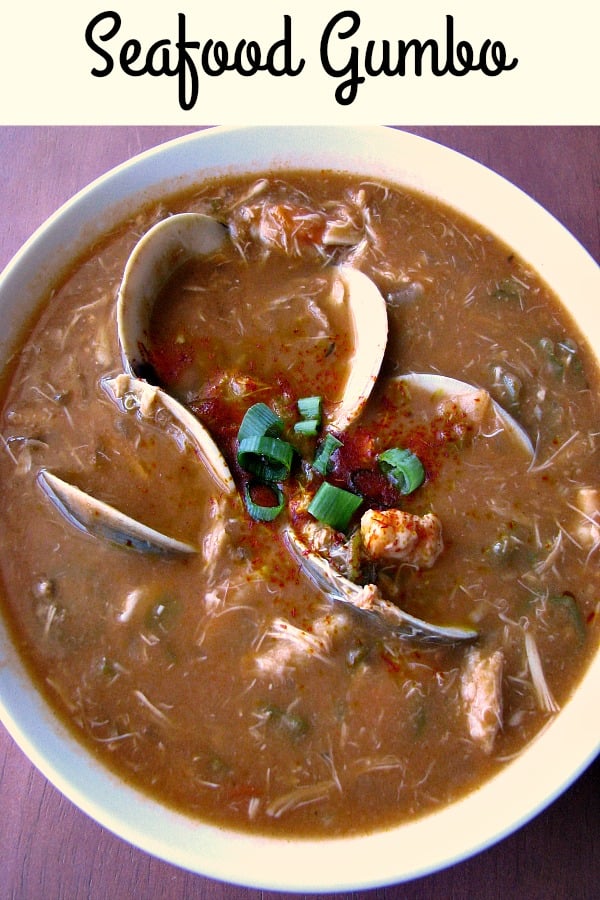 If you subscribe to Rants From My Crazy Kitchen by email, last week you received a reader survey asking what kind of holiday and everyday recipes you are interested in. If you didn't get a chance to fill it out and you want to, or are a new subscriber or regular reader and would like to, you can find the survey on this Google Form. All responses will remain private.
How to make Seafood Gumbo
This easy Seafood Gumbo recipe is made with fresh shrimp chopped into bite size pieces, lump crab and crab claw meat, and clams. I make my Seafood Gumbo without sausage because we don't have andouille sausage around here, and also we love seafood and I didn't feel like it would need sausage.
l
A traditional gumbo is make with a roux of either melted butter or oil combined with an equal amount of flour. The mixture is cooked until dark brown, also some prefer a lighter roux. Mine is in between, as you can see.
The "holy trinity" of chopped onions, celery, and bell pepper (normally green, but my garden peppers had started to turn red)  is added to the cooked roux and sauteed until the liquid is absorbed and the vegetables are just starting to soften, about 5 minutes.
Pour in chicken stock or seafood stock, and add sliced okra. If you have never cooked with okra before, you will be surprised to find that it is slimy inside. It is this slime that thickens the gumbo.
In some recipes filé powder is used to thicken the gumbo after it is removed from the heat or sprinkled on individual bowls. It can be hard to find in the Northeast, but is available online or in specialty stores. I choose to add a little ground saffron to my gumbo to give it flavor, but it is very expensive and completely optional.
After the vegetables have simmered for twenty minutes, stir in the chopped shrimp and crab. Add in the clams and continue to simmer until the clams open about ten minutes later.
Here are a few more seafood recipes for you to try:
Baked Seafood Stuffed Avocados 
Shrimp Asparagus Bacon Skillet 
WANT EVEN MORE DELICIOUS RECIPES FROM MYSELF AND MY FAVORITE FOOD BLOGGERS? FOLLOW ME ON PINTEREST, INSTAGRAM, OR FACEBOOK, WHERE I SHARE NEW RECIPES DAILY. YOU CAN ALSO SUBSCRIBE BY EMAIL TO GET NEWLY POSTED RECIPES FOR FREE!
Print Recipe
Seafood Gumbo
This Seafood Gumbo with crab, clams, and shrimp, is easy to make and perfect for the holidays.


Ingredients
½

cup

butter

½

cup

all purpose flour

1

cup

chopped onions

1

cup

chopped green bell pepper

1

cup

chopped celery

2

cups

sliced okra

8

cups

chicken stock

(or seafood stock)

1 ½

cups

tomato puree

1

pound

raw shrimp

, peeled, tails removed, and deveined

8

ounces

lump crab meat

picked through for shells

8

ounces

crab claw meat

picked through for shells

1

pound

littleneck clams

, rinsed of sand and scrubbed

2

teaspoons

Cajun seasoning

or Creole seasoning

pinch

ground saffron

(optional)

2

cups

cooked long grain white rice

, for serving
Instructions
Place fresh littleneck clams in a clean sink full of cold water. Let the clams sit in the water for a while, then stir the clams, drain and refill the sink. Repeat until no sand remains at the bottom of the sink. Keep the clams cold in the sink or refrigerator while you prepare the gumbo.

Melt the butter in a large soup pot, preferably a cast iron dutch oven, over medium heat. Whisk in the flour, a little at a time. Continue whisking until the mixture is a roux between medium and dark chocolate brown, between 10-15 minutes.

Stir the chopped onions, celery, and peppers into the roux. Cook, stirring, until the liquid is absorbed and the vegetables are just beginning to soften.

Pour in the chicken or seafood stock. Stir in sliced okra and bring to a boil. Reduce the heat and simmer, covered, for 20 minutes.

While the soup is simmering, peel, devein, and chop the shrimp. Check the crab meat for shells.

After 20 minutes, stir in the chopped shrimp and crab meat. Add in the clams, and continue simmering, stirring every few minutes, until all the clams open. Discard any that won't open when tapped after 10-15 minutes of simmering.

Serve over cooked rice for a traditional gumbo. Top with a small pinch of saffron before serving, if desired.
Nutrition
Serving:
1
cup
|
Calories:
422
kcal
|
Carbohydrates:
36
g
|
Protein:
33
g
|
Fat:
16
g
|
Saturated Fat:
8
g
|
Cholesterol:
207
mg
|
Sodium:
1438
mg
|
Potassium:
832
mg
|
Fiber:
3
g
|
Sugar:
8
g
|
Vitamin A:
1202
IU
|
Vitamin C:
35
mg
|
Calcium:
167
mg
|
Iron:
4
mg