This Slow Cooker Marinara Sauce with fresh tomatoes, onions, shredded carrots, and garlic is perfect for using up summer garden tomatoes.
I have a serious problem with my tomato garden, too many tomatoes!! I have yet to convince my husband to stalk the plants instead of just caging them, so every year they fall over. I can almost live with it, except that the tomatoes blemish easily because they get to much water, or more so, lack of sun in the back of the garden to allow them to dry out a bit. Of course, there is nothing wrong with them, they just don't look pretty enough to give to the neighbors.
I always use blemished tomatoes to make a homemade marinara sauce recipe, but this time I didn't have time to make the sauce on the stove with having to stop and stir it often, turn it off while I picked my daughter up from the bus stop, and not have room on the stove to make dinner (since this wasn't dinner that night, it's best refrigerated for a day to thicken and let the flavors meld). So, out came my slow cooker.
This isn't a sauce to put together on a weekday morning, it takes too long, but great to put together and let simmer all day on a Sunday, then just boil some pasta and top with this Slow Cooker Marinara on a busy weeknight.
It's not overly fancy, just fresh ingredients and low and slow simmering. Crush the tomatoes over a bowl, and don't get rid of that juice, you can use it to make a Simple Tomato Juice.  It's so easy to make and adjust to your liking!
After crushing the tomatoes, put them in your slow cooker, then add olive oil, onions, garlic, shredded carrots, sugar, and parsley.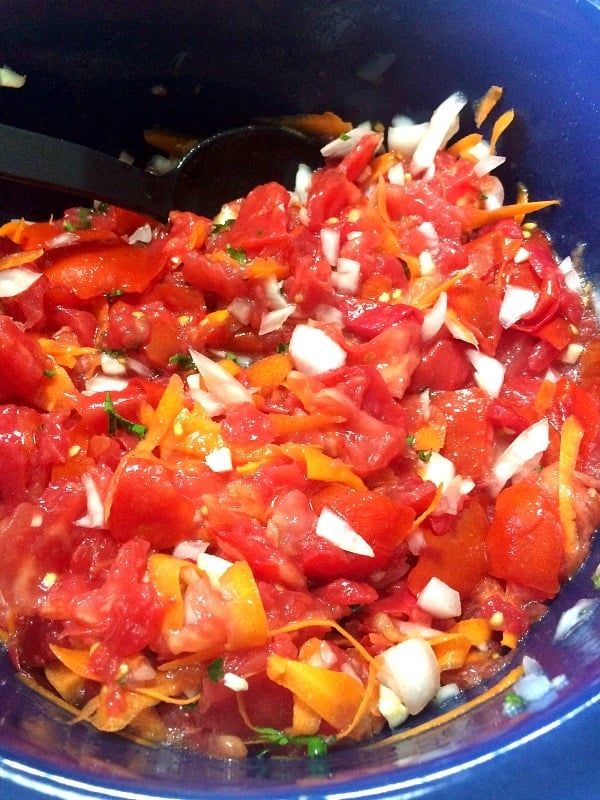 Let it cook for 8 hours on low.
After simmering all day, I allowed the sauce to cool down, put it in a container, and refrigerated it overnight.
The next day I had to decide whether to leave the sauce chunky, puree it completely, or just give it a quick run through with my immersion blender to leave it slightly thick.
I was going to puree it completely so I added tomato paste into the pot with the sauce to thicken it up (check out my friend Ann's recipe for fresh tomato paste for more ways to use garden tomatoes. Too bad I saw it after this was done!) and started to puree it with my immersion blender.
Then it fell apart!! Not my sauce, my immersion blender, my favorite kitchen tool, broken!! It's over 10 years old, so I guess the glue holding it together finally gave up. Funeral will be held Friday at 6:30. Luckily, I was able to salvage the sauce, slightly thick.
This post and photos were updated in September 2018. You can see the photo of the thicker sauce below the printable recipe card. Here it is completely pureed:
After the Slow Cooker Marinara sauce is pureed, just reheat it on the stove over medium-low heat.
Slow Cooker Marinara Sauce 
This marinara sauce with fresh tomatoes is perfect left chunky for heartier pastas like rigatoni, slightly thick for  spaghetti, or thin for angel hair pasta.
Need more pasta sauce recipes? Here are my recent favorites:
Pumpkin Ravioli with Parmesan Sage Cream Sauce
WANT EVEN MORE DELICIOUS RECIPES FROM MYSELF AND MY FAVORITE FOOD BLOGGERS? FOLLOW ME ON PINTEREST, TWITTER, INSTAGRAM, OR FACEBOOK, WHERE I SHARE NEW RECIPES DAILY. YOU CAN ALSO SUBSCRIBE BY EMAIL TO GET NEWLY POSTED RECIPES FOR FREE!
Print Recipe
Slow Cooker Marinara Sauce
Marinara Sauce with fresh ingredients slow simmered in the slow cooker all day for perfect flavor.
Ingredients
18

garden fresh tomatoes

1

heaping cup

chopped yellow onion

1

carrot

,finely shredded

2-3

cloves

garlic

,minced

2

tablespoons

extra light olive oil

1

tablespoon

granulated sugar

2

teaspoons

dried parsley
Instructions
Cut blemished parts off of tomatoes. Crush tomatoes with your hands over a bowl to remove as much of the seeds as possible, until you have 6 cups of crushed tomatoes.

Add olive oil to the slow cooker, stir in all the crushed tomatoes, chopped onions, garlic, shredded carrot, parsley, and sugar. Cover and simmer on low for 8 hours. Let cool and refrigerate overnight.

Puree to desired consistency using an immersion blender or in batch in a stand blender. Reheat on the stove over medium-low heat until hot.
Notes
This sauce is best prepared a day or more ahead. 
Nutrition
Calories:
72
kcal
|
Carbohydrates:
10
g
|
Protein:
2
g
|
Fat:
3
g
|
Sodium:
15
mg
|
Potassium:
544
mg
|
Fiber:
2
g
|
Sugar:
7
g
|
Vitamin A:
2865
IU
|
Vitamin C:
30.9
mg
|
Calcium:
25
mg
|
Iron:
0.6
mg
Photos of Slow Cooker Marinara Sauce from September, 2014.