A slight twist from traditional egg drop soup, this Spinach Egg Drop Soup is light, healthy, and perfect for one or two people.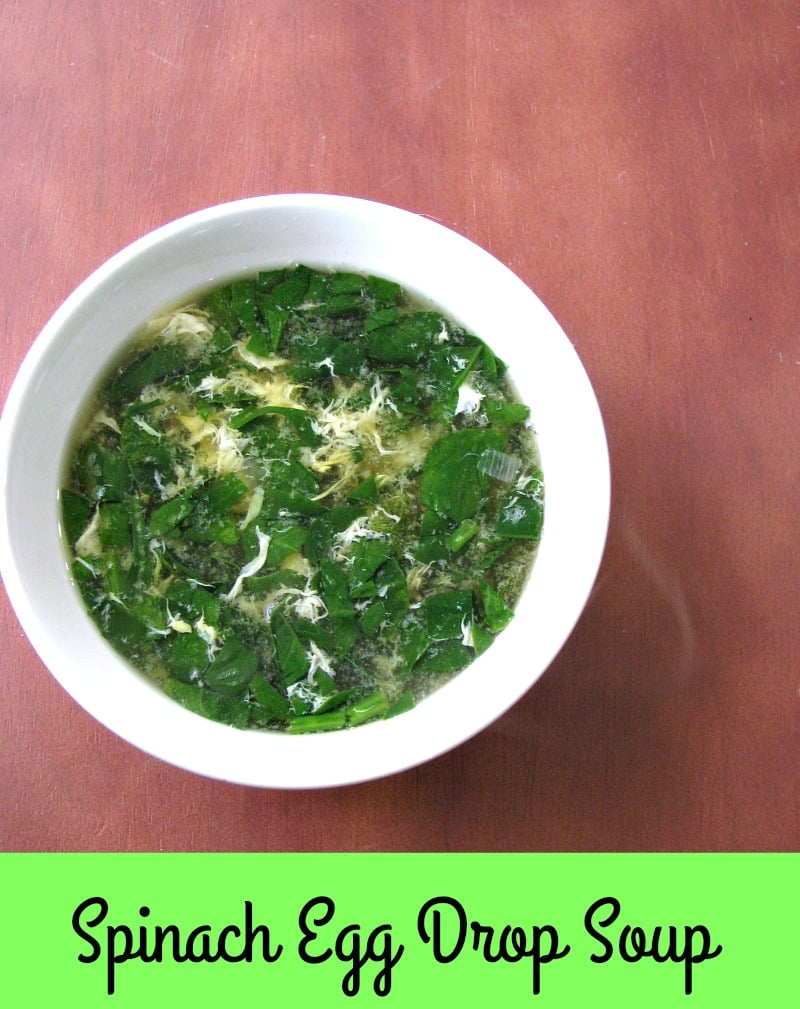 What I've learned in 5 years of food blogging #2: I REALLY love soup. Okay, I knew that long before I started blogging, but since then I've shared at least 39 soup recipes. I eat soup all year long, both hot and chilled varieties.
This Spinach Egg Drop Soup isn't completely my recipe, though. It's such an easy egg drop soup recipe that it was created by my 7-year old daughter, Amanda, with just a little help from me. This is NOT a traditional egg drop soup recipe, but her version.
Spinach Egg Drop Soup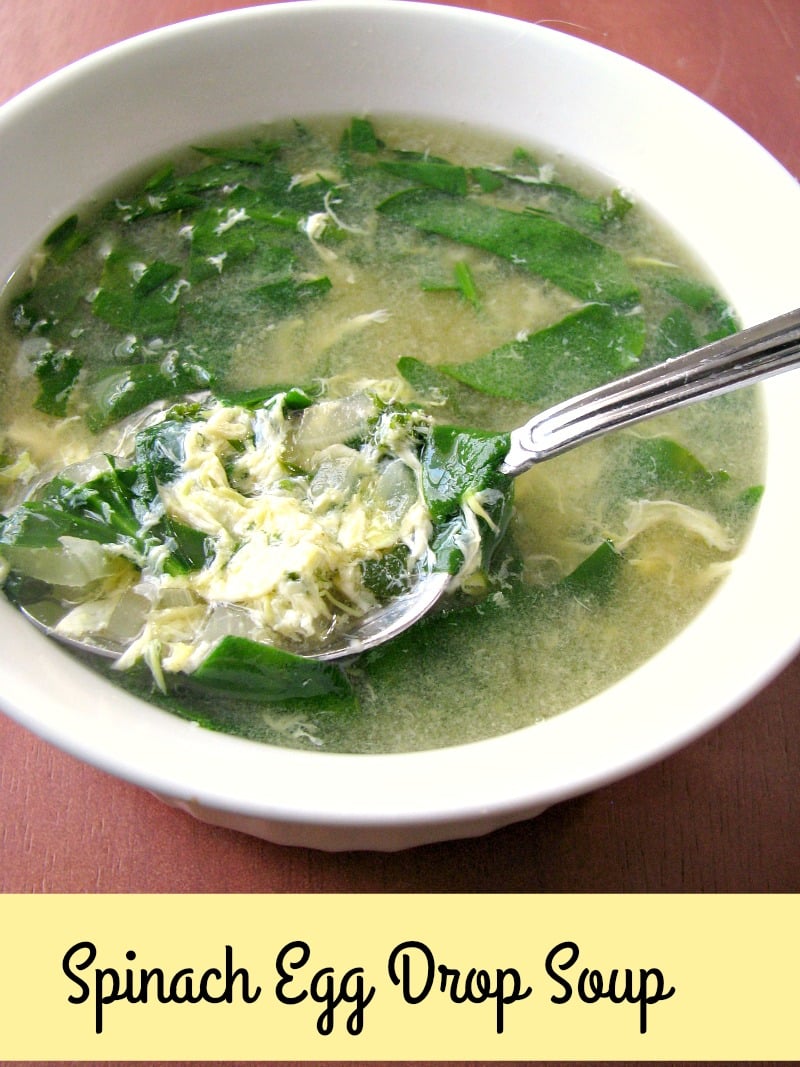 Amanda likes making concoctions or "potions" out of things like soaps, perfumes, and herbs. She wants to learn to cook, but hasn't yet learned what works well together and what doesn't, so I have to direct her somewhat.
She first started making this soup a few months ago. One day out of nowhere, she said she wanted to make chicken broth with parsley,  oregano, and an egg. She had never had egg drop soup that I can remember. I said "Okay, what else?" and we went from there. Parsley and oregano aren't normally ingredients in egg drop soup, but Amanda loves oregano so much she eats it right out of the garden in the summer! I didn't have any scallions, so we used yellow onions (another thing Amanda loves).
This only makes enough for two small servings, but can easily be doubled. Is it like the Chinese restaurant version? No. It's different, this Spinach Egg Drop Soup is lighter and healthier, while still delicious. It's perfect for a light dinner or for lunch. I have plans to share a traditional egg drop soup someday, but today is for Amanda's first ever real recipe. Maybe I'll even let her do a guest post later this year!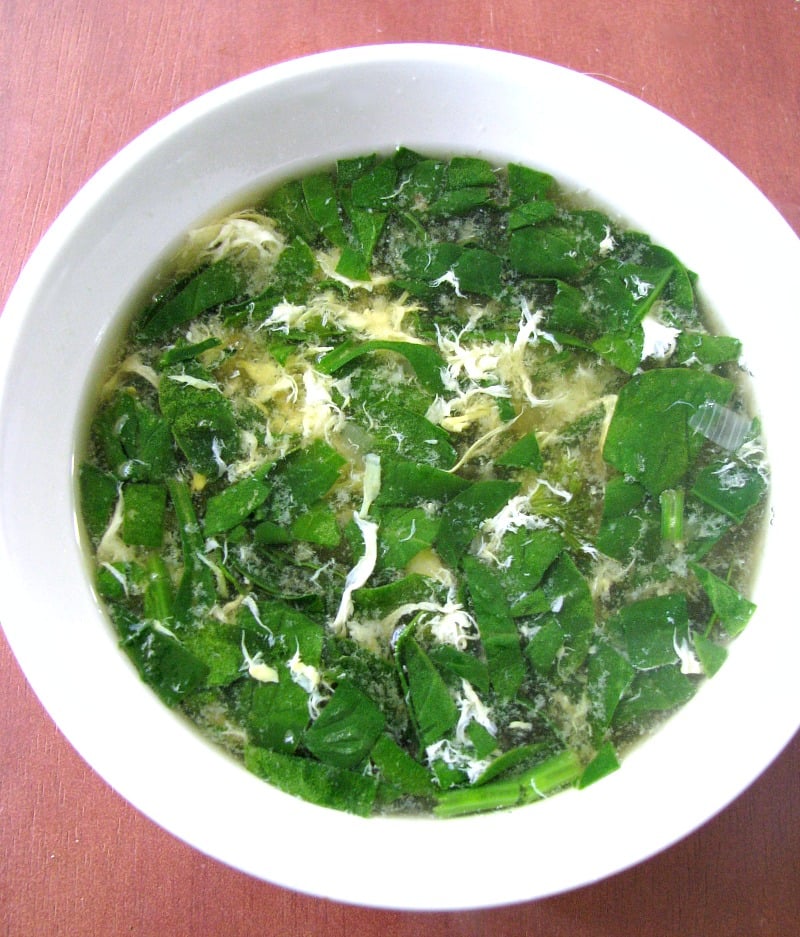 Looking for more recipes with spinach and eggs? Check out my some of my favorite recipes using spinach, eggs, or both.
Baked Eggs With Spinach Bacon and Avocado
Roasted Red Pepper Asparagus Egg Tart 
WANT EVEN MORE DELICIOUS RECIPES FROM MYSELF AND MY FAVORITE FOOD BLOGGERS? FOLLOW ME ON PINTEREST, TWITTER, INSTAGRAM, OR FACEBOOK, WHERE I SHARE NEW RECIPES DAILY. YOU CAN ALSO SUBSCRIBE BY EMAIL TO GET NEWLY POSTED RECIPES FOR FREE!
Print Recipe
Spinach Egg Drop Soup
A slight twist from traditional egg drop soup, this Spinach Egg Drop Soup is light, healthy, and perfect for one or two people.
Ingredients
2 ½

cups

chicken stock or broth

1

cup

fresh chopped spinach

⅛

cup

finely chopped yellow onion

1

tablespoon

chopped parsley

1

teaspoon

chopped oregano

1

egg,

beaten

pinch

each salt and pepper
Instructions
Combine the chicken stock or broth, chopped onion, parsley, oregano, salt, and pepper in a medium pot. Bring to a boil, reduce the heat, cover, and simmer for 8-10 minutes.

Once the onion is tender, stir in the spinach. Cook for about 30 seconds, then add the beaten egg, stirring constantly to prevent the egg from clumping together, for about 1 minute. Serve hot.
Nutrition
Calories:
89
kcal
|
Carbohydrates:
5
g
|
Protein:
9
g
|
Fat:
3
g
|
Saturated Fat:
1
g
|
Cholesterol:
81
mg
|
Sodium:
133
mg
|
Potassium:
367
mg
|
Sugar:
1
g
|
Vitamin A:
1695
IU
|
Vitamin C:
7.6
mg
|
Calcium:
55
mg
|
Iron:
1.9
mg