Prepare this Easy Homemade Cheese Sauce recipe to go side by side with your appetizers. A good cheese sauce goes a long way with the guests. Cheese makes everything better. I mean could you even think about pizza without cheese?! When you are going to have an appetizer out, there's just nothing better than this easy cheese sauce! It's perfect for dipping and can be combined with almost any appetizer. This cheese sauce also makes a great topping for vegetables too!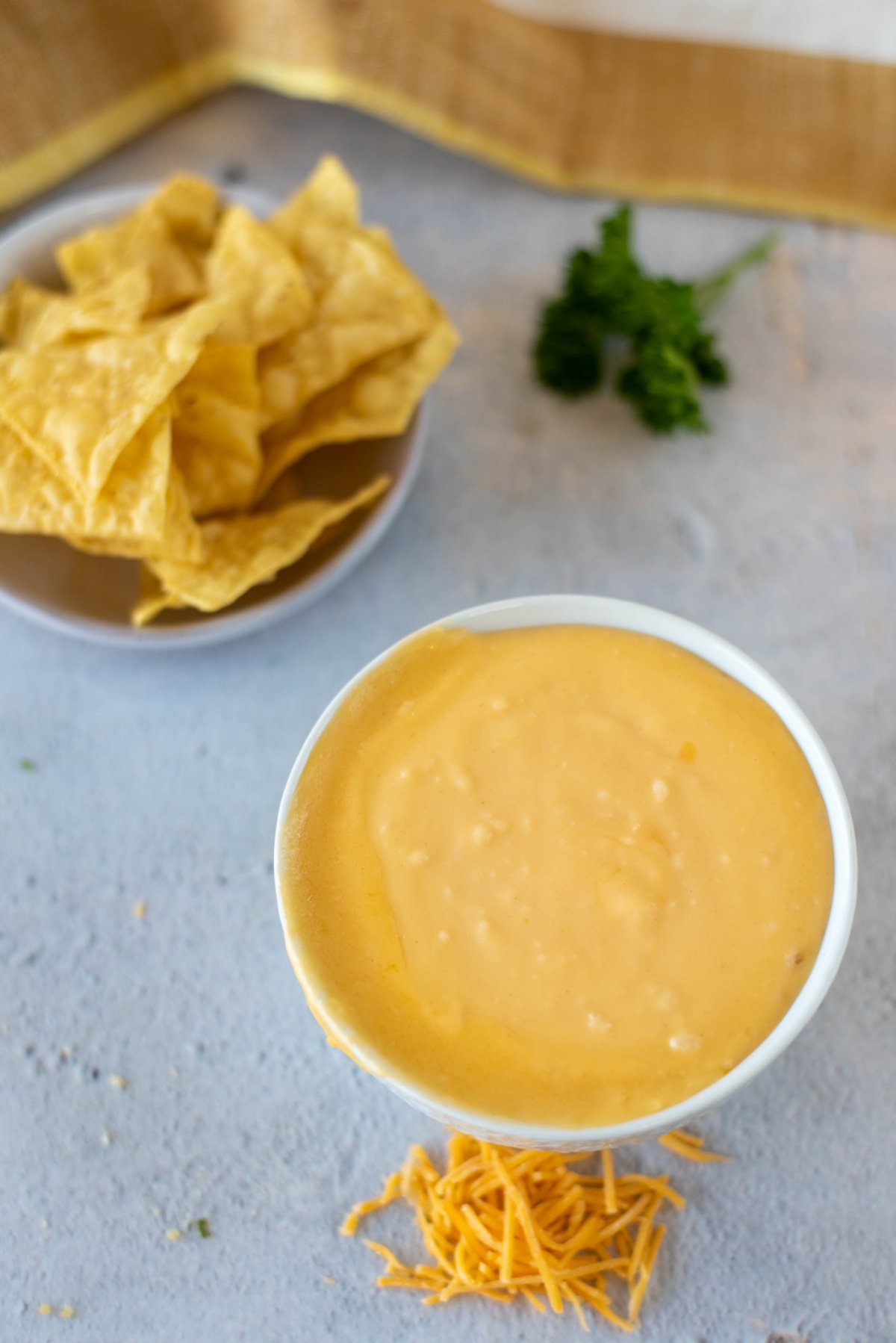 What is Cheese Sauce?
Cheese sauce is a traditional sauce that was first used in English cooking. Instead of solid cheese, you have a creamy, sauce like cheese that you can use for dipping or pouring over anything from vegetables to bread. For this recipe, we are making a delicious easy cheddar cheese sauce. By combining a roux with milk and cheddar cheese, you get a perfect sauce just like the English have.
Easy Cheese Sauce Ingredients
For this recipe, you will only need 4-ingredients that you probably already have in your refrigerator and cabinet. Each ingredient is important in making a delicious cheese sauce perfect for dipping. Here's what you need: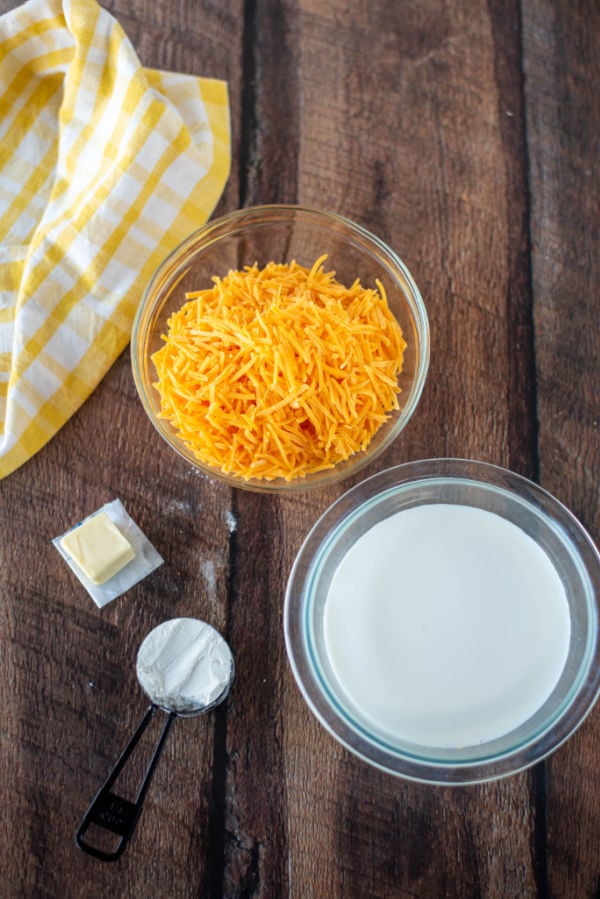 Butter.

Butter is needed in making the roux as butter is used as the absorbing agent.
Flour.

When making your cheese roux, flour is used with the butter as a thickener. You will want to start with a thick roux.
Milk.

Whisked milk is going to smooth out the lumps in your roux and add a creamy, fluffy texture. Use whole milk for this recipe.
Cheese.

You can't have cheese sauce without cheese. I prefer shredded cheddar cheese, but you can use any shredded cheese you would like. Use freshly shredded cheese, not the bagged shredded cheese. They contain an anti-caking ingredient that prevents a smooth cheese sauce.
How To Make This Recipe
Those cans of cheddar cheese sauce have nothing on this delicious homemade recipe! Plus, if you can do it yourself, there's no need to buy the processed stuff. Follow the steps below to make your own cheesy goodness!
Step 1: Make the Roux
In a large saucepan, melt the butter. You want the butter to be liquified. Then, slowly add the flour. Continue stirring your flour and butter until it's almost a thick sauce. Allow it to cook for one minute.
Step 2: Add Milk
As the flour and butter combine, you may have a few lumps.
You want your cheese sauce to be thick and creamy. To make it creamy, slowly pour in the milk. Whisk to remove any clumps from the roux. Simmer milk and roux until the milk starts to thicken. Whisk the entire time.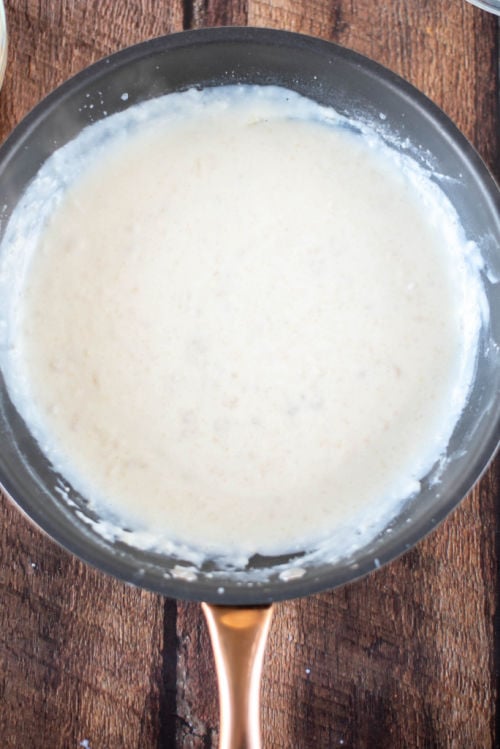 Step 3: Add the Cheese
Once you have the perfect creamy texture, you want to remove the roux from the heat, and add the cheese. Continue adding the cheese, a little at a time, and stirring, until it all melts.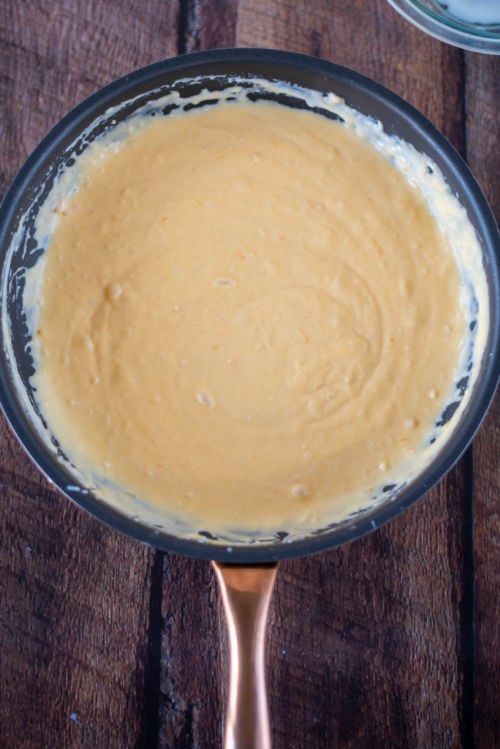 Step 4: Serve
Serve your cheese sauce hot.
Things To Serve It With
If you are like me, you can literally eat cheese on just about anything! My personal favorite ways to eat my cheese sauce are with bread sticks or nachos, but you can indulge in cheese sauce in so many different ways. Here are 10 different things to serve with your cheese sauce:
French fries

Hot dogs with chili

Warm pretzels or pretzel bites

Breadsticks

Hot dog pretzels

Chicken nuggets

Burgers

Baked potatoes or potato skins

Broccoli and cauliflower

Pizza bites
In addition, anything that already has cheese on it, pairs deliciously with some extra cheese dipping sauce.
How to Store Leftovers
If you have leftover cheese sauce (not sure how anyone could), you can store it in an airtight container in the refrigerator. Keep in mind that homemade cheese sauce is only good for about four days in the fridge.
Can I Freeze It?
Since you are using shredded cheddar cheese and not cream cheese or cottage cheese, you can freeze your homemade cheese sauce. In fact, it can last for up to 6-months in the freezer. However, after 6-months, the quality and taste will be compromised. Many people will freeze the cheese sauce in ice cube trays then store the frozen chunks in a plastic freezer bag for easy storing. When reheating, you will want to whisk the cheese sauce until it becomes thick and creamy again. You may need to add some extra cheese.
Other Dips To Try
Cheese dips...bean dips...dips make appetizers twice as good! If you liked this easy cheese sauce recipe, you are sure to love some of my other delicious dips. Check them out:
Appetizers to Try With Cheese Sauce
If you are looking for some other appetizers to try with your cheese sauce, here are a few of my favorites:
WANT EVEN MORE DELICIOUS RECIPES FROM MYSELF AND MY FAVORITE FOOD BLOGGERS? FOLLOW ME ON PINTEREST, FACEBOOK,TWITTER, OR INSTAGRAM, WHERE I SHARE NEW RECIPES DAILY. YOU CAN ALSO SUBSCRIBE BY EMAIL TO GET NEWLY POSTED RECIPES FOR FREE!
Cheese makes the world go round. If you liked this creamy cheese sauce recipe, please pin it to Pinterest for others to enjoy. Remember, sharing is caring!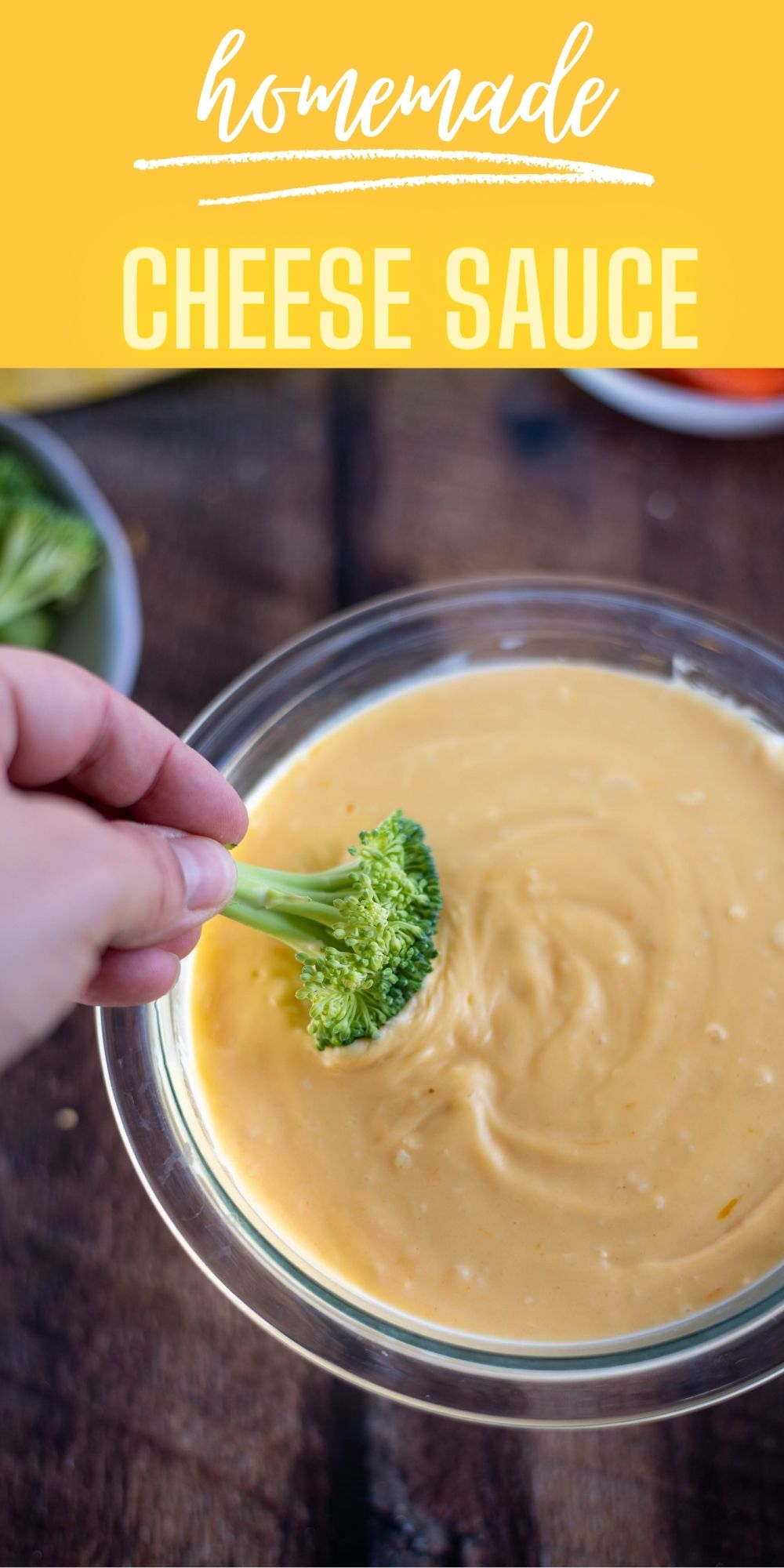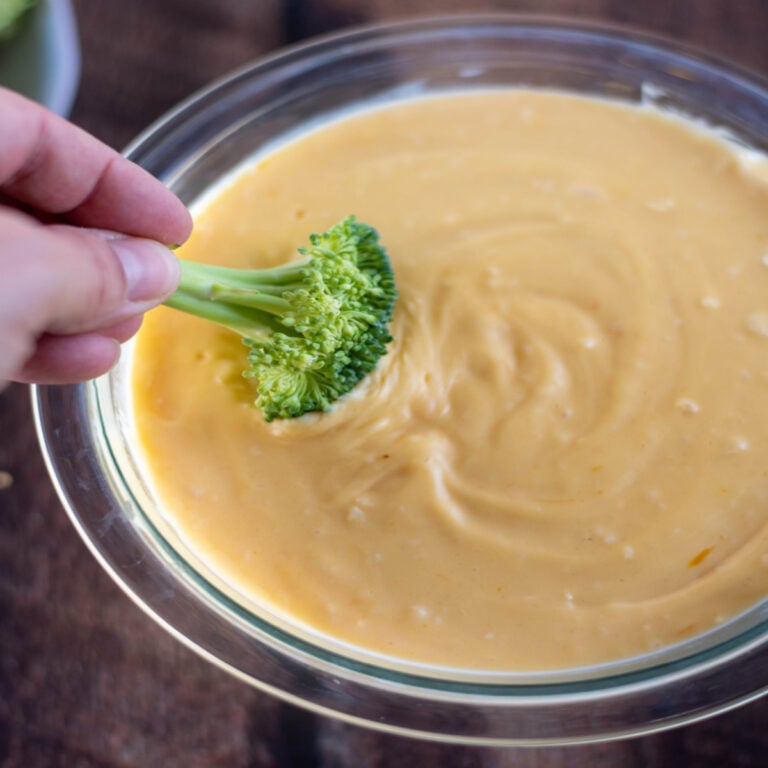 Print Recipe
Easy Homemade Cheese Sauce
Prepare this Easy Homemade Cheese Sauce recipe to go side by side with your appetizers. A good cheese sauce goes a long way with the guests.
Ingredients
2

tablespoons

butter

¼

cup

flour

2

cups

milk

2

cups

freshly shredded cheddar cheese*
Instructions
In a large saucepan, add the butter and allow it to melt. Pour in the flour and use a whisk to combine. Stir until smooth.

Slowly add in the milk and whisk it together until smooth. Continue to add milk, stirring it smooth between each addition. Once the milk has started to bubble and thicken a bit, remove from the heat.

Add in the cheese and stir to combine. You will have to stir for a minute or two to get the cheese to fully incorporate with the milk mixture.

Pour into a bowl and enjoy warm!
Notes
*Use freshly shredded cheese instead of store bought bagged cheddar cheese for a creamy sauce. 
Nutrition
Calories:
381
kcal
|
Carbohydrates:
13
g
|
Protein:
19
g
|
Fat:
28
g
|
Saturated Fat:
18
g
|
Trans Fat:
1
g
|
Cholesterol:
87
mg
|
Sodium:
453
mg
|
Potassium:
226
mg
|
Fiber:
1
g
|
Sugar:
6
g
|
Vitamin A:
939
IU
|
Calcium:
548
mg
|
Iron:
1
mg